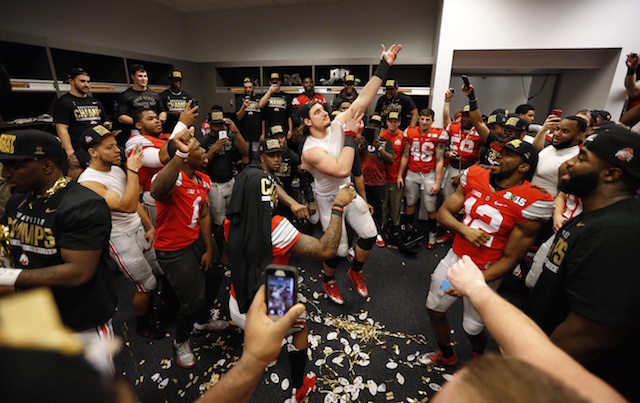 While Ohio State players celebrated in style down in North Texas, students and other fans in Columbus took to the streets and marched towards Ohio Stadium to cause some havoc in the aftermath of the Buckeyes 42-20 win against Oregon.
Some Ohio State students got into the Horseshoe and tore down a goal post, while others gathered around Mirror Lake or in smaller groups around Columbus. Campus police reportedly used pepper spray to control crowds, while the Columbus Fire Department reported said 89 small fires were reported near the campus.
Police on Columbus High Street "Leave the area now or you will be subject to arrest"https://t.co/BcW465lU3M pic.twitter.com/4QFcNlvShk

— News This Second (@NewsThisSecond) January 13, 2015
Meanwhile, Ohio State was showcasing some pretty sick moves (via USA Today's Laken Litman).
A video posted by lakenlitman (@lakenlitman) onJan 12, 2015 at 10:56pm PST