Report: Colorado DB Jeffrey Hall facing assault charge
Backup Buffalo defensive back Jeffrey Hall was arrested early Saturday morning after allegedly choking a woman and striking a police officer at a party.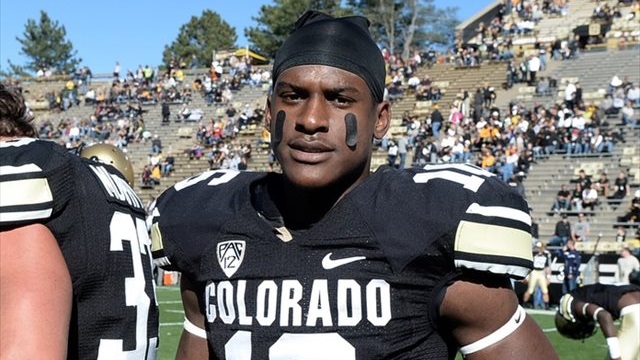 The Boulder Daily Camera reported Tuesday that reserve Colorado defensive back Jeffrey Hall was arrested early Saturday morning on suspicion of second-degree assault on a police officer, second-degree assault, resisting arrest, obstruction of a police possession of alcohol by a minor.
A Colorado official said that Hall has been suspended indefinitely by coach Mike MacIntyre.
According to police records reviewed by the Camera, officers were called to a Boulder house party late Friday night after reports of loud noise. A woman there told the officers that Hall had choked her, and police said that while they spoke to the woman in the garage, Hall emerged and began confronting the officers both verbally and physically.
According to police, Hall had to be eventually be tased and restrained, but not before he had struck and scratched one of the three officers attempting to subdue him. Two witnesses also told police that he had been choking the woman, a former Colorado track athlete, during the party.
Hall was taken to a local hospital, cleared, and then booked into Boulder County Jail. He was released after posting bond. Per the Camera, charges could be filed against Hall Wednesday.
Hall, a Louisiana native, played as a backup cornerback for the Buffaloes in 2013, making six tackles, one fumble recovery, and one pass break-up. 
HT: CFT
Chip and Barton pick win totals for Ohio State, Penn State, Michigan and more

These three teams could surprise quite a few people in 2017

With the Chargers moving to Los Angeles, the Aztecs now need to find a new home -- fast
Lawyers representing Ole Miss want Leo Lewis and Kobe Jone to show at an infractions heari...

The redshirt sophomore will not only decide Auburn's fate, but the landscape of the SEC

Ohio State filed for apparel rights to 'OSU' in February 2017