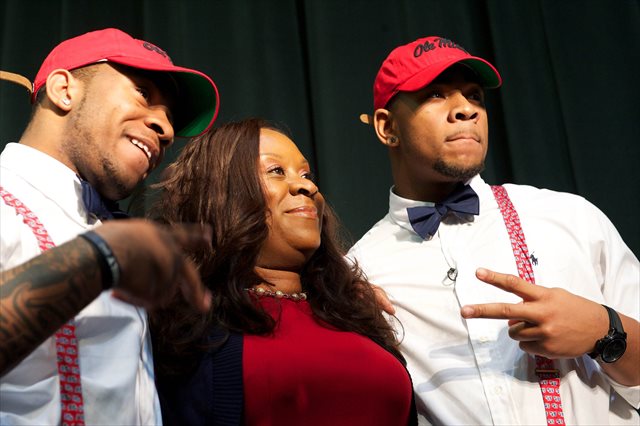 MORE: Denzel Nkemdiche charged with disorderly conduct, suspended
A man who claims he was punched and kicked by Ole Miss 's Denzel and Robert Nkemdiche has sued the brothers for $2 million, FoxSports.com and the Associated Press have reported.
Matthew Baird has filed a complaint stating that at a fraternity party in February 2013, Denzel punched him from behind before Robert -- then a high school senior committed to the Rebels -- and five other unnamed Ole Miss football players kicked him while he lay on the ground.
The suit drew a pointed response from Ole Miss athletic director Ross Bjork, who offered the brothers the program's support.
"When this alleged incident occurred, the proper authorities investigated the matter and could find no evidence of wrong-doing related to Denzel and Robert Nkemdiche or any other members of our football program," Bjork said, per the AP. "This is a personal matter for them and we will support Denzel and Robert while they defend themselves in this civil case."
Baird's attorney did not respond to a message from AP reporter David Brandt.
The news comes immediately on the heels of Denzel's arrest Saturday night on misdemeanor charges of disturbing the peace and disorderly conduct. He has been suspended indefinitely.
Both players are key members of an Ole Miss defense that finished 38th in total defense in 2013. Denzel earned All-SEC and freshman All-American honors after a breakout 2012 season, while former No. 1 overall recruit Robert collected eight tackles-for-loss and two sacks in his 2013 true freshman season.