Report: Texas to start beer sales at Longhorns athletic events
Texas will likely begin selling beer at Darrell K. Royal Stadium this fall, according to reports.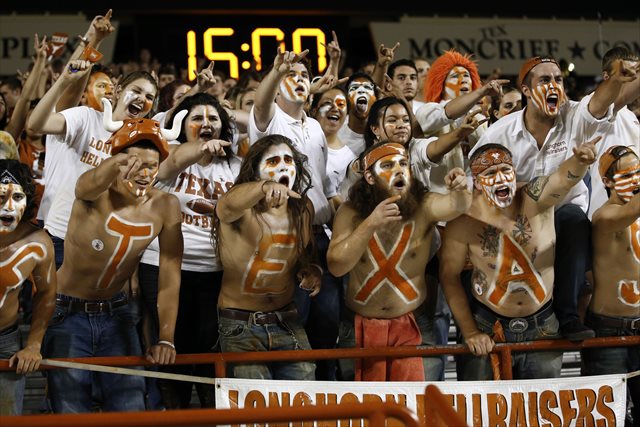 Last spring, then-Texas athletic director DeLoss Dodds hinted that in-stadium alcohol sales could be on their way at Longhorns athletics events, saying it was something he and his staff had discussed "constantly."
It now appears new Texas athletic director Steve Patterson may have done more than simply dicsuss the matter. Orangebloods.com and the Austin American-Statesman have reported that beer and wine sales have been approved by Texas athletics, and will begin at the Longhorn home men's basketball game Wednesday night.
Alcohol will likewise reportedly be for sale at the school's baseball and softball games this spring, and at the Longhorns' April 19 spring football game. Assuming everything goes as planned, fans at Darrell K. Royal Stadium would be able to buy beer at Texas home football games this fall.
Orangebloods.com reported that Patterson had been a "driving force" in taking the beer sales proposals from discussion to reality.
Texas would become the third Big 12 team to offer in-stadium sales at football games, following in the footsteps of Iowa State and West Virginia. The Mountaineers saw a substantial monetary windfall from the decision, but Dodds said in spring 2013 that if the Longhorns went ahead with it, it would be over safety concerns. 
"There's something about it that doesn't quite feel right, but there's people telling me that it might be safer to serve it than not serve it," he said. "If we did do it, people would say that they they're just doing it for the money. It's not a money issue. It's a do-the-right-thing issue."
For Longhorn fans who like the proverbial cold one with their football (or basketball or baseball), it likely won't matter why Texas has gone ahead with it; it just matters that they have.
SportsLine simulated every college football bowl game 10,000 times for pick'em leagues and...

The SEC regained its throne as the top conference in the country this season

Rhoads led Iowa State to three bowl games in seven years as head coach
The Georgia middle linebacker is one of the most valuable players in college football

Explaining my 2017 Heisman Trophy ballot and Jackson's tremendous season

Mayfield is the sixth Oklahoma player to win the Heisman since its inception