Reports: NCAA investigating Auburn over potential recruiting, benefits violations
The probe appears to be centered on two assistants, Trooper Taylor and Curtis Luper, who have reportedly been restricted from their normal recruiting duties amid the allegations.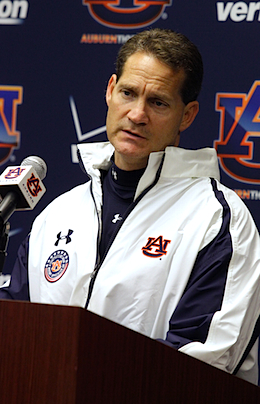 With a 3-8 record and a date with No. 2 Alabama on deck, Gene Chizik didn't need any more stress entering what could be his final weekend as Auburn's head coach. But he just got it: According to a report by Yahoo! Sports citing "multiple sources," Chizik's program is the subject of another NCAA investigation into possible violations involving Auburn coaches, players, recruits and third parties. The investigation has reportedly been under way for several weeks.
Specifically, the probe appears to be centered on two assistants, wide receivers coach/assistant head coach Trooper Taylor and running backs coach/recruiting coordinator Curtis Luper, who have reportedly been restricted from their normal recruiting duties amid the allegations. Per the Birmingham News, "at least one Auburn assistant football coach and several players" have been interviewed by the NCAA on campus in the past week, although the school has not received a formal notice of allegations. Asked about rumors that Taylor and Luper had been pulled off the road at an Oct. 30 press conference, Chizik said, "I don't have time for all of that. I've got one direct focus, that is my team and my players. That has nothing to do with us winning."
As a rule, the NCAA does not comment on or even acknowledge ongoing investigations, but its interest in former Auburn running back Jovon Robinson has been well-documented since a counselor at Robinson's high school in Memphis admitted in August to forging a transcript that allowed Robinson to qualify academically. (Robinson was subsequently ruled ineligible and is not currently enrolled.) According to the Yahoo! report, the NCAA is also investigating possible impermissible benefits by physical education teacher – reportedly an Auburn alum – including allegations that she paid on at least one occasion for Robinson to visit Auburn's campus.
Previously, multiple sources who had been questioned in connection to the Robinson probe said the NCAA appeared to be primarily interested in Mississippi State, which was forced to sever ties with a booster and send an assistant coach packing in connection to that case, but has not been reported to be facing potential sanctions. The investigation at Auburn, however, is not believed to be limited to Robinson.
It is also not believed to be related to the infamous 2010 investigation into the recruitment of Heisman Trophy winner Cam Newton, who was briefly declared ineligible amid allegations that his father had solicited a cash payment in return for Newton's signature on a letter of intent. But Newton did not miss any game time en route to starring roles in the SEC and BCS championship games and was eventually cleared by the NCAA.
- - -
Photo via US Presswire.
The redshirt sophomore will not only decide Auburn's fate, but the landscape of the SEC

Ohio State filed for apparel rights to 'OSU' in February 2017

USC had the most votes to win the Pac-12, followed by Washington
Bookmaker.eu has odds on quarterback battles, and we have thoughts on the best bets

Michigan has few returning starters and even fewer wins over its rivals under Harbaugh entering...

Carrington was the Ducks' leading wideout in 2016 but was dismissed from the team this off...