SMU's June Jones: 'Have-not' conferences should play in spring
SMU coach June Jones had a different reaction to the hypothetical split between Power 5 conferences and the rest of Division I.
• 1 min read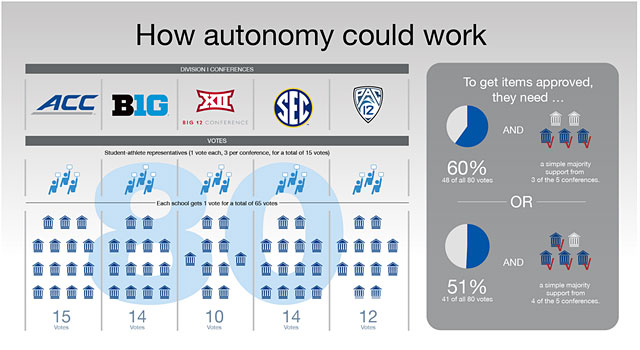 Solomon: Updated autonomy proposal | Dodd: NCAA board saves college sports
Autonomy and NCAA governance reform is back in the headlines with Friday's release from the NCAA and Mike Slive's comments at SEC Media Days earlier in the week. SMU coach June Jones discussed the growing divide between the power conferences and the rest of FBS, suggesting the other five conferences (American, Conference USA, MAC, Mountain West and Sun Belt) should take a note from the USFL and play in the spring.
"I think the have-nots should go ahead and move to the spring just like the USFL did. I think that there's an opportunity to do a complete other side of that division, and I think that if we don't think that way as a group of have-nots, we're going to get left behind," Jones told 620 AM WDEA (Tampa) during a radio interview on Friday. "I can see in five-to-seven years, possibly, the public would demand to have the two leagues play, just like I think the USFL had in mind, originally, of the winner of the USFL playing the winner of the National Football League."
June Jones should know a thing or two about the USFL as he spent two years working on offensive staffs for the Houston Gamblers and the Denver Gold before the league closed up shop. Jones is probably stirring the pot a little with his proposal, but the comments reflect the other side of autonomy at the FBS level.
The NCAA released a revised governance proposal on Friday, outlining how autonomy would work for the power conferences. The ACC, Big Ten, Big 12, Pac-12 and SEC want to pass new rules to benefit athletes, but have frequently been met with resistance from the rest of Division I.
The lowered voting thresholds should appease concerns from power conference administrators who began to re-consider a breakaway from Division I after the NCAA's first proposal in April. Dennis Dodd called that threat "real and scary" and wrote that Friday's announcement "may just have saved the NCAA." 
Miami looks to cap an undefeated regular season at Pitt on Black Friday

Fitzgerald was injured while running during the first quarter of the Egg Bowl

D.K. Metcalf certainly had an interesting spin on his touchdown celebration
The Commonwealth Cup has resided in Blacksburg for over a decade

The biggest game in the AAC this season takes place Friday

Can Arkansas spring the upset on a Missouri team that has caught fire after a sluggish sta...