Strong a solid choice for Longhorns, but Texas doesn't do 'solid'
Texas wanted a home run in its search to replace Mack Brown. The Longhorns don't strike out with Charlie Strong, but they certainly expected a bigger name.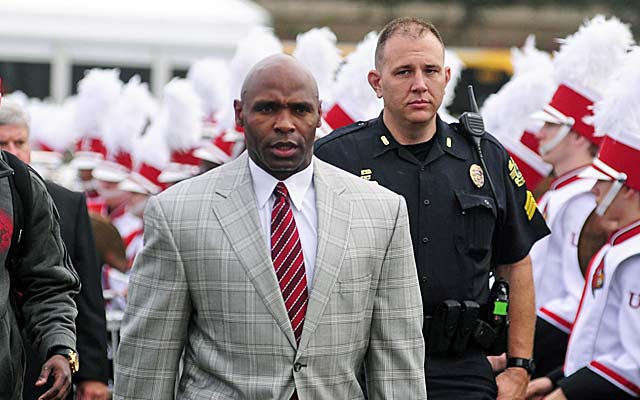 What you can't say is that Charlie Strong was Texas' first choice.
You can say that Jim Harbaugh wasn't interested, Jimbo Fisher was comfortable at Florida State and Nick Saban, well, who knows what Nick Saban was thinking.
Agent Jimmy Sexton succeeded in getting his most high-profile client a raise. Meanwhile, Steve Patterson got Louisville's head coach.
Discuss among yourselves, Longhorn Nation.
The search could have been smoother, less public and ended with a bigger bang. Art Briles went from if-you-offer-I'll-accept to a self-serving I'm-staying statement on Friday. Jim Mora Jr.'s name was floated for a while but didn't stick.
So Texas went to Plan ... C? Sometimes Plan C works out, but Texas doesn't do Plan C. And that's what should bother Longhorns everywhere.
As I mentioned back in September it wasn't a good year for Texas to hire a coach.  That doesn't mean Strong isn't a good coach, because he is. It means he was available.
As someone no doubt mentioned to Strong, you don't turn down Tennessee and Texas in consecutive years and expect to climb the coaching ladder.
With Strong to be announced Sunday, the one thing you can say about the Texas search is that it's over. So while columnist Chip Brown's workload lessens, the angst ramps up.
Strong is a solid, but not a superstar, pick to replace Mack Brown. Texas needs a superstar, especially in these hyper-competitive times. The guy down the road, Briles, has a better quarterback, team and program than Texas, which sports the No. 1 budget in college sports.
That's one good reason why Strong is being paid essentially the same money as the guy he replaced. Strong is making $5 million a year to get the program back where Brown had it. That is, compete for Big 12 championships every year and national championships most years.
Can he? Well, there is less of a certainty about that than the names mentioned above.
Strong isn't quite the backup plan for the prom when the hot chick turns you down. He's not quite Bud Light when the bartender says they're out of Stella.
Charlie Strong is OK. He's got coaching chops, 37-15 in four years at Louisville. If not for his coaching skill, the Cardinals might not be in the ACC today. But he's not the slam dunk, the home run, we all expected.
Sorry, in the first big hire of his administration we'll have to reserve judgment on Patterson too.
Strong has coached at Florida, been a part of two championships at Florida, even beaten Florida (in last year's Sugar Bowl). Now he has to win in Texas, win the hearts, the minds, the recruits ... the regents. That means becoming a Texas guy, not a Florida guy. Brown quickly made Orangebloods forget he was a native Tennessean who had just come from North Carolina.
It's not enough just coaching Texas. You've got to navigate political land mines each day. One day you might get a call from the governor. The next you might get a call from the best quarterback prospect in the country looking for a home.
You better be able to schmooze Rick Perry and Jameis Winston.
Strong is an easy guy to like. He doesn't necessarily like doing the public -- meaning, media -- thing, from all appearances. That's OK if you're at Louisville. If you're at Texas, you're the face of the program.
You're also beholden to the Longhorn Network, which has provided neither widespread exposure nor tangible evidence of wins. Like most coaches, Strong will have no use for what doesn't help him score points.
Brown once told me his media commitments on Monday lasted from 10 a.m.-3 p.m. That kind of routine might make Strong spontaneously combust. Let's hope he has enough leverage in contract negotiations to keep the LHN out of his way.
It starts with finding a quarterback, preferably from Texas. That ultimately was Brown's downfall. Texas hasn't had a serviceable QB essentially since Colt McCoy in 2009.
Strong wasn't Texas' first choice but the governor, the regents, the fans and the network would settle for a facsimile of a possible No. 1 NFL Draft choice.
Is there a Teddy Bridgewater out there anywhere?
From Chip Kelly to Billy Napier, did these schools and coaches make the right calls this silly...

SportsLine's computer model simulated every college bowl game 10,000 times, with surprising...

Everything you need to know to watch and pick the Boca Raton Bowl on Tuesday
College football recruiting begins earlier than normal with a National Signing Day in Dece...

Getting Leavitt back was obviously high on Cristobal's list of priorities

Cristobal's first game at Oregon ended the same way Chip Kelly's did