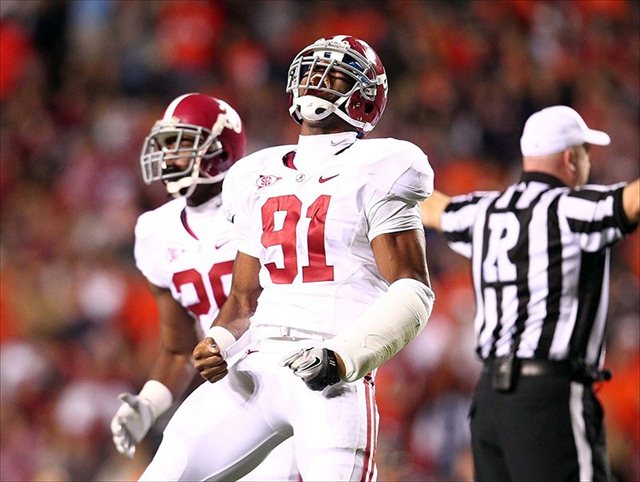 Alex Watkins' reported YouTube endorsement of S.W.A.T.S. may have helped lead to a cease-and-desist letter. (US Presswire)
The odds remain extraordinarily long on there being any real fallout for Alabama's football program from this week's Sports Illustrated story on the controversial (and possibly fraudulent) sports supplement company S.W.A.T.S. But they might have gotten shorter all the same on Wednesday, when one of S.W.A.T.S.' co-founders said he saw multiple Tide players take his company's deer-antler spray, one that contains the banned substance IGF-1.
Christopher Key told ESPN that on the eve of the Crimson Tide's 2012 BCS championship victory over LSU, he sold the spray to "about 20" Alabama players. The sales came in meetings at the team's New Orleans hotel, which he secretly recorded, and which SI detailed in its original report. Per SI, Key also provided the players with free samples of the spray and other S.W.A.T.S. products.
"I showed them how to use it," Key said of the spray, and added that he personally saw up to five Crimson Tide members use it.
Though there appears to be no direct evidence other than Key's word the players actually used the spray, SI reported that linebacker Alex Watkins later appeared in a YouTube video crediting S.W.A.T.S.' products for his performance in the 21-0 win over LSU. Linebacker Adrian Hubbard told Key at the meeting that he already owned his own supply of the spray.
Alabama responded to the SI report on Wednesday with a statement disavowing any connection to S.W.A.T.S. and emphasizing its efforts to distance the football program from the company, based just north of Birmingham in the town of Fultondale. 
"UA has been aware of this situation for some time, and we have monitored this company for several years," Assistant to the President and Associate Vice President for University Relations Deborah Lane said in a statement reproduced by al.com. 
"They have twice ignored cease-and-desist letters sent by our compliance office," the statement reads. "We have maintained consistent education of our student-athletes regarding the substances in question and will continue to do so."
Per al.com, Watkins' video might have been among the "several" that prompted Alabama to send its second cease-and-desist letter to S.W.A.T.S. in October 2012.
"We further request that you refrain from any future contact with any of our current student-athletes," Alabama compliance director Matt Self wrote in the letter to Key. "Any future contact should be directed to the coaching staff, the athletics training staff, or the compliance office. Additionally, we ask that you not give or sell any product to our student-athletes. If they wish to use your product, they should obtain them through the athletic training staff and under the supervision of the athletic training staff."
The first cease-and-desist request issued by Alabama to S.W.A.T.S. was sent in March 2009.
Multiple Auburn players also appeared in video testimonials for the company in the wake of the Tigers' 2010 BCS championship run, leading to a cease-and-desist letter from that school as well. LSU has also reportedly issued one after an incident at the 2010 Senior Bowl.
The presence of IGF-1 in the deer-antler spray has led to suggestions that Baltimore Ravens linebacker Ray Lewis, a user of S.W.A.T.S.' products, took a substance also banned by the NFL during the rehabilitation of his injury during the 2012 season. During media appearances this week in New Orleans, Lewis has repeatedly, angrily denied taking any such substance.
None of this has seemed to slow down S.W.A.T.S.' aggressive marketing of its products to the players at the schools in question, though, which has to make these schools (and the NFL teams that the company has reportedly been connected to) worry that next time, a free deer-spray sample might actually lead to a positive IGF-1 test -- a result that would have tangible consequences that the 2012 hotel-room meeting might not.