The rise of Florida State backup Jacob Coker, a very hot commodity
Florida St. QB Jacob Coker didn't throw a TD pass all season, but he is the subject of one of the most intriguing story lines around the FSU program. And around the Alabama program, too.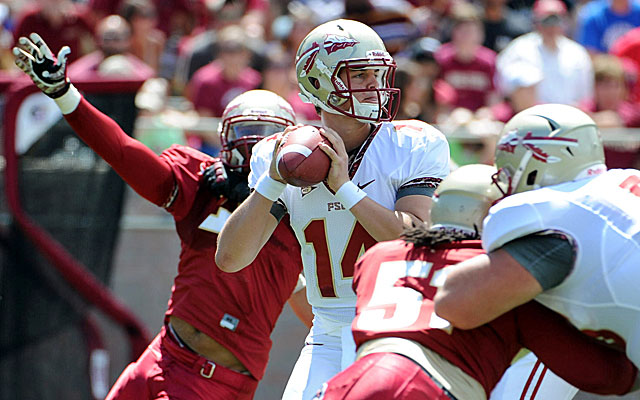 More BCS: Feldman: Winston comes up huge | Recap | Full coverage
Perhaps the guy who will give Nick Saban the best chance to get back to a national title game next season was standing in a football uniform, leaning over two metallic crutches, about 50 yards away from the Bama coach Monday night in the Rose Bowl.
Saban was there in Pasadena to help analyze the Florida State-Auburn game for ESPN. The guy with the crutches, Jacob Coker, was Florida State's backup quarterback until a torn meniscus in November sidelined him for the rest of the season. Coker, a 6-5, 230-pound redshirt sophomore, had battled Jameis Winston for the FSU starting job all the way till the final week of fall camp this season. Coker attempted 36 passes in 2013, completing 18 of them for 250 yards with no touchdowns and one interception in some mop-up duty.
Inside the Noles program, however, Coker has generated some Bunyanesque buzz.
"I've never had anybody with his size who throws it as well as he does," said FSU QB coach Randy Sanders who's been around big-time programs since his days as a Tennessee player in the mid-80s with the Vols star-crossed quarterback Tony Robinson. "Jake has a really quick release with tremendous arm strength. Rarely does it not spiral or not go where he wants it to go."
Asked if Coker's arm is even better than Winston, the resident Heisman winner, Sanders paused for a few breaths before saying, "Coker's arm is kind of at a different level. Jameis has a very special arm, and this isn't any knock against Jameis, but Jake's probably the best I've seen in 25 years at throwing it."
Sanders raved even more about Coker's character than he did about his arm.
"A lot of times when you have a quarterback competition, the most valuable player isn't the guy who wins the job it's the guy who doesn't win the job because they have the ability to almost divide a team," Sanders sad. "Jake's done a great job of supporting Jameis and helping him in any way he can. That's part of what makes him a special player."
Lamarcus Joyner, FSU's star DB, compares the Winston-Coker dynamic to what Florida had with Tim Tebow and Cam Newton.
"You have two NFL guys sitting on one roster," Joyner said. "Everyone knows about Jameis. He's the Tim Tebow right now. He's in that light, but no one knows about Jacob Coker. Great kid. Physical. I'll never forget the day he threw an interception to me, and that kid came and hit me harder than I've ever been hit in my life. It felt like a linebacker."
But don't expect Coker to be flipping to defense. If he's going to be changing anything, Noles fans fear, it'll be transferring to another FBS program.
Winston, of course, after just winning the Heisman and leading the Noles to a BCS title, is slated to be FSU's starter in 2014 and he can't leave for the NFL at the earlier till the 2015 draft. Alabama, Coker's favorite team growing up, is the place many speculate he would surface next. After all, the Crimson Tide are going to be looking for a new quarterback now that AJ McCarron is moving on to the NFL. Coker could be immediately eligible since he's on schedule to graduate this spring. And since he'd have two seasons of eligibility remaining, he could transfer to an SEC school. Coker said he thinks those are just "assumptions" and that he's "heard it tossed around" a lot but that he hasn't told anyone that.
Winston who calls Coker a "great friend," says, "I think Jacob can go anywhere and start in any program."
Said Sanders, "I think he loves Florida State and he loves being a part of this team. I don't know what the future holds and I don't think he knows either at this point. But he is a very talented guy who could play for most teams. I hope he stays. We'll see what happens."
Coker's story is in an intriguing one. Despite all the talk at FSU about him, the Mobile, Ala., product was only a "three-star" recruit. The 247Sports composite ranking had him as the No. 15 Pro Style QB. Rivals ranked him as the 18th best drop-back quarterback in the nation. Scout had him as the 44th best QB. ESPN ranked him as the 70th best QB.
A big reason for Coker flying below the radar was that in his junior year of high school, his team relied on a run-heavy Wing-T offense.
"I didn't throw it a lot," Coker said, when asked why he thinks he was only labeled as a three-star guy. "I didn't go to any of those Rivals camps. I guess it was an exposure thing."
David Cutcliffe protege, David Morris, a former Ole Miss quarterback who now trains QBs in the Mobile area, including AJ McCarron, put together a "Throws" tape on Coker for college recruiters.
"It was essentially a Pro Day," said Morris. "It was the first one I'd ever done. You could see easily he can make all the throws."
Coker, a lifelong Alabama fan, went to camps at Duke and FSU and was offered at both. He committed to Florida State.
"I came to (FSU) camp and I didn't think Alabama was very interested to be honest," Coker told CBS a few days ago. "I was a 3-star guy coming out. I didn't know how many offers I'd get. FSU was the first offer I got. The program was on the rise. I really liked Coach (Dameyune) Craig. I trusted him and Coach (Jimbo) Fisher was the same. I knew he was gonna take it to the national championship eventually.
"Coming into FSU, I knew the quarterback job wasn't just going to be handed to me. I knew there were gonna be great recruits and great players here. I knew what I was getting into. I made sure I just worked as hard as I could so no matter what the outcome was, I wasn't gonna regret it. I didn't win the job but hey, we're in the national championship."
Coker said his immediate plans are to continue to let his meniscus heal and to get ready for spring ball.
"I'm just doing all I can to help the team out and make everybody better around me."
The Alabama QB has a new look after the Tide claimed another national title

Young was injured during Miami's Orange Bowl loss to Wisconsin

The movie will zero in on former Penn State coach Joe Paterno during the Jerry Sandusky sc...
Bidding for Salaam's trophy, which the auction house says was obtained legally, ends Satur...

Locksley has been the offensive coordinator at Illinois and Maryland during his coaching c...

Many NFL-eligible juniors ignore advice provided by the league and risk going undrafted each...