Tomorrow's Top 25 Today: Week 7
Our weekly projection of what you'll see from the AP Top 25 when it's released on Sunday.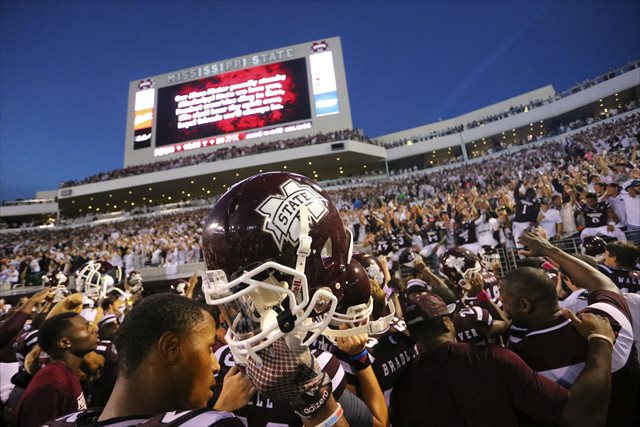 Each Saturday night, the Eye on College Football takes its best guess at what we'll see on Sunday from the Associated Press Top 25. Here's where the poll stood entering this week, and here's our Week 7 projection.
Teams marked with an asterisk have yet to play or have a game in progress. Projection assumes all Vegas favorites playing or yet to play go on to win. Last week's ranking in parentheses:
1. Mississippi State (2). Florida State, reigning national champion and all, undefeated record and all, only hung on to the No. 1 spot last week by its garnet-and-gold fingernails; despite a 35-23 advantage in first-place votes, the Seminoles' 1461 points were only 2 more than Auburn's 1459. 
And that was after the Tigers had beaten an LSU team ranked No. 15 and fading fast. This week, Mississippi State defeated that same second-ranked Auburn team in convincing fashion, hot on the heels of routing LSU on the road and thumping Texas A&M at home -- both of which were top-10 teams at the time. The Bulldogs' resume at this point is unassailable, particularly in comparison to the Seminoles'. If voters stick with FSU, it's purely out of a desire not to drop the preseason No. 1 until it loses a game.
It remains possible that enough voters will stick with that approach -- or that Ole Miss will bludgeon Texas A&M, and siphon off enough votes from its in-state rival to keep the Bulldogs No. 2 -- but the indications from week 6 were that voters were looking for a reason to drop the 'Noles. And it's hard to think Mississippi State's win over another top-5 SEC West heavyweight (for which it was already handsomely rewarded last week) isn't reason enough. 
2. Florida State (1). The Seminoles don't have anything to apologize for this week; their win over Syracuse, at Syracuse, was locked up early in the second half and probably more decisive than the final score indicated. But still ... it's the Orange. Are voters going to take the team that beat Syracuse 38-20, or Auburn 38-23? 
3. Ole Miss (3). Anything you can do, I can do better? The Rebels blitzed Texas A&M Saturday night, taking a 21-0 lead and never looking back. Which means the entire top-3 is thrown into question: will Ole Miss leapfrog the Seminoles into second ... or split enough first-place votes with their in-state brethren to keep both of them behind the current No. 1? 
4. Baylor (5). The Bears literally could not have left it any later against TCU, but a win over a previously undefeated top-10 conference rival is a win over a previously undefeated top-10 conference rival, even when it requires 61 points and a 21-point fourth-quarter comeback. And hey, it's not like the next team on this list did anything to justify moving past them.
5. Notre Dame (6). A 50-43 home win over North Carolina. Gosh, do you think the Irish might have been looking ahead to their visit to Tallahassee next week? 
6. Alabama (7). The Tide actually looked more vulnerable, more wobbly -- more like a team destined to drop another game somewhere along the line and fall out of the playoff race, to get to the point -- in victory against Arkansas than they did in defeat at Ole Miss. How did the same offense that gained 672 yards against Florida gain 227 against the Hogs?
7. Auburn (2). The book on Auburn ever since Nick Marshall became the starting QB has been: force him to throw. Last season, Marshall did just that, and beat the Bulldogs with a last-minute TD pass. This season: 17-for-35, 5.6 yards an attempt, 2 touchdowns but also 2 critical interceptions.  
8. Michigan State (8). The Spartans seem to have settled into a pattern: build a seemingly insurmountable lead, then make a series of head-scratching plays to let the opponent back into the thick of things. Doing it against Nebraska is one thing; doing it against Purdue is another.
9. Oregon (12). After back-to-back lackluster performances, the Ducks looked like the Ducks again in a 42-30 road win over UCLA that wasn't nearly as close as the final score. 
10. Georgia (13). Given the respect pollsters usually show SEC teams, it wouldn't be a surprise at all to see the Bulldogs' 34-0 road rout of Missouri bump them past the Ducks as well as Oklahoma. 
11. Oklahoma (11). The Sooners got the win. Yes, yes: the Sooners got the win. But look at these stats: a 482-232 yardage deficit? 4.6 yards per-play? 24 first downs allowed to this Texas team?  Just ask UCLA: big, explosive special teams and defensive plays are great, but relying on them week after week isn't a sound strategy for long-term success.
12. Ohio State (15). Bye weeks aren't so bad when you've been playing outstanding football and two teams not so far ahead of you lose. Buckeyes take on Rutgers next week.
13. TCU (9). Losing at Baylor on a walk-off field goal set up in part by an extremely questionable pass interference call is absolutely nothing to hang the Frogs' heads about; if voters are paying attention, they ought to stay in front of the Sooner team they beat head-to-head just last week. But none of that will make TCU and its fans feel any better about coughing up a 58-37 fourth-quarter lead, either.
14. Arizona (10). The Wildcats made up 13 points of a 15-point fourth-quarter deficit but couldn't hit the game-winning field goal twice after an icing USC timeout, falling from the ranks of the unbeatens. The polls shouldn't be too harsh, though, considering that many of the teams who could have leapfrogged them -- UCLA, Texas A&M, etc. -- lost or failed to impress.
15. Kansas State (17). This set of Wildcats had the week off. Next week: a showdown in Norman with the Sooners.
16. Oklahoma State (16). Did voters notice the Cowboys needing a fourth-quarter 99-yard kickoff return from Tyreek Hill to see off Kansas? If so, the cushion they had on Kansas State last week will likely evaporate. 
17. Arizona State (20). A Hail Mary win deserves a week off -- and if USC beats Arizona, a bump past a handful of Week 7 backsliders. The Sun Devils host Stanford in a major inter-division Pac-12 matchup next Saturday.  
18. East Carolina (19). The Pirates were once again less-than-impressive in victory -- needing to overturn a 10-point halftime deficit to defeat USF in Tampa -- and beating Virginia Tech and North Carolina (and losing competitively to South Carolina) maybe isn't as impressive a set of accomplishments as they seemed at the time. Will voters keep bumping them up all the same?
19. Nebraska (21). The Huskers stayed at 5-1 with a bye. They play Northwestern next week.
20. Utah (24). Kyle Whittingham's team took the week off in preparation for a Thursday night visit to Oregon State. 
21. Stanford (25). The Cardinal offense continued its season-long debacle in the red zone, but when you have a defense like David Shaw's, it doesn't make much difference against the Washington States of the world.
22. Marshall (NR). Welcome to the top 25, Herd! No, you haven't beaten anyone of substance, but you have beaten the ever-loving tar out of teams of non-substance, with Middle Tennessee State this week's victim.
23. Clemson (NR). Welcome back to the top 25, Tigers! Last week's "No. 26" should get into this week's poll with ease after downing Louisville in a tight contest in Death Valley. But how long will the stay in these rankings be without Deshaun Watson?
24. USC (NR). The Trojans did their damnedest to give away a second straight double-digit fourth-quarter lead, but Arizona and its two failed two-point tries and missed field goal were simply too polite to accept. And while the Boston College loss doesn't look a whole lot better in hindsight, Steve Sarkisian's team does have wins over Stanford and the previously unbeaten Wildcats and suffered its other loss to a ranked team. Not the worst resume.
25. Georgia Tech (22). Your guess here is as good as mine, most likely. The Yellow Jackets still have just one loss ... but then again, so does Duke, who provided that loss Saturday. But will that head-to-head tiebreak matter when Duke received no votes in last week's balloting? Will the voters just throw up their hands and reward LSU for its win over Florida in Gainesville? Stick with Texas A&M despite the Aggies getting thumped for the second straight week? Rutgers? Kentucky? The hunch here is that Jackets just hang on the last spot in the poll, but take with as many grains of salt as needed.
Dropped out of projected rankings: Texas A&M, UCLA, Missouri
Also under consideration: Duke, LSU, Texas A&M
CBS Sports HQ Daily Newsletter
Get the best highlights and stories - yeah, just the good stuff handpicked by our team to start your day.
Please check the opt-in box to acknowledge that you would like to subscribe.
Thanks for signing up!
Keep an eye on your inbox for the latest sports news.
Sorry!
There was an error processing your subscription.
The Crimson Tide are nearly four-touchdown favorites against the capable SEC West rival Ag...

Auburn is losing a four-star member of its 2016 recruiting class in Nate Craig-Myers

SportsLine's advanced computer model simulated every Week 4 game 10,000 times with surprising...
Our advanced computer model simulated Saturday's Texas vs. TCU game 10,000 times

Our advanced computer model simulated Saturday's Alabama vs. Texas A&M game 10,000 times

Connelly played for the Gophers from 2015-17