VIDEO: Syracuse QB Terrel Hunt ejected after throwing punch
Syracuse quarterback Terrel Hunt was ejected from the team's opener for throwing a punch.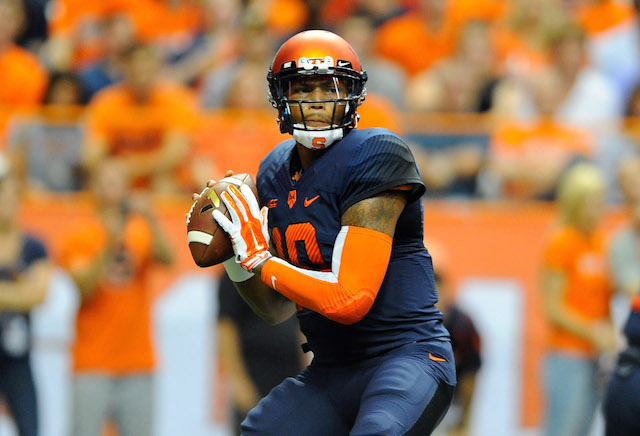 I'm guessing the 2014 season didn't start the way Syracuse quarterback Terrel Hunt wanted it to. 
With Syracuse leading Villanova 10-7 in the first quarter, Hunt was tackled and felt that a Villanova defender came in with a late hit, and then he did something stupid: he punched him.
Hunt was ejected from the game for his punch, and it'll be interesting to see if Syracuse coach Scott Shafer hands out any further punishment. It's completely understandable that Hunt would be upset if he felt the Nova player came in late, but you just have to be smarter than that. Especially if you're the quarterback.
The movie will zero in on former Penn State coach Joe Paterno during the Jerry Sandusky sc...

Bidding for Salaam's trophy, which the auction house says was obtained legally, ends Satur...

Locksley has been the offensive coordinator at Illinois and Maryland during his coaching c...
Many NFL-eligible juniors ignore advice provided by the league and risk going undrafted each...

Snyder died in Manhattan, Kansas, on Wednesday

Locksley joined Alabama's staff in 2016