Wake Forest to interview Bowling Green coach Dave Clawson
Wake Forest is talking with Bowling Green head coach Dave Clawson, whose Falcons won the MAC championship Friday night.
• 1 min read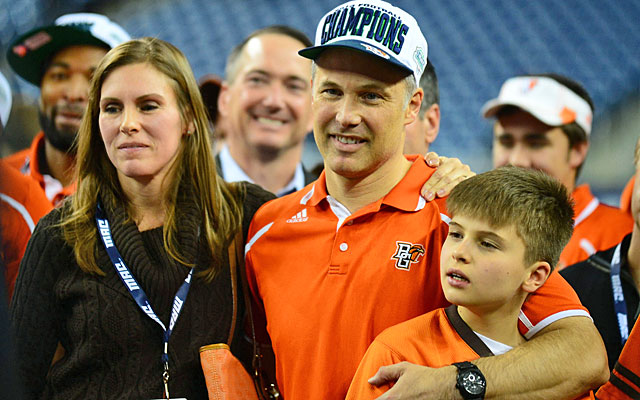 Wake Forest is scheduled to interview Bowling Green head coach Dave Clawson at some point in the next few days, according to sources with knowledge of the search.
Wake Forest athletic director Ron Wellman was believed to be at the MAC Championship Game on Friday night to catch Bowling Green's 47-27 win over Northern Illinois, according to sources from the MAC and ACC. Clawson's camp has been notified of the process.
Ball State's Pete Lembo interviewed for the job during the week and impressed. He has momentum for the job.
Both MAC coaches are considered program-builders, Lembo having success at Elon and Lehigh and Clawson at Fordham and Richmond. Both have private-school experience, which is a plus at Wake. Both won 10 games this season, though Bowling Green's dominant performance over NIU on Friday could provide momentum for Clawson.
ESPN reported the Wake job is a two-man race for the job.
Lembo and Clawson have the same mentor, longtime Albany coach Bob Ford. Clawson and Lembo were last two finalists once before, at Richmond in 2004, which went to Clawson.
Kelly is presently deciding whether to start anew with the Gators or Bruins

There are a handful of conference championship games still to be determined

SportsLine's top college football expert, on a 30-18 run, locks in his top picks for a loaded...
Haynes was 14-45 in five years with the Golden Flashes

True romance isn't dead yet

The Egg bowl will be a Thanksgiving night treat for the college football world