2014 Masters round one: Best photos, attire, and commentary
All the first-round updates, news, photos, and GIFs you can handle from the first round of the Masters.
More Masters: WATCH LIVE | Leaderboard | Field | TV Schedule | Course Guide
Kyle Porter will be updating the live blog with highlights, news, Tweets, GIFS and other fun stuff from Thursday's first round at Augusta National. Hope you enjoy.
What a great first day at Augusta National. We have a big boy leaderboard, Mickelson did Mickelson things, and barely any hubbub about Tiger Woods sitting on his couch.
I'm fascinated (as always) to see how this baby plays out over the next few days. It's easy to overreact to what happens on day one (remember when we thought Webb Simpson was going to be 72 under for the week?) but we all know it won't be until Saturday evening that this tournament starts to take shape.
We tried to document all the fun, interesting stuff from day one on this live blog today and here it is for your enjoyment (Paulina is in the middle if that's what you're here for):
6:35: That's a wrap for day one. Let's do it again tomorrow.
6:19: This seems like a good way to end day one. What a rough day on the course. Probably won't get any easier, either:
Twice as many rounds in the 80s as the 60s at Augusta National on Thursday.

— Shane Bacon (@shanebacon) April 10, 2014
6:15 PM: This is such a great stat:
If Jason Dufner (currently +8) misses the cut tomorrow, Adam Scott will be the only player to make the cut in each of last 9 majors.

— Justin Ray (@JRayESPNGolf) April 10, 2014
6:04 PM: This photo wins the day, I think:
6:03 PM: Bubba Watson tells Mike Tirico "I missed one green by six inches." Thanks, Tiger.
5:59 PM: Jim Nantz reporting that Luke Donald was assessed with a two-stroke penalty after his round for grounding a club in the No 9. bunker. 
Where's Rinaldi and Tiger and the video evidence?!
5:49 PM: Oh boy.
Bubba 1, Pollen 0.

— Jason Sobel (@JasonSobelGC) April 10, 2014
5:32 PM: Sadly I laughed at this, too:
Hard to believe Dustin could open with a 77 and still be Low Johnson

— Doug Ferguson (@dougferguson405) April 10, 2014
5:31 PM: Verne Lundquist just called a group with Phil Mickelson in it "very attractive" and I laughed a little too loudly. Can you tell I've been here for 10 hours?
5:25 PM: Re: the Phil drop on No. 15:
Man, that rules official got to Phil QUICK. What a complete coincidence that he happened to be there close by.

— Chad Coleman (@HashtagChad) April 10, 2014
5:20 PM: Phil gonna Phil. He just dumped one in the water on No. 15. Have fun with that drop, Lefty.
5:16 PM: I love hearing David Feherty say the word "loblolly." It's just the best.
4:55 PM: I didn't think it would be Bubba Watson but I tried to give you guys a left-hander winning the Masters at 10-1. Bubbs is now one back going to No. 17.
4:47 PM: Phil Mickelson mentioned this earlier in the week but I think the scores are going to be nasty going to the weekend. The greens will be insanity:
Good start.. Now the fun starts... Tune in because the course is going to be beautiful and as fast as I have ever seen it!!

— Brandt Snedeker (@BrandtSnedeker) April 10, 2014
4:40 PM: I laughed out loud about this:
So does the headless horseman. RT @blytham Never thought I'd say this, but Bubba has a better head on his shoulders than DJ.

— Alan Shipnuck (@AlanShipnuck) April 10, 2014
4:29 PM: Oh boy, Johnson just hit it in the water on No. 15 and called over a rules official to help him with his drop. I would have called over about 29 of them.
4:24 PM: Here is that incredible Mickelson birdie I mentioned earlier.
4:19 PM: Dustin Johnson on an ESPN promo: "If I get the green jacket, I'm never taking it off." I can't tell if he's serious.
4:05 PM: Rory, your thoughts on the hair?
4:04 PM: We have a Caroline Wozniacki sighting. Pink hair and all:
3:57 PM: Phil Mickelson just made an insane putt on No. 10 for birdie, his first of the day. He looked at the crowd and yelled "are you kidding me?"
People's choice, that guy.
3:54 PM: Jason Day got a cortisone shot into the bone of his thumb. My gosh, that sounds likethe worst thing ever. Where you at, Tiger?
3:48: Scott Van Pelt is with me aboard the Jordan Spieth train:
It's spooky how good @JordanSpieth could be. Class in every category on & off.

— Scott Van Pelt (@notthefakeSVP) April 10, 2014
3:29 PM: I really hope this translates to "screw that Scott guy, when will something go against him, his swing is hideous!"
3:26 PM: Rory McIlroy in his post-round interview with Tom Rinaldi:
Rory: "I think anything under par was a good score. They set the golf course up very difficult for a Thursday."

— Kyle Porter (@KylePorterCBS) April 10, 2014
3:18 PM: Bill Haas is still your leader at 4 under. Have we decided what color pants he was wearing today? Peach? Some variation of yellow?
3:08 PM: Some speculation that Mickelson might be injured after teeing off at No. 8 with an iron (which is, of course, absurd). I hope he's not. That would be a terrible first day for this Masters. Tiger gone and Phil gone? Ugh.
2:55 PM: Mickelson update from earlier, he just finished the hole he kept trying to hole out on. Triple bogey seven for the left-hander and he's 3 over thru seven. Not a good look so far.
2:54 PM: Adam Scott in the house with a 69, he's the first defending champ to 
2:50 PM: It looks like Mickelson is trying to hole out some of these chips he's hitting on the first nine. They're not holing and he's in trouble.
2:39 PM: Wayne Gretzky and Paulina Gretzky presumable following Dustin Johnson around the course:
2:24 PM: "The first round is underway under glorious skies here in Georgia." You're back, Nantz, you're back.
2:19 PM: Phil Mickelson has made five straight pars to open his 2014 Masters. I do not understand.
2:14 PM: It looks like Victor Dubuisson is really rethinking his shirt choice:
2:09 PM: Scott three-putts the 15th, that's his second three-putt par in three holes. Wonder if he'll need a couple of those strokes on Sunday...
2:05 PM: At least Miguel Angel Jimenez set a record today:
Hat-tip to @Amanda_Balionis - The Mechanic's 32 on the front 9 today ties a @The_Masters record for players 50 and older.

— Justin Ray (@JRayESPNGolf) April 10, 2014
1:51 PM: WHY IS THE ENGLISHMAN GLOWING?!
1:50 PM: Phil Mickelson looks like he just saw Dufner without his clothes on in the locker room:
1:38 PM: Jason Dufner just made a hideous quadruple bogey on No. 13. A recap: drive, over the green, thru the green and nearly into the hazard, back onto the green where it rolled into the hazard, withdraw from tournament (wait, that's Tiger)...out of the hazard, onto the green, two putts for a nine!
1:27 PM: I'm doing a pushup for every stroke Mickelson, McIlroy, and Scott take today in lieu of my regular workout. I'm thru Scott's first eight holes. Feel free to join me.
1:18 PM: I have an irrational affinity for Jordan Spieth. Loyal readers of this blog already know that. He just made a world class up-and-down on No. 12 to stay at 1 under. I'm going to be catatonic if he's in the mix on Sunday.
1:12 PM: This photo of Jonas Blixt from the 15th hole is really cool:
1:07 PM: Oh look, there's Roger Goodell, a member at Augusta National:
NFL commissioner Roger Goodell at Augusta National today, apparently he's a member sporting a green jacket #Masters pic.twitter.com/MSCd0FCmZt

— Matt Zahn (@mattzahnsports) April 9, 2014
12:59 PM: This is a pretty crazy statistic and just as they put it out there Scott hits it in the water on No. 12:
Adam Scott has never held a lead after any round at the #Masters #pgatour

— PGA TOUR Media (@PGATOURmedia) April 10, 2014
12:54 PM: This was such a killer tweet:
After going bogey, double-bogey, par, Miguel Angel Jimenez has a message for Amen Corner. #masters pic.twitter.com/kdb8T6bPnI

— Luke Kerr-Dineen (@LukeKerrDineen) April 10, 2014
12:51 PM: Stephen Hennessey of Golf Digest ate everything on the Masters concession stand menu and ranked the items. It went about like you would imagine.
12:50 PM: I honestly just cannot post enough photos of this guy:
12:48 PM: Phil Mickelson on the first tee. He's finished in the top five here every even-numbered year since 2000.
12:35 PM: Welp, it was fun, Miguel. Double bogey at No. 12 and he's back at 1 under. Did you know...Jimenez has the second most major appearances in the field without winning one of them. He has 62, Lee Westwood has 63, Sergio has 61.
12:31 PM: Not a life-changer but Adam Scott leads alone after making birdie at No. 10. 
12:11 PM: Jimenez is not pleased with his ball rolling back down the hill on the par 3 No. 4 hole:
12:02 PM: Adam Scott and Rory McIlroy's in-game odds have gone from 10-1 to 6-1. Pretty clear of the field.
12:00 PM: This is what we call elite navigating of Masters Thursday:
Just told my boss "I've gotta go see the mechanic for a bit, will be back later." **go to my car and watch masters app** #TechnicallyTrue

— No Laying Up (@NoLayingUp) April 10, 2014
11:56 AM: Rory McIlroy is 2 under thru seven, Adam Scott is 3 under thru eight. They're the two storylines of the week to me. If Rory can get 75 percent of the way to the career slam. I mean....that's big boy stuff. Only three guys have ever gone back-to-back at Augusta. Scott will be there on Sunday.
11:49 AM: Kevin Stadler and Jonas Blixt get into the clubhouse at 2 under and share the lead. For Blixt it could have been better. He bogeyed two of his last four holes.
11:40 AM: For posterito: Miguel Angel Jimenez leads the Masters alone at 4 under. Glory for bloggers everywhere.
11:36 AM: When is the 30 for 30 on Rickie Fowler wearing his hat over his ears? My man Shane Bacon has asked this question many, many times but why does he do this? Is it a style thing? it can't be a comfort thing, can it? 
I have many questions. 
11:33 AM: Matthew Fitzpatrick (an amateur) is 19 years old, or so I'm told. He looks no older than nine. He's 1 over thru seven:
11:28 AM: Rory McIlroy is on the course and 2 under thru 5. His attire this week is intersting. Like "wait, how many colors can we get on one shirt" interesting (his shoes are elite, though):
11:21 AM: My wife just said "if you were to give me a lineup of 50 people and Miguel Angel Jimenez was in it and you told me to rank these golfers, I would rank him last. Every time."
I'm thinking about letting her take over the live blog soon. Your thoughts, Miguel?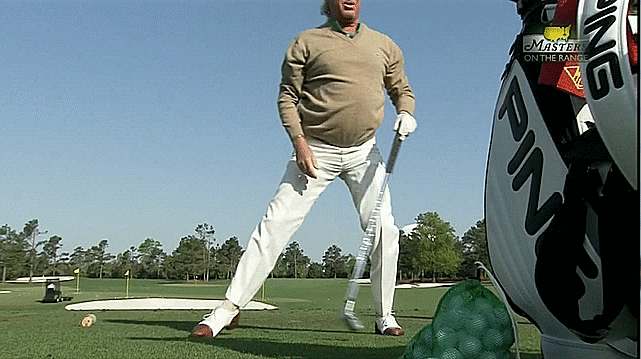 11:14 AM: And now we're officially live from the first round at Augusta:
The stretches Miguel learned from Paulina must really work.

— Adam Sarson (@Adam_Sarson) April 10, 2014
11:03 AM: Billy Horschel looking like he went to Clemson instead of Florida. Here's a look at his first-day attire:
10:55 AM: Here's something else to remember:
Just once in the last 25 years has a first-round leader at the #Masters gone on to win (Immelman 2008).

— Jamie Kennedy (@jamieonsport) April 10, 2014
10:51 AM: It'll be interesting to see what Blixt posts in the first round. He's 4 under thru 14. Your last five first-round leaders:
2013: Marc Leishman/Sergio Garcia (5 under)
2012: Lee Westwood (6 under)
2011: Rory McIlroy/Alviro Quiros (7 under)
2010: Fred Couples (6 under)
2009: Chad Campbell (7 under) 
10:40 AM: Jordan Niebrugge, an amateur from Oklahoma State, hit it long on No. 12 and had to use his putter from the pine needles to get out of trouble:
Probably not where you'd like to be using your putter, Jordan Niebrugge. pic.twitter.com/ihFF3W9gYr

— Eric Kay (@ekaycbs) April 10, 2014
Let's go to Jordan for his thoughts on how well he played the 12th:
10:24 AM: This is true, Couples is 1 under thru seven holes:
"Fred Couples on the early leaderboard" has officially passed "azaleas" and "pimento cheese sandwiches" on the list of Masters traditions.

— Jason Sobel (@JasonSobelGC) April 10, 2014
10:18 AM: Rickie Fowler is blending in to the greenery at Augusta today:
10:15 AM: Pretty epic photo of Jordan Spieth and Ben Crenshaw here:
Ben Crenshaw and Jordan Spieth throw up some #HookEm horns at Darrel K Royal Stadium. pic.twitter.com/y6qGVffOIq

— Cork Gaines (@CorkGaines) April 10, 2014
10:03 AM: Adam Scott recovers from that tee shot below and birdies the first. Always birdie the last? How about always birdie all of them?
10:01 AM: This guy, the one in the middle, is contending in the first round at the Masters:
9:59 AM: Adam Scott's first tee shot at Augusta as a Masters champ wasn't what he wanted (GIF courtesy of Peter Blackburn):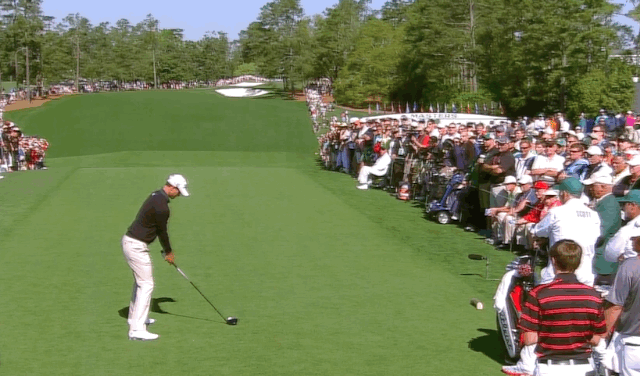 9:56 AM: Here is Rickie Fowler chipping in at the par-3 4th hole (Fowler made two bogys and two pars at this hole last year) (GIF courtesy of Peter Blackburn):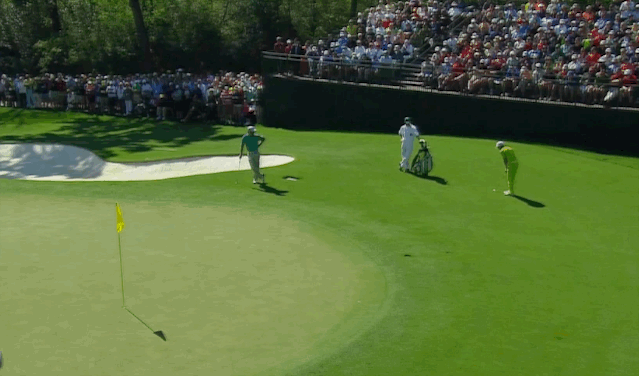 9:52 AM: Webb Simpson double-bogeys No. 5 to go back to 1 under. Jonas Blixt assumes the lead at 3 under. Fowler still at 2 under. Here is what Fowler is wearing this week.
9:44 AM: Rickie Fowler gets to 2 under early. His best finish ever at Augusta is T27.
9:41 AM: Adam Scott is on the first tee. He'll try to become just the fourth golfer to ever win back-to-back Masters tournaments.
9:31 AM: Going to be tough for Justin Rose to make his tee time later today, I think:
Why is @JustinRose99 caddying for Stewart Cink? #TheMasters pic.twitter.com/SqABxXrf0N

— Adam Stanley (@adam_stanley) April 10, 2014
9:21 AM: Webb Simpson is on pace to shoot a 54 after birdie at the first three holes. My expert picks nightmare continues. By the way, you can follow our scoreboard here and our live stream of Amen Corner here.
9:14 AM: Fred Couples is on the course. He's finished in the top 15 each of the last four years. Only Lee Westwood can also claim that. Well, I guess others could claim it, but it wouldn't be true. Here's Freddie:
9:12 AM: This was funny but on a serious note, how awesome would it be if Tiger live-tweeted the entire week. It would crush.
Tiger should spend the next four days on the couch...calling in to rule officials, narcing out other golfers.

— Paul Pabst (@PaulPabst) April 10, 2014
9:07 AM: If the golf and football gods would ever get together:
My favorite Masters moment by my pick to win this year's tournament: pic.twitter.com/QKZENkKLtP

— Paul Myerberg (@PaulMyerberg) April 10, 2014
9:05 AM: Webb Simpson leads with birdies at the first two holes. I picked him to miss the cut, naturally.
8:57 AM: Really cool post here on the Big Lead about how the Masters is more Tiger-proofed when it comes to TV ratings than you might think.
8:52 AM: If you're wondering about Caroline Wozniacki's pink hair still (I am), Rory apparently helped her dye it. 8:48 AM: Zach Johnson and his caddie are doing a warmup routine I've never seen before. I do not know what to do with it (GIF courtesy of Peter Blackburn):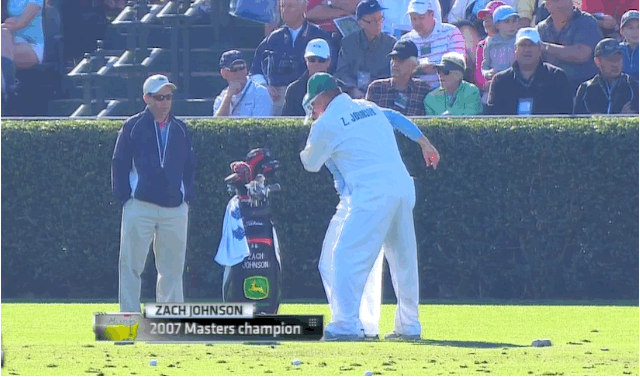 8:47 AM: Tim Clark is already 5 over through eight holes. This is probably why (GIF courtesy of Peter Blackburn):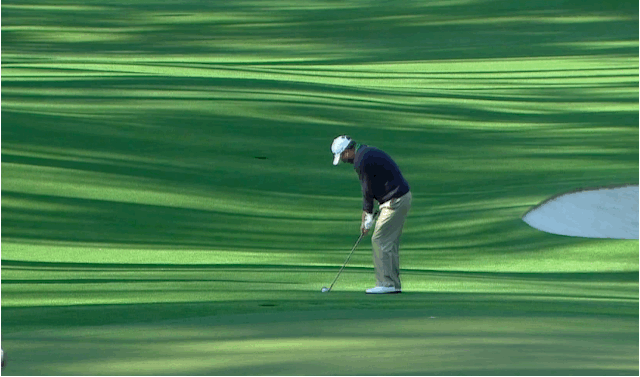 8:38 AM: Here are our final picks for the 2014 Masters. Winner, sleeper, top 10, low amateur and more.
8:34 AM: This never, ever gets old:
8:28 AM: The king is the king. This is an incredible stat:
"It's a 6 figure number every single year"- How much money Arnold Palmer spends on return postage for things he autographs for people #Arnie

— Kelly Tilghman (@KellyTilghmanGC) April 10, 2014
8:04 AM: We're having a GIF party over here with the ceremonial tee shots. Take a look.
7:59 AM: SportsCenter just did its top 10 moments at the Masters. Predictably Tiger's chip on No. 16 came in first, which is fine, but they had a Charl Schwartzel chip from the first round in 2011 ahead of Larry Mize's walkoff and Jack's putt on No. 16 in 1975. Do what?
7:56 AM: Ian Woosnam leads the Masters. I don't even have a joke.
7:55 AM: Well, this is amazing:
Gary Player told Jack that their opening tee shots were a yard apart. Jack replied, "Two yards." Still competing. #friendlyrivals

— Dave Shedloski (@DaveShedloski) April 10, 2014
7:44 AM: Tiger Woods is alive...and watching the Masters:
It never gets old watching the honorary starters tee off. One of the oldest and best traditions in the game.

— Tiger Woods (@TigerWoods) April 10, 2014
7:27 AM: Here's a look at the ceremonial tee shot by Arnold Palmer, Jack Nicklaus, and Gary Player.
7:08 AM: We have the first bogey of the 2014 Masters. I'm guessing it won't be the last (of the next 30 minutes).
7:04 AM: Here's our list of who to follow all week on Twitter.
6:59 AM: The Patrick Reed jokes will flow all week long:
Breaking; Reed said to rather pissed off not to be the hitting the opening shot at the masters with other legends of the game. Remarkable.

— Tweeter Alliss (@TweeterAlliss) April 10, 2014
6:42 AM: And now we are officially underway at Augusta National for the 78th Masters Tournament. It's 48 degrees right now but should be up to the mid-70s by later on in the day.
6:41 AM: This sounds about right:
Bragging rights for Jack Nicklaus as his tee-shot just bounces past Gary Player's. Arnold Palmer safely in the fairway too. #Legends

— Sky Sports Golf (@SkySportsGolf) April 10, 2014
6:32 AM: Here's something to look out for on Thursday. You can't win the tournament on Thursday but you can probably lose it:
The last 8 #Masters champions have been within 4 shots of the lead after round one. Last six winners have opened with a round in the 60s.

— Jamie Kennedy (@jamieonsport) April 10, 2014
6:30 AM: This made me laugh quite a bit:
Just wondering if Augusta National has medical personnel on hand to help people suffering from separation anxiety from their phones.

— Jason Sobel (@JasonSobelGC) April 10, 2014
6:25 AM: We are underway on the live blog. Merry Christmas, everybody!
For more golf news, rumors and analysis, follow @EyeOnGolf and @KylePorterCBS on Twitter or Google+ and like us on Facebook.
Find out when and how to watch the 2017 RBC Canadian Open live this week

SportsLine simulated the Canadian Open 10,000 times after calling Matt Kuchar's British Open...

The Texan is clearly enjoying his time with the Jug
Only 19 golfers have made the cut at each of the first three majors of the year

Spieth is tracking for two of the best to ever play the game

Allen won the Mile High Showdown driving competition in style