Disappointed Garcia gets both lost at Augusta National, in translation
Former world No. 2 takes latest setback hard, says he's not good enough to win a major championship -- any of them.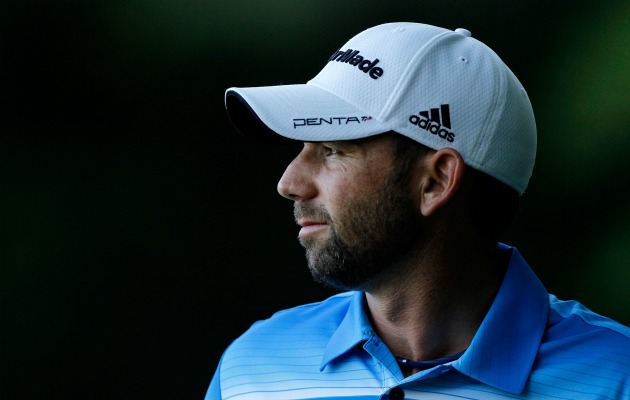 Sergio Garcia looks dejected after his third round 75 at Augusta National. (Getty Images)
AUGUSTA, Ga. -- Sergio Garcia has surrendered.
Again.
After playing a borderline humiliating round alongside Rory McIlroy at the Masters on Saturday, the former boy wonder admitted that he's not good enough to win a major.
It's hardly the first time the outspoken, emotional Spaniard has over-reacted, especially at Augusta National, a place he criticized so strongly three years ago, he was forced to issue an apology. But this is strong, introspective stuff.
After starting the third round one stroke off the lead, Garcia tanked with a 75 and was in an absolutely defeatist mood afterward as he vented to the Spanish press. The comments were translated by the Augusta Chronicle.
"I am not good enough to win a major," he said.
He was just getting started. How much was lost in translation and nuance is hard to say, but here's what he was quoted as saying after the round.
"I'm not good enough," he said. "I don't have the thing I need to have."
Oh, you can just imagine the anatomical one-liners being kicked around out there, huh?

Garcia has over-reacted plenty of times over the years, and is known across the golfing globe as something of a drama queen. But falling to T19 is hardly the end of the world.
"In 13 years, today the conclusion is I need to play for second or third place," he said.
Harsh as it sounds, if he is this emotionally fragile, he might be right. Over and over again, his mental state has affected his play, at too many majors in the past to mention. He's not just talking about not being equipped to win at Augusta, either, apparently.
"No, in any major I'm not good enough," he said. "I have my chances and opportunities and I waste them."
He was clearly looking for answers. But hey, so was playing partner McIlroy, who shot a horrid 42 on the front nine. McIlroy, easily the favorite among the 36-hole leaders, shot 77. Last year, he shot 80 in the final round, and instead of whining about it, came back two months later to win the U.S. Open.
"I have no more options," Garcia said. "I waste my options. Tell me something I can do?"
The guy is a former world No. 2. How about, "Grow up?"
Live scores, highlights and updates as Tiger Woods takes the course at the Honda Classic

Find out when and how to watch the 2018 Honda Classic live this week

The 17th hole was devastating on Friday at PGA National and tons of golfers paid the price
Tiger looks lithe and powerful again, and he has the score at the Honda Classic to prove i...

Some of the best players in the world were having trouble scoring on Thursday at PGA Natio...

A cool move from the 14-time major winner to this 10th grader from Stoneman Douglas