Phil Mickelson to attempt $1-million shot for charity on Monday Night Football
On Oct. 15, Phil Mickelson will be the halftime entertainment, and it could be worth $1 million for charity.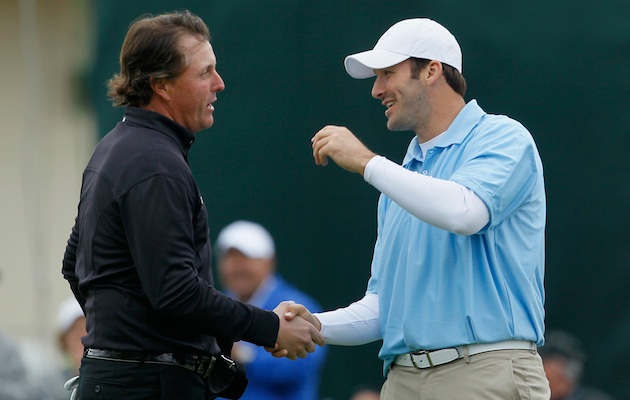 Tony Romo won't be there to witness the shot, but other quarterbacks will. (Getty Images)
Phil Mickelson is a charitable guy. He always has been, with his money and his autographs and his time, but next Monday night he will be taking that to another level, and sport, on Monday Night Football.
On Oct. 15, Mickelson will be the halftime entertainment at the Broncos-Chargers game at Qualcomm Stadium, hitting a shot from one end zone to the other at different targets, with a bull's-eye landing $1 million for what is being called the "KPMG Chip4Charity" contest that will donate the money to First Book.
First Book is a non-profit organization that provides books for underprivileged children, and Mickelson will have a chance to donate nearly 400,000 books if he can nail the bull's-eye.
If Phil hits the outer ring it'll be worth $50,000, the next will be $100,000 and the bull's-eye is a cool million bucks.
The Chip4Charity initiative goes hand-in-hand with the Blue for Books campaign that donates three books for every blue KPMG hat sold. 
Mickelson said on the KPMG website, "My wife, Amy, and I feel strongly that literacy and education are critical to the future success of today's youth.  I am extremely proud to be part of the Blue for Books campaign and it's just great to know that for every blue hat I see out in the gallery each week, three new books are in the hands of kids who need them most." 
So yes, Phil Mickelson and Monday Night Football, joining together for charity; I give that one big thumbs-up. 
The year's opening tournament has a new Wisconsin-based backer

Rory McIlroy, Rickie Fowler and Henrik Stenson tee it up from the wrong side

Lefty just reached the century mark, and he'll keep going from there
The South Korean will be back in September

Get ready for eight events in seven weeks

The final event of the year is all about keeping your card for 2018