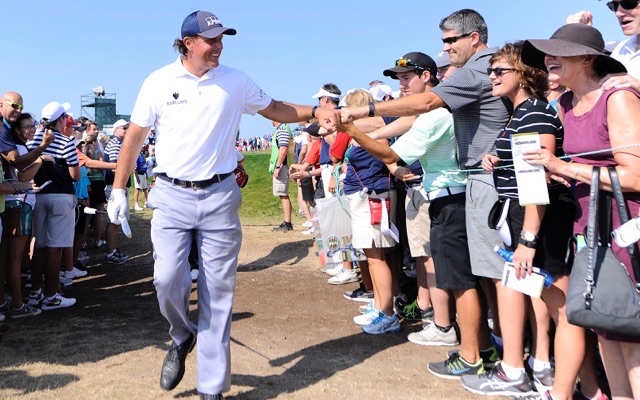 From the "if it sounds too good to be true ..." files this week, we bring you Ryan Ruffels and Phil Mickelson. Ruffels is a 17-year-old from Australia who just turned pro. There was a great story from earlier this week in which it was alleged he took $5,000 off Mickelson in a practice round at Torrey Pines. That sounds a little odd, especially since he only turned pro this week, but this is Mickelson we're dealing with. Nothing is out of the question when it comes to gambling and golf.
The reason there was some chatter about the money and the wagering is because Phil's brother, Tim, was trying to woo Ruffels to Arizona State (though not necessarily at the time of the practice round). You can see how this would get messy in a hurry.
Ruffels' agent said in a statement that the story was a little sensationalized and the timeline didn't add up. 
"While its no secret both Phil and Tim would love to have had Ryan attend ASU and become a Sun Devil, the timing in the Sydney Morning Herald story was off and in no way was either recruiting him to do such at Torrey Pines. Ryan had months ago decided he was turning professional at the upcoming Farmer's Insurance Open and that it would be announced [in early January] in Melbourne Australia at a media conference at Victoria Golf Club Ryan's home golf course. Both Phil and Tim were well aware this was the case. As for the actual round, Ryan jumped at the chance to get in a practice round for the Farmers with one of golfs legends and a real PRO from whom young players can gain valuable experience. The 'friendly wager' and the birdie barrages' reporting is a bit overdone ..."
So somebody is lying?
"Everyone, this is very inaccurate," Ruffels commented on a post by Golf Channel on Instagram. "There are no NCAA violations involved. At the time of the round I was already a professional, and had made it clear my intentions to not attend ASU or any college in Australia or the USA.
"The wager amount has also been exaggerated out of proportion. I value the relationship I have with Phil and his brother Tim and it's one that I hope to have for many years. To have so many damaging inaccuracies in this is truly disappointing."
So again, between the reporter who wrote this story and Ruffels, somebody is not being truthful. It's true that Ruffels could have already been a pro, but the story never mentions whether he was or was not. It only implies that this practice round was folded into Ruffels' recruitment. The money thing is the real issue when it comes to the truth of the story. It was either $5,000 or it wasn't.
It will be interesting to see the response from the original writer of the story in the Sydney Morning Herald. His name is Matt Murnane. He hasn't tweeted in about a week.
Wink of the CBS eye to Golf Digest