Simpson wins the U.S. Open at Olympic Club
Webb Simpson made up four shots on Sunday at Olympic Club to claim his first major championship at the U.S. Open.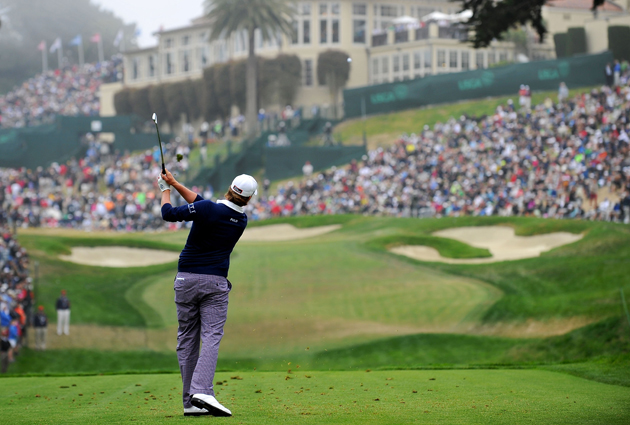 Webb Simpson's weekend rounds of 68-68 were good enough to win the U.S. Open by a shot. (Getty)
SAN FRANCISCO -- The U.S. Open is all about survival. It's the golf tournament that, at times, simply asks eventual winners to get out of their own way and let everyone else fall apart. 
On Sunday at Olympic Club, Webb Simpson did just that. Simpson started the day four shots back of leaders Jim Furyk and Graeme McDowell and didn't help himself over the first five holes, but Simpson held on, eventually winning his first major championship. 
How did the 26-year-old American do it? By posting weekend rounds of 68-68 to leapfrog everyone at the U.S. Open, and not making any mistakes on his way in on a foggy and misty Sunday in San Francisco. The back nine has been relief for most of the field this week, allowing players to close with birdie holes, but it seemed more people were making mistakes than pulling off shots. 
Simpson's birdie on the 10th was his only one on the back nine, but that was good enough as leaders continued to shoot themselves in the foot.
The moment that won this major championship for Webb came on the interesting 18th hole. Playing just 335 yards, the 18th might be one of the best short holes in golf, and the front hole location forced players to hit the fairway or else. Simpson didn't, and as his second shot sailed right of the green, it seemed a bogey was almost inevitable. Webb popped his ball out of the thick U.S. Open rough, allowed the slope to do the work, and as the ball rested four feet past the cup, was able to save par and take the clubhouse lead. 
When the final group came through, both Jim Furyk and Graeme McDowell needed a birdie on that same hole, but weren't able to pull it off, allowing Simpson to overtake McDowell and Michael Thompson by a shot. 
Simpson's round didn't exactly get off to a good start. Bogeys on Nos. 2 and 5 put Webb well down the leader board, but consecutive birdies on Nos. 6, 7 and 8 got him going, and he added that fourth in five holes on No. 10. After that, it was simply just playing tough, U.S. Open golf, and pars on the final eight holes were just good enough. 
Simpson's victory makes it 15 of the past 15 majors with a different winner, and adds another young American to the growing list of one-time winners. He might not have a ton of major experience, but in his only other U.S. Open appearance, a year ago, he finished T-14 and followed that up with a T-16 at the British. 
Simpson's winning score of 1-over was only the second time ever that the winning score at Olympic Club finished over par. 
The final event of the European Tour season had an anticlimactic ending, but Fleetwood took...

A PGA Tour rookie looking for his first win will take a nice lead into the final round of the...

Tommy Fleetwood is hot on his heels as the European Tour winds down
A tour rookie is leading a tour veteran by one at the halfway point in Georgia

Jonathan Thomson has had a quite a ride, and it had a happy ending on Thursday

He's still chasing, but Fleetwood is now in premium position in Dubai