2014 Brewers preview: Likes, dislikes
Here are some things we like and don't like about the Milwaukee Brewers headed into the 2014 season.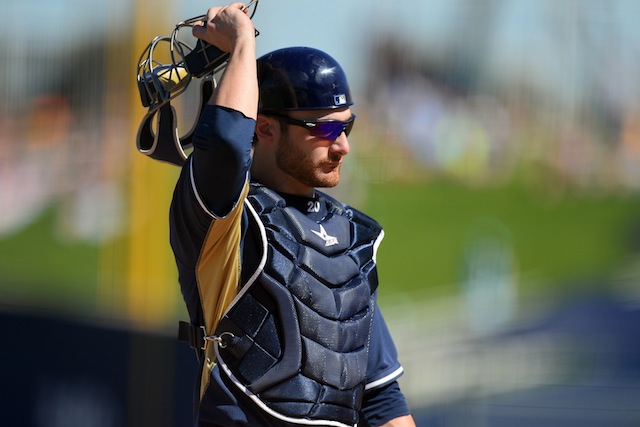 More Brewers: Team preview | Over/unders

As part of our preview series, Eye on Baseball will be picking and choosing some "likes" and "dislikes" for all 30 MLB teams heading into the 2014 season. For this installment, we'll run down what we like and don't like about the Milwaukee Brewers, who are looking to return to the postseason after a two-year absence.
LIKES
Jonathan Lucroy: The 27-year-old Milwaukee catcher can hit a little bit, as evidenced by his 2012-13 combined batting line of .295/.350/.477 (121 OPS+ across 926 plate appearances). Another reason to like Lucroy is that he grades out as an elite framer of pitches -- i.e., a catcher whose receiving skills help him get a lot of called strikes on the margins on the margins of the zone. For instance, Stat Corner estimates that Lucroy's pitch-framing last season saved Milwaukee pitchers more than 30 runs over and above the average MLB catcher -- tops in all of baseball. That's huge, and it's worth noting that Lucroy has been similarly impressive in this regard for his entire career. He's one of the most underrated players in baseball.  
The rotation: To be sure, I don't love the rotation, but I do like it. Since we're talking about a fourth-place team, that qualifies as a "like." I see the potential for the Milwaukee rotation to include four sub-4.00 ERAs this season -- Kyle Lohse, Matt Garza, Marco Estrada and Yovani Gallardo. Obviously, it remains to be seen whether those guys hit their numbers, and health and durability are concerns for some of those names. Still, there's some upside in there. As I said: Like, not love.
Improvement at first base: The Brewers have struggled to find production from this offense-first position pretty much since Prince Fielder departed. Last season, Milwaukee 1Bs combined to hit an unthinkably bad .206/.259/.370, while the average MLB first baseman batted .267/.337/.436. There's bound to be a bit of improvement this season (how could there not be?), but over and above that a Juan Francisco-Mark Reynolds platoon could put up some nifty power numbers. Of course, it's on Ron Roenicke to make this a very strict platoon arrangement, otherwise it doesn't work nearly as well.  
DISLIKES
The schedule: The Brewers play an unbalanced schedule in a division that last year yielded three playoff teams, and this year they'll tangle with the mighty AL East in interleague play. In all, the Brewers will play 88 games against teams that had winning records in 2013. In the first month of the regular season, the Brewers will face a 2013 playoff team 19 times.
Ryan Braun as an MVP-caliber performer: Braun is of course coming back from his Biogenesis-related suspension. While I think Braun will be a productive and useful player over the next handful of seasons, I have my doubts as to whether he's capable of repeating his 2011-12 levels of excellence. Mostly, I say this because Braun is now 30, and he's coming off a partial season in which his fly ball rate, groundball rate, home run/fly ball percentage and average distance of fly balls all moved in the wrong direction. The small sample size of his 2013 season is noted, but these trends cause some concern. 
Another team rumored to be interested in Stanton has confirmed their interest

Chris Woodward has spent the last two seasons with the Dodgers

We heard about it being awful for years, but was it?
Then again, three trades in four days might be behind Jerry Dipoto's usual pace

Ohtani is arguably the best hitter and pitcher in Japan

The O's need rotation help, and Cobb is available for hire