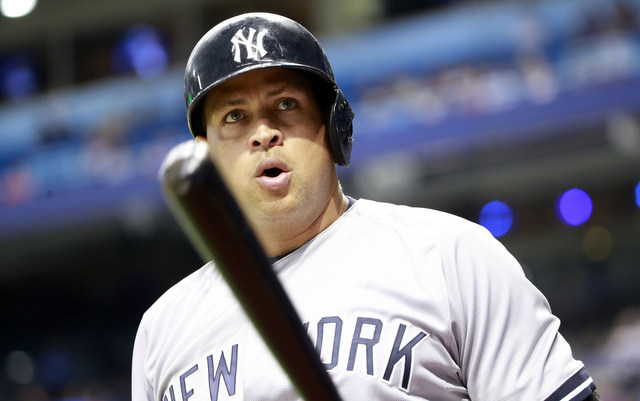 The 2015 season was full of milestones for Alex Rodriguez. The Yankees DH recorded his 3,000th hit, his 2,000 RBI, and his 2,000th run scored last year. He's only the third player in history with 2,000 RBI and the eighth with 2,000 runs.
A-Rod also moved into sole possession of fourth place on the all-time home run. He passed Willie Mays in early May with career dinger No. 661. Rodriguez currently has 687 home runs and is closing in Babe Ruth's total of 714. He's only 27 away.
How does it feel to be approaching Babe Ruth's homer total? Here's what A-Rod told Kevin Kernan of the New York Post:
"Overwhelming'' is the word Rodriguez used to describe the possibility of matching the Bambino. "When you start playing baseball at 9 years old, you never think about tying anybody, let alone a guy like Babe Ruth,'' he said.

To make catching Ruth even possible after his suspension, he had to change — and rediscover the child-like love he once had for the game.

"It was reconnecting with the game, reconnecting with the clubhouse,'' Rodriguez told me. "I love the clubhouse. What I found is how much fun the game is and last year I had a lot of fun.''
Rodriguez will turn 41 in July and hitting 27 home runs in 2016 will be a tall order. He did go deep 33 times last year, and he does play in cozy Yankee Stadium, but age is working again him. For what it's worth, ZiPS and Steamer project A-Rod for 23 and 19 homers next year, respectively. Rodriguez is under contract in 2017 as well, so he has two years to hit those 27 homers.
Ruth is the all-time AL home run king -- Barry Bonds played his entire career in the NL and Hank Aaron hit 733 of his 755 in the NL with the Braves -- with 708 career dingers. (He hit six as a member of the NL's Boston Braves in 1935.) So A-Rod is 27 homers short of tying Ruth's career mark but is only 21 shy of tying him for the most in AL history. Rodriguez is already the all-time home run king among infielders.
Of course, A-Rod's legacy is complicated and his home run totals are tainted due to performance-enhancing drug ties. Rodriguez admitted to using PEDs during his three years with the Rangers from 2001-03 -- he hit 156 homers with Texas -- and he was suspended for the entire 2014 season due to his involvement in the Biogenesis scandal.
At this point I don't think Rodriguez will ever get into the Hall of Fame. It's a shame his career has become such a mockery. He is one of the greatest players in history and he's doing remarkable things. 3,000 hits? 2,000 RBI? 2,000 runs? Approaching Babe Ruth on the home run list? Crazy. And no one cares.