A-Rod's lawyers preparing to 'release all of the evidence' on Friday
Tired and frustrated with the appeals process, A-Rod's camp is planning to release all of the evidence in the Biogenesis scandal on Friday.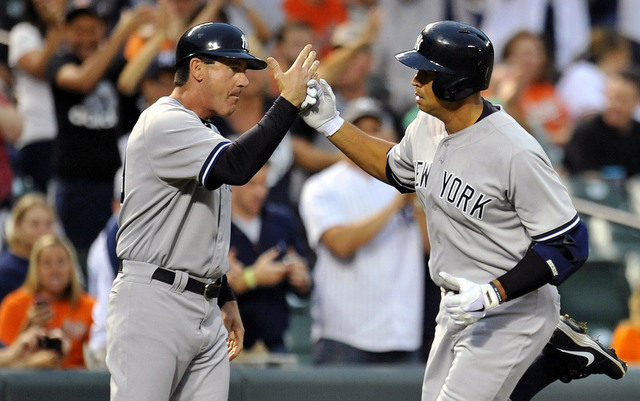 The appeal hearing of Alex Rodriguez's record 211-game suspension concluded on Thursday, and things are about to get extra juicy. A-Rod's lawyers plan to "release all of the evidence" on Friday due to their unhappiness and lack of faith in the proceedings.
Wallace Matthews of ESPN New York has the news:
"We're going to open up everything," said Ron Berkowitz, a spokesman for Rodriguez. "We're going to show everything we have to the press so they can show it to the American public."

...

"There's very important stuff that has not been heard," Jim McCarroll, a Rodriguez lawyer, said on a radio show Wednesday.

A source with knowledge of the case told ESPNNewYork.com that the decision to go public with evidence that is supposed to be kept private under the confidentiality agreement in baseball's collective bargaining agreement is a sign that Rodriguez's side "doesn't give a damn what Horowitz rules. They're taking this to the next level. They're like, 'Go ahead, make your ruling, and we're going to move on.'"
The evidence likely includes transcipts of testimony and sworn affidavits, among other things. If they follow through, we'll get a look into the inner workings of the trial and MLB's investigation. The decision to release all of the evidence is a pretty strong indication they're going to try to take the case to federal court.
Rodriguez's camp is not happy commissioner Bud Selig did not testify during the hearing, so much so that A-Rod himself left the hearing on Wednesday and did not show up on Thursday. His lawyers were present as the proceedings wrapped up.
Keep tabs on the top 50 free agents right here

Your one-stop shop for all things MLB Winter Meetings-related

The Angels knew about the first-degree sprain and still wanted to sign the potential ace, of...
The run on relievers continues with two more signings

The Yankees added Giancarlo Stanton in a blockbuster trade, though they now have openings at...

Smyly is currently on the mend from Tommy John surgery