The Royals got clobbered in Game 1 of the World Series on Tuesday night (SF 7, KC 1) after winning each of their first eight postseason games this year. That includes their four-game sweep of the Orioles in the ALCS.
So, after watching Kansas City lose Game 1, Orioles catcher Caleb Joseph send out this little note on Twitter: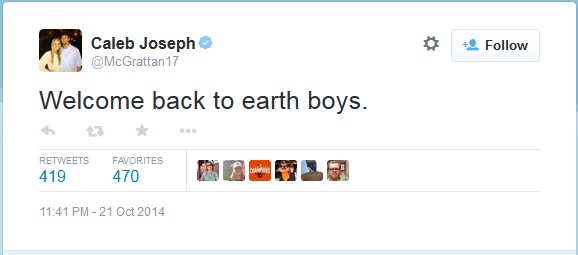 The real tweet is still live right here, but I grabbed a screen cap just in case he decides to delete it.
Harmless fun in my opinion. The Royals didn't exactly dominate the O's in the ALCS -- they won the four games by a total of six runs -- and I definitely think some people were waiting for the other shoe to drop, which it kind of did last night. Joseph is just having a little fun. Baseball needs some more personality.