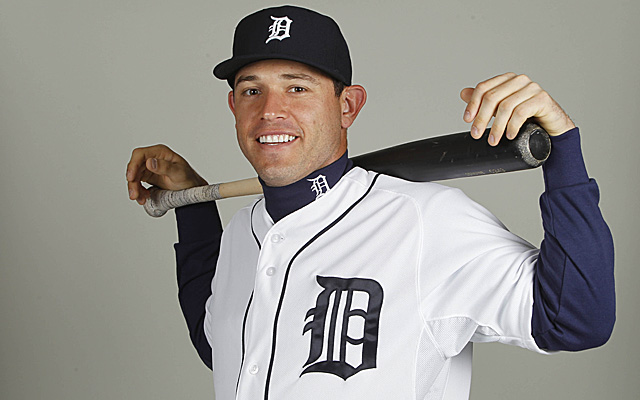 MORE: Spring Training | Scoreboard | FA tracker: position players | FA tracker: pitchers
Second baseman Ian Kinsler spent the first eight years of his big-league career with the Rangers, but he was traded to the Tigers this past offseason in a blockbuster deal that sent Prince Fielder to Texas. And now, in an article set to be in ESPN Magazine March 17, Kinsler has spoken his mind about his former ballclub. It's juicy. It's a quality read and long-form, so hop on over there to read the whole thing if interested.
Some of the highlights (the best two are the bottom):
•"There was no remorse from the Rangers," Kinsler says of the trade. "They did not care." More: "The team had changed. It was not the same personalities, not the same players, not the same chemistry. To be traded, it was refreshing to start new."
•Trading Michael Young before last season really hurt the club, in Kinsler's view. "He held everything together," Kinsler told ESPN.
•The relationship between Kinsler and Rangers GM Jon Daniels appears to have started going south after Daniels asked Kinsler to move to first base last offseason -- a move that would've opened up second for prospect Jurickson Profar.
•With Young gone, Kinsler was thrust into a leadership role and that apparently wasn't a good idea. "I was bogged down," he told ESPN. "They wanted me to lead these young players, teach them the way to compete, when the only thing I should be worried about is how I'm performing in the game."
•Kinsler and Adrian Beltre had a heated argument late in the season that spilled over into the tunnel between the dugout and the clubhouse.
•Kinsler found out from a Dallas radio personality that he'd been traded, not from Daniels. "I want to be the one who tells Ian," Daniels said to ESPN, "but literally, the story breaks while I'm on a plane to Tucson. I feel bad that's how he found out."
•Daniels did leave Kinsler a voice mail after the deal, but Kinsler has never called him back.
And now, the fireworks:
•"Daniels is a sleazeball," he says (ESPN). "He got in good with the owners and straight pushed [Nolan] Ryan out. He thought all the things he should get credit for, Ryan got credit for. It's just ego. Once we went to the World Series, everybody's ego got huge, except for Nolan's."
•"I'll miss all my teammates," he says (ESPN). "I'll miss Elvis [Andrus] and Beltre, Mitch [Moreland], Matt Harrison and [manager Ron] Washington." And the kill shot: "To be honest with you, I hope they go 0-162. I got friends, and I love my friends, but I hope they lose their ass."
Yowza. It's a good bet we won't be seeing the Kinslers and Danielses out at dinner together any time soon.
The Rangers visit Detroit May 22-25 and then Kinsler's return to Texas will be June 24-26.
UPDATE: Someone has an idea what Kinsler is going through right now ...
Not any fun being in the Texas doghouse, is it @IKinsler3?

— Josh Hamilton (@thejoshhamilton) March 4, 2014