Joe Girardi put Derek Jeter's farewell tour ahead of the team
It's been a season of underperformance in the Bronx, with Joe Girardi at the forefront. His refusal to recognize the obvious and move Derek Jeter down in the lineup worked wonders for the farewell tour but sunk the Yankees.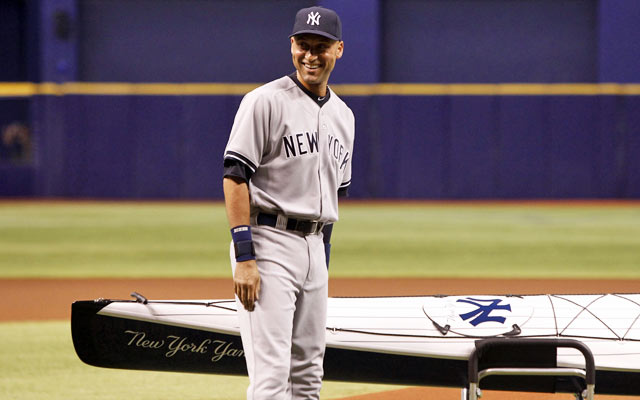 Back in April, Joe Girardi talked a big game. But in the end, Girardi couldn't deliver on his promise, not even close.
 "I wasn't hired to put on a farewell tour," Girardi said back at the beginning of the season to the question about whether the long good-bye expected for Derek Jeter might affect Girardi's decision making.
No, Girardi insisted. Winning games is all that counted. It was a strong sentiment, a stronger statement. But it's one the Yankees manager couldn't back up, not by a long shot.
In the end, Girardi batted Jeter second throughout the year despite plummeting results. Jeter, 40, stands second on the Yankees in at-bats despite ranking near the bottom of the league in offensive categories and last in baseball among 150 qualifying hitters in slugging percentage.
Jeter even DH'ed several games in Girardi's lineup despite spending his final season as a non-threat. There is only one explanation for his continuing lineup placements. Jeter wasn't treated like a ballplayer but a god by his manager, and that's after he promised the opposite.
In the end, Girardi put on that farewell tour for the all-time great, and what a splendid one it was. The fans all caught more than a glimpse of Jeter, thanks to the deity treatment.  And in the end, the manager hurt the Yankees' chances to win with his fan-pleasing batting orders.
A team that knows the numbers and relies on the numbers as much as the Yankees do has to know that it is better to limit the at-bats for your worst performers. They have to know it hurt them.
Same for the manager. He has to know, despite never admitting it. Girardi is a product of the tech school at Northwestern, and a strong numbers guy at heart, a perfect fit for these new Yankees. As a manager, this is his strength.
He's not going to wow many folks with a vibrant personality, and he's unlikely to be able motivate with the skill of Joe Torre, his Hall of Fame predecessor, or some others. It's hard to imagine that the no-nonsense demeanor, which seems to border on joyless at times, will work with everyone, and some players have remarked behind the scenes that they are turned off. Some rivals also wonder whether he has the "It" factor. Girardi gets high marks for his strategies, though, so he can't waste that strength.
Girardi is like the before picture of Buck Showalter, the very bright, extremely knowledgeable ex-Yankee manager who appeared uptight in some of his first jobs before turning into quite likely the best manager in the game in Baltimore. Showalter seems much looser now, and his AL East-winning Orioles team seems extremely loose. They certainly outperformed expectations.
The Yankees did the opposite.
Girardi received praise early for keeping a winning record despite the team's negative run differential, but that really was nothing more than a reflection of a terrific bullpen, with the almost unhittable Dellin Betances and the reliable David Robertson to lock down innings eight and nine.
The Yankees spent $200 million-plus to start the season, and wound up with a payroll closer to $230 million. Yet, at no point did they look like a $200-million team.
The Yankees did lose four-fifths of their rotation, but they had the prospects and dollars to cover for part of that loss. They simply didn't hit.
By any standard, they underperformed. And if that's true, Girardi underperformed.
Girardi didn't always seem on his game as far as pitching calls, either. Using Robertson three straight games blew up in his face in Baltimore. Other times he seemed to go too long with tiring starters.
Yankees general manager Brian Cashman, though, had only praise for Girardi.
"I think Joe's one of the better managers in baseball, period," Cashman, a consistently strong supporter of Girardi, said in a phone interview. "He has been consistently good year-in and year-out since he's been here. I don't feel the results on the field reflect the job Joe did."
Cashman was asked whether he believed, as I do, that the Yankees underperformed, and he said he preferred to wait until the end of the year to get into anything that specific. Fair enough, for him.
It's also fair that it made sense bat Jeter second at the start of the year in spite of what the scouts were saying about his dismal spring training because he is, after all, an all-time great. And it was understandable to keep it going into the summer as Jeter continued to defy his critics (as he done throughout his career) by hovering around .270. While it wasn't an especially strong .270, it wasn't obvious early he had to be moved down to the bottom of the order.
But once Jeter's singles started to become outs, it became clear Jeter needed to be moved down. Weeks before the Yankee great got into his current 0-for-24 slide to drag him into un-Jeter-like territory at .249, it became clear he needed to be batting in a spot well below.
It wasn't going to be easy. But it's been done before.
In Cal Ripken's final season at age 40, when he had a .637 OPS (a bit higher than Jeter), he started at 42 times at No. 7 in lineup, 37 times at No. 6 , 44 times at No. 5, and twice at cleanup in 2001. The Orioles were also-rans with 63-98 record that year, but there was nothing sentimental about his placement in batting order by manager Mike Hargrove, who made the tough calls.
It might be more understandable, at least in Girardi's regard, if Jeter batting second was a directive from above, but that isn't the case. As with everything else, the Yankees met and discussed the situation. But in the end, it was Girardi's call.
Anyway, against all reason, Jeter kept batting second.
Good for the fans who brought their cameras to the ballpark with hope for a shot at the great Yankee. But bad for the team.
Cashman suggested he saw this call in a better light.
"Bottom line is we had a group of hitters not performing," Cashman said. "Derek is part of a group that hasn't hit. There's clearly a respect factor for the player and what he has done. You have to have legitimate alternatives that would make that type of move easy to make. It's not something that became obvious. Unless you're talking about (Jacoby) Ellsbury, (Brett) Gardner and (Martin) Prado, we have a lot of players who haven't hit."
It's true Jeter deserves extra respect. It's true, too, they had a lot of underperformance. But Jeter was outperformed by everyone else in the lineup while racking up the ABs. He is 150th out of 150 qualifying players with his .297 slugging percentage. And his .296 on-base percentage isn't much better, a tie for 132nd.
And this is all on Girardi, whose great strengths as a manager are supposed to be that he's smart enough to make the right percentage call, and tough enough to deliver bad news, even if it's to a Yankee icon. If he doesn't deliver on those two attributes, what exactly is his value?
CBS Sports HQ Daily Newsletter
Get the best highlights and stories - yeah, just the good stuff handpicked by our team to start your day.
Please check the opt-in box to acknowledge that you would like to subscribe.
Thanks for signing up!
Keep an eye on your inbox for the latest sports news.
Sorry!
There was an error processing your subscription.
Milwaukee has too many hitters struggling and not enough pitchers flourishing

Cubs manager Joe Maddon said there's a discussion that needs to be had, but why?

Vladimir Guerrero Jr. will make his big-league debut on Friday with the Blue Jays
Sanchez went 0 for 4 with four strikeouts and made an error defensively

Strop was giving police information throughout the game prior to his insertion

SportsLine's proven computer model simulated Thursday's Dodgers vs. Cubs game 10,000 times