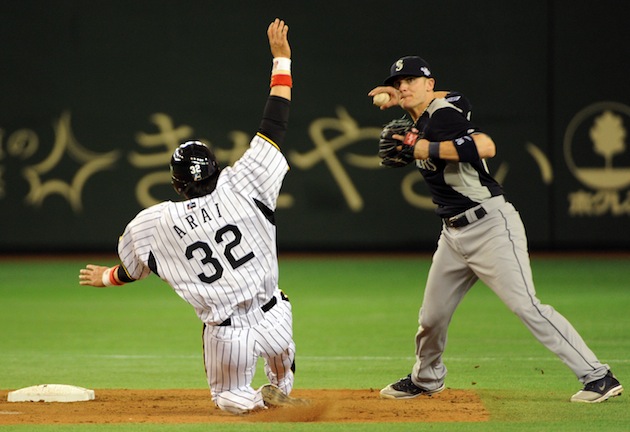 Mariners shortstop Brendan Ryan used the team's trip to Tokyo to take care of some non-baseball business, proposing to his girlfriend on the team's off-day on Tuesday. She said yes,
Ryan told MLB.com
.
"I had this planned for quite a while," Ryan told MLB.com. "Once I heard we were going to Japan, I figured it was a pretty cool opportunity. Then MLB heard about it and stepped in and rolled out the red carpet for us and it was just awesome."
Ryan propsed on the Sky Deck on the 90th floor of the Mori Tower, one of the city's tallest buildings. He asked Ichiro Suzuki's interpreter, Anthony Suzuki, how to say "Will you marry me?" in Japanese, and after his now-fiance, Sharyn, asked what that meant, he got on one knee and asked her in English.
Ryan said he didn't bring the ring to Japan himself, afraid he might lose it, so he entrusted it to a teammate.
"One of the smartest things I ever did was give that thing to Felix [Hernandez]," Ryan said (MLB.com). "Because I figured if anybody was going to lose it, he could afford it."
Hernandez is the team's highest-paid player, having signed a five-year, $78 million deal before the 2010 season. He'll make $18.5 million this season, while Ryan is making a more modest $1.75 million this season.
Ryan's story beats the other one I know of a Mariner proposing on the road. Ken Griffey Jr. proposed to his wife, Melissa, on a road trip to Milwaukee because he said the town was so boring he had nothing else to do -- which is what every girl wants to hear, I'm sure. I've never asked Melissa about this story, but I should.
For more baseball news, rumors and analysis, follow @EyeOnBaseball on Twitter, subscribe to the RSS feed and "like" us on Facebook.