Meet the next big thing to come out of Japan: Masahiro Tanaka
Here's a primer on Japanese right-hander Masahiro Tanaka, who is expected to come over to MLB this offseason.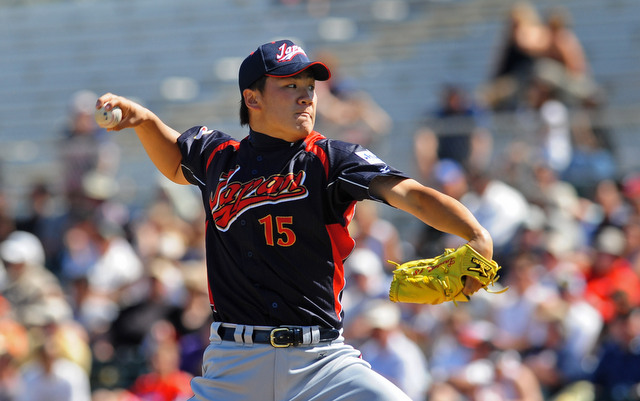 More MLB: Scoreboard | Standings | Probable Pitchers | Sortable Stats | Odds
This coming offseason, the Rakuten Golden Eagles in Japan are expected to make 24-year-old ace right-hander Masahiro Tanaka available for MLB teams via the posting system. Danny Knobler of CBSSports.com first reported that news back in March, when Tanaka was pitching in the World Baseball Classic.
As we saw with Yu Darvish two years ago and Daisuke Matsuzaka several years ago, big league teams will spend big for a foreign pitcher they expect to be an ace-caliber starter. Tanaka has dominated Nippon Professional Baseball since he was only 18 years old, and in 2011 he won the Eiji Sawamura Award. That's the Japanese equivalent of the Cy Young. Here are the obligatory stats, courtesy of Baseball-Reference:
Year
Age
Tm
W
L
ERA
G
GS
IP
H
R
ER
HR
BB
SO
WHIP
HR/9
BB/9
SO/9
2007
18
Rakuten
11
7
3.82
28
28
186.1
183
83
79
17
68
196
1.347
0.8
3.3
9.5
2008
19
Rakuten
9
7
3.49
25
24
172.2
171
71
67
9
54
159
1.303
0.5
2.8
8.3
2009
20
Rakuten
15
6
2.33
25
24
189.2
170
51
49
13
43
171
1.123
0.6
2.0
8.1
2010
21
Rakuten
11
6
2.50
20
20
155.0
159
47
43
9
32
119
1.232
0.5
1.9
6.9
2011
22
Rakuten
19
5
1.27
27
27
226.1
171
35
32
8
27
241
0.875
0.3
1.1
9.6
2012
23
Rakuten
10
4
1.87
22
22
173.0
160
45
36
4
19
169
1.035
0.2
1.0
8.8
2013
24
Rakuten
19
0
1.20
22
22
172.0
135
26
23
5
25
144
0.930
0.3
1.3
7.5
7 Seasons
94
35
2.32
169
167
1275.0
1149
358
329
65
268
1199
1.111
0.5
1.9
8.5
Three straight seasons with a sub-2.00 ERA is a great way to grab some attention. Here is the obligatory YouTube video (one of many):
Highlight videos are fun to watch, but they can make anyone look like a star and really don't tell us anything useful. Thankfully, Ben Badler of Baseball America can tell us the important stuff. Here's a snippet of his write-up on Tanaka from last month:
Tanaka, who turns 25 in November, has cemented his status as the best pitcher in Japan since Yu Darvish left and has age on his side. Though Japan used him sporadically at the World Baseball Classic in March, Tanaka ranked as the No. 1 prospect in the WBC among players not under contract to a major league team.

(snip)

At 6-foot-2, 205 pounds, Tanaka throws a low-90s fastball that can touch 96 mph. Even though Tanaka can reach the mid-90s, his fastball is the pitch that gives some scouts pause because it comes in on a flat plane, making it more hittable than the velocity might suggest. Tanaka has two secondary pitches that have earned grades of 60 or better on the 20-80 scouting scale, including a 70 splitter with late downward action to keep hitters off his fastball. His low- to mid-80s slider is another plus weapon, while he'll mix in a curveball as well.
Badler also says "some scouts project [Tanaka] as a potential No. 2 starter who can immediately step into a major league rotation." That's really good, but that's not Darvish good. Darvish was considered a slam dunk ace. Someone who could come over to MLB and dominate right out of the gate, which is exactly what he has done.
Now, there's nothing wrong with being a No. 2 starter at all. In fact, being a 24-year-old potential No. 2 starter probably makes Tanaka the best available pitcher this offseason. Tim Lincecum and Josh Johnson lost their ace cards a few years ago and Hiroki Kuroda, who ranks 16th among all pitchers with 4.0 WAR in 2013, will turn 39 before spring training next year. After those three you have A.J. Burnett, Matt Garza, Dan Haren and Ervin Santana. As good as he's been this year, you know it's a weak pitching class if Santana is in the conversation for best available starter.
Tanaka will be in high demand this winter and there have already been reports of teams scouting his starts. Badler says the Rangers sent top evaluators to scout him. The Yankees sent their assistant GM to watch him, according to the New York Post. CSN Bay Area reported the Giants are trying to get "as many eyes as possible" on Tanaka. The Red Sox and Athletics are both keeping an eye on the righty according to the Boston Globe. Those are just the teams we know about too. You can bet plenty of others are interested as well.
Both Darvish and Matsuzaka required nine-figure commitments, broken down into $50+ million posting fees and $50+ million contracts. Remember, all the posting fee does is buy you a 30-day window to negotiate a contract. That's it. If the player doesn't sign within those 30 days, the team gets the posting fee back -- which is paid out immediately in one lump sum -- and the player returns to his team in Japan for another year. The posting fee does not count against the luxury tax, which is particularly appealing for big market clubs.
Tanaka is considered a notch below Darvish and Matsuzaka -- it sounds silly now, but Dice-K was the most dominant pitcher in Japan and considered a budding ace at the time he was posted -- and might not require a $100+ million commitment. At the same time, the league is flush with cash and there really isn't anywhere to spend it. Teams can't spend freely on the draft or international amateurs anymore, and free agency is weak because clubs are signing their best players to long-term extensions. The guys that do hit the open market often get overpaid, and a 24-year-old starter with Tanaka's track record sure seems like a great place to spend all that extra cash.
The history of Japanese-born pitchers in MLB is a mixed bag at best. Kei Igawa and Hideki Irabu were busts, Dice-K and Hideo Nomo started out very well before quickly fading, and Darvish is outstanding but has yet to complete his second full season. Kuroda is probably the most consistently good pitcher of the bunch, posting nothing but above-average seasons (career 119 ERA+) since arriving in 2008. No one really knows what to expect out of Tanaka when he comes over next year, but it's clear some team will spend a ton of money on him and expect high-end production in return.
CBS Sports HQ Daily Newsletter
Get the best highlights and stories - yeah, just the good stuff handpicked by our team to start your day.
Please check the opt-in box to acknowledge that you would like to subscribe.
Thanks for signing up!
Keep an eye on your inbox for the latest sports news.
Sorry!
There was an error processing your subscription.
Reddick is imploring Major League Baseball to take steps in protecting the Houston players...

These prospects could play roles for their teams this season

The former Marlins president weighed in on commissioner Rob Manfred's announcement
Big Papi was at Red Sox spring training camp Thursday

Here are the latest hot stove rumblings the day before spring training games begin

Crane's comments were clearly way off
The MLB commissioner was asked plenty of questions about the Astros on Sunday

The results of the BBWAA vote for the 2020 Hall of Fame class were announced on Tuesday