MLB injury, news and rumors roundup for Aug. 24
Time for our nightly roundup, with coverage on Yan Gomes, Starlin Castro, Michael Cuddyer, Zack Greinke, Asdrubal Cabrera, Anibal Sanchez and the next big thing from Cuba. And more.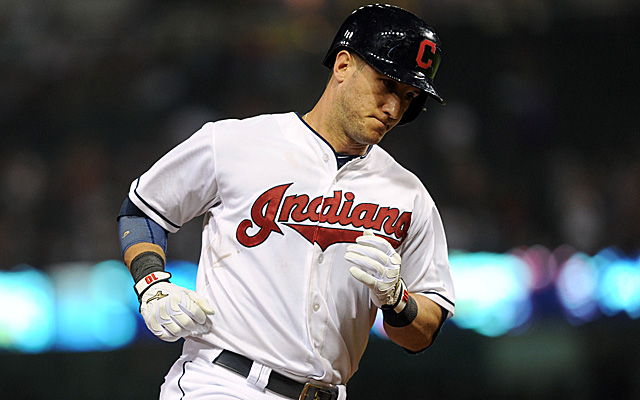 We're now exactly five weeks from the final day of the regular season. Time, she's a flyin'. Let's get to our nightly recap, while noting that the full story in many cases can be viewed by clicking through on the provided links.
ROSTER MOVES, TRANSACTIONS, ETC.
A's/Rangers: Geovany Soto was traded to the A's.
A's/Rays: The A's reportedly claimed Yunel Escobar on revocable waivers, so now we'll see if the two clubs can work out a trade.
A's: Sean Doolittle was placed on the 15-day disabled list. John Jaso is headed that way as well (athletics.com).
Astros: They put Scott Feldman and Chad Qualls on revocable waivers, reports Peter Gammons.
Blue Jays: Sergio Santos was called back up from the minors with Kyle Drabek being sent down.
Cubs: Starlin Castro is returning from the bereavement list and Logan Watkins will be optioned back to Triple-A (cubs.com).
Diamondbacks: Among others, they put Trevor Cahill, Cliff Pennington, Addison Reed and Brad Ziegler on revocable waivers, reports Ken Rosenthal.
Dodgers: Hanley Ramirez was reinstated from the DL, with Erisbel Arruebarrena sent down to the minors.
Indians: Catcher Yan Gomes was placed on the seven-day concussion DL. Also, catcher Chris Gimenez was acquired in a waiver trade from the Rangers for "future considerations."
Rockies: Michael Cuddyer was placed on the 15-day disabled list due to a hamstring injury.
Twins: Yohan Pino was placed on the DL with a strained elbow.
INJURY UPDATES
Astros: Brad Peacock is feeling better and is ready to pitch Wednesday (Ultimate Astros).
Dodgers: Zack Greinke feels fine after his start Saturday -- which was pushed back due to some elbow pain (dodgers.com).
Mariners: Robinson Cano was removed from Sunday's game early due to dizziness. Corey Hart is beginning a rehab assigment with Triple-A Tacoma (mariners.com).
Mets: David Wright was removed from Sunday's game with a neck injury.
Nationals: Asdrubal Cabrera is considered day to day as he deals with tightness in his right side (washingtonpost.com).
Pirates: Andrew McCutchen has admitted he's not 100 percent, but still says he's healed enough to play through the pain (triblive.com).
Rangers: Derek Holland is ready to return, he says (texasrangers.com).
Reds: Aroldis Chapman's shoulder is improving (reds.com).
Tigers: Anibal Sanchez could return from the DL Saturday (tigers.com). Miguel Cabrera sat out Sunday with a sore ankle (detroitnews.com).
MISCELLANY
Giants: Tim Lincecum may be bumped from the rotation before his next start (sfgate.com).
LLWS: Seoul Little League took down Jackie Robinson West Little League to win the championship.
Mets: Don't expect Noah Syndergaard to make his big-league debut this season, reports Marc Carig of Newsday.
Yoan Moncada: The next big Cuban import? It's Yoan Moncada, according to Ben Badler of Baseball America. Moncada is 19 and Badler reports that he has more upside than Rusney Castillo, who recently signed a deal worth more than $70 million.
Get 15 percent off any order of more than $75 at CBS Sports Shop

Get your sports fans something that they'll wear all year

No, you're not imagining things. This MLB offseason has been very slow compared to the last...
Francesa will retire from radio next month, so he'll have plenty of free time next summer

The Twins need help in the rotation, and they may look to the trade market to find arms

Here are the bullet-points of what went down Tuesday regarding MLB and the Braves' punishm...