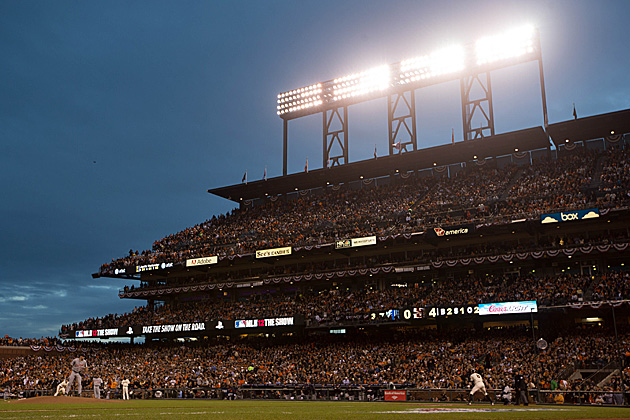 Baseball continues to thrive. (Getty Images)
We already knew that Major League Baseball posted revenues of $7.5 billion in 2012 and that attendance continues to boom, but here's some more good news for baseball: It ranks second behind, obviously, the NFL in the latest Harris Poll on America's favorite sports.
Of the adults polled, 34 percent said pro football was their favorite sport, not surprisingly making it the top dog in American sports. Actually, I'm surprised the gap wasn't wider. Baseball checked in at No. 2 with 16 percent of the vote, followed by college football (11 percent), auto racing (eight percent), men's pro basketball (seven percent), hockey (five percent) and men's college basketball (three percent).
Now, I found the headline on adage.com a bit odd. It was "Look out, baseball, college football is hot on your cleats." I found it odd because, last year, baseball and college football were tied for second at 13 percent each. So baseball gained three percentage points, college football lost two and it's "look out, baseball?"
The reason for that headline would be that demographics show the younger crowd prefers college football over baseball, but still, there's this:
According to a study by Scarborough Research, 109.3 million people, or 48% of U.S. adults over 18 years of age, watched, attended or listened to an MLB game from February 2011 through March 2012.

That compares to 92.6 million, or 39% of adults, who watched, attended or listened to a college-football game during the same period.
Even if (when?) college football does surpass baseball in popularity, I'm pretty sure having more than 100 million people paying attention to a sport means it'll survive just fine.
Still, I doubt this will quiet the persistent "baseball is dying" crowd. I have no idea why some are so eager to say baseball is dying, but we'll let them maintain their delusion while our favorite game thrives.
For more baseball news, rumors and analysis, follow @EyeOnBaseball on Twitter, subscribe to the RSS feed and "like" us on Facebook.