Quote of the Day: A-Rod on the 'pink elephant in the room'
After his rehab appearance for Double-A Trenton on Friday, A-Rod, facing suspension, addressed the mixed motives of the Yankees.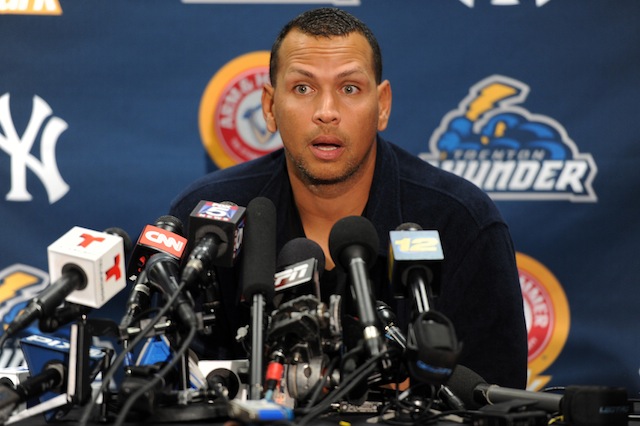 More A-Rod: Homers on Friday | Suspensions announced Monday? | Showalter: Yanks shouldn't benefit
Yankees third baseman Alex Rodriguez, who's almost certainly on the cusp of a lengthy suspension for his alleged role in the Biogenesis scandal, spoke with reporters following his Friday rehab appearance for Double-A Trenton. Among the topics addressed, of course, was that forthcoming suspension, which some have suggested could amount to a lifetime ban.
CBSSports.com's Danny Knobler relays A-Rod's remarks:
"I will say this: There's more than one party that benefits from me never stepping on the field, and it's not Yankee fans."
When asked whether he was referring to the Yankees as an organization, he said, "I think that's the pink elephant in the room."
These days, A-Rod can't even get through a harmless cliche without mangling it.
The larger point, though, stands. The Yankees, in their (possibly pitch-black) heart of hearts would love to get out from under A-Rod's contract, which, in a suspension-free world, would run through 2017 and pay him a minimum of $86 million after this season. In that sense, A-Rod is probably spot-on in his comments.
CBS Sports HQ Newsletter
We bring sports news that matters to your inbox, to help you stay informed and get a winning edge.
Please check the opt-in box to acknowledge that you would like to subscribe.
Thanks for signing up!
Keep an eye on your inbox for the latest sports news.
Sorry!
There was an error processing your subscription.
The rings were first shown on a live broadcast Sunday evening

The league is reportedly set to make another proposal to the players union on Tuesday

Meantime, MLB is busy laying the foundation for a potential 2020 season
MLB and the players union are set to meet this week

The Korea Baseball Organization started its 2020 season earlier this month

'Big Sexy' last pitched in the majors in 2018
The MLB commissioner was asked plenty of questions about the Astros on Sunday

The results of the BBWAA vote for the 2020 Hall of Fame class were announced on Tuesday