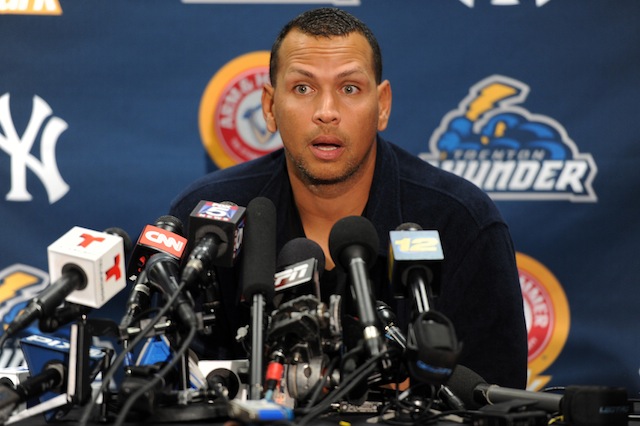 More A-Rod: Homers on Friday | Suspensions announced Monday? | Showalter: Yanks shouldn't benefit
Yankees third baseman Alex Rodriguez, who's almost certainly on the cusp of a lengthy suspension for his alleged role in the Biogenesis scandal, spoke with reporters following his Friday rehab appearance for Double-A Trenton. Among the topics addressed, of course, was that forthcoming suspension, which some have suggested could amount to a lifetime ban.
CBSSports.com's Danny Knobler relays A-Rod's remarks:
"I will say this: There's more than one party that benefits from me never stepping on the field, and it's not Yankee fans."
When asked whether he was referring to the Yankees as an organization, he said, "I think that's the pink elephant in the room."
These days, A-Rod can't even get through a harmless cliche without mangling it.
The larger point, though, stands. The Yankees, in their (possibly pitch-black) heart of hearts would love to get out from under A-Rod's contract, which, in a suspension-free world, would run through 2017 and pay him a minimum of $86 million after this season. In that sense, A-Rod is probably spot-on in his comments.