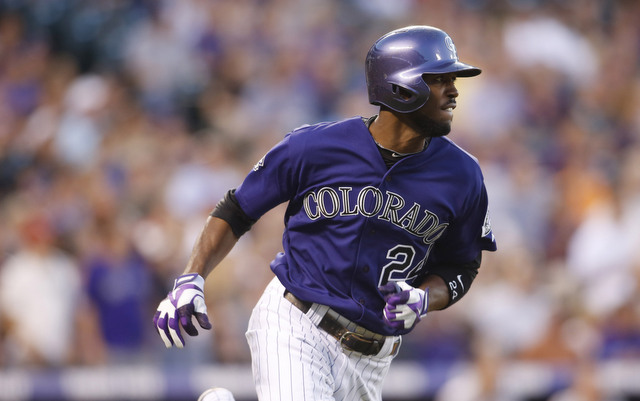 The Astros have acquired center fielder Dexter Fowler and a player to be named later from the Rockies in exchange for right-hander Jordan Lyles and outfielder Brandon Barnes, both teams announced.
"One of our goals this offseason was to bring in an outfielder who can spark our offense. Dexter is an exciting player who can help with the bat, with his legs, and with his glove," said Astros GM Jeff Luhnow in a statement. "Jordan and Brandon are both home grown players who have done well here and provided good memories for our fans. We wish them the best in their careers going forward."
Fowler, 27, hit .263/.369/.407 (102 OPS+) with 12 home runs and 19 stolen bases in 119 games this past season while missing time with knee and wrist problems. He is a career .270/.365/.423 (101 OPS+) hitter, but that is broken down into .298/.395/.485 (123 OPS+) at Coors Field and .241/.333/.361 (77 OPS+) on the road. Fowler is usually good for double-digit stolen bases but the various metrics do not like his defense in center field.
The 23-year-old Lyles has struggled in parts of three big league seasons, pitching to a 5.35 ERA (74 ERA+) with a 2.21 K/BB in 377 total innings. He went 7-9 with a 5.59 ERA (72 ERA+) in 141 2/3 innings spread across 25 starts and two relief appearances in 2013. The Rockies are clearly banking on him taking a step forward as he approaches what should his prime years.
Barnes, 27, hit .240/.289/.346 (76 OPS+) in 136 games this past season, his first extended taste of the big leagues. He can play all three outfield spots and grades out as solid with the glove. Barnes joins a crowded outfield picture (even after the trade of Fowler) in Colorado that includes Michael Cuddyer, Corey Dickerson, Charlie Blackmon and Carlos Gonzalez.
Fowler is slated to earn $7.35 million in 2014 and will remain under team control as an arbitration-eligible player in 2015 as well, so Houston has him for another two years as they continue to rebuild. Lyles will not be eligible for free agency until after the 2017 season while Barnes will not be eligible until after 2018.