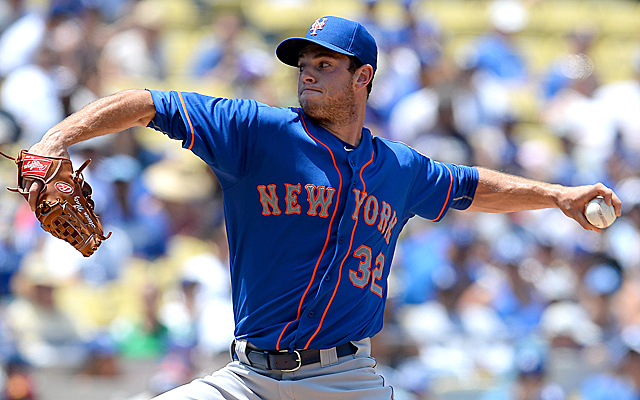 Rookie starting pitcher Steven Matz was 2-0 with a 1.32 ERA, 0.87 WHIP and 14 strikeouts through two career outings. And now he's been shut down with a lat injury while the Mets are left under attack from fans and media alike.
The Mets have come under fire for handling or downplaying the severity of injuries in the past several years. It's nothing new. It's gone from Jose Reyes to Ike Davis to Lucas Duda and on and on. There's even a mention from Pedro Martinez in his new book.
So forgive the masses for reacting when the Mets announced that Matz has a partially torn lat and that he'll be shut down for three weeks.
The general feeling is something like: OK, will that three weeks actually become six? Will that six turn into the season?
Fair or not, this is where we are with these Mets.
Just one week ago, Jared Diamond of the Wall Street Journal wrote about Michael Cuddyer's timetable and included this excellent table:
I'll just leave this here. pic.twitter.com/EGJv58Jnmy

— Jared Diamond (@jareddiamond) July 8, 2015
(NOTE: Cuddyer returned July 3)
So, again, when it comes to a partially torn lat muscle only needing to be shut down for three weeks -- which, one must assume, would mean Matz would need another few weeks to ramp up his throwing program before a return anyway -- there's reason to believe it'll be longer. It's an established track record.
Let's look at the Steven Matz timetable on its own.
June 28: Matz debuted and stole the show with both the bat and his pitching.
Sometime in between: Matz felt "some stiffness underneath his left armpit." (nj.com)
July 3: Matz threw a bullpen session with pitching coach Dan Warthen watching. It was determined Matz was fine.
July 5: Matz threw six shutout innings against the Dodgers, striking out eight.
July 9: We find out Matz has a partially torn left lat muscle and will be completely shut down for three weeks before being re-evaluated.
How does this look from the Mets' perspective? Not great, that's for damn sure. 
It's entirely possible this isn't the Mets' fault, of course. Maybe Matz felt more pain than he was letting on because, well, he was finally in the majors and looking awesome. Maybe the damage was already done before Matz even took the big-league hill. That's also possible.
On the flip-side, maybe manager Terry Collins and his staff made a minor injury into a major one all for the sake of Matz's second big-league start.
God only knows, but with the pattern we have in place, the Mets and how they deal with injuries are once again under the microscope.