The Red Sox have at least explored the possibility of trading Josh Beckett
The late-July discussions have rivals wondering whether Boston may have some inkling Beckett might accept a trade to one or more teams.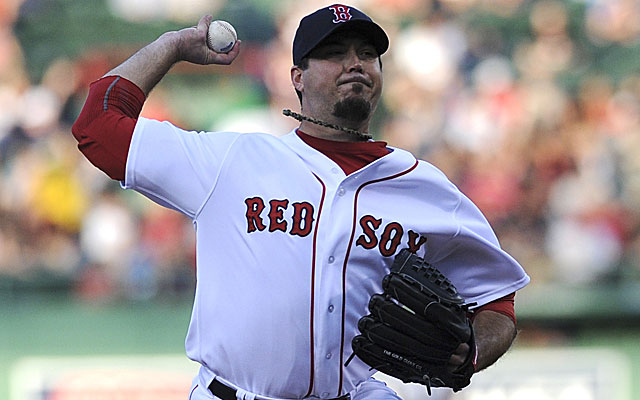 Beckett, 32, has lost 11 of his past 16 decisions, and has $38 million left on his contract through 2014.
(US Presswire)
The Red Sox have given indications they would discuss Josh Beckett in the right deal, sources tell CBSSports.com.
There are a number of potential obstacles to a trade, however, including Beckett's 10-and-5 veto rights. However, baseball people suggest the Red Sox may envision some possibility Beckett might not invoke his veto power. Otherwise, why spend any time on this with days to go before the deadline?
Other obstacles include his mediocre performance this year, an ongoing rep for sullenness and a $15.75 million yearly salary through 2014. One GM, asked whether he could see anyone taking Beckett, one GM answered, "Unlikely.''
Beckett (5-9, 4.57) recently suggested in an interviewed with WEEI.com that he might consider waiving his veto rights if he isn't wanted, saying, "If people don't want you, you don't want to be there. I have some things where it would be very difficult for them to trade me if I didn't want to be traded. But you have to think realistically. If you're not wanted somewhere, why stay there? ... But [Red Sox GM Ben Cherington] assured meduring spring training that he wants me there. So as far as I'm concerned it's just made-up fodder.''
Beckett's reputation sank following the winter report that the team's starting pitchers occasionally engaged in in-game beer-and-chicken parties while the team was floundering last September, and he didn't help matters by being caught on a golf outing while he was out with a minor injury. He has spoken to the media following many recent outings, most of them so-so.
Team decisionmakers have at least wondered whether Beckett, viewed as the ringleader of starting pitchers, some of whom have regressed at some point in the past couple years, could be a negative influence on the staff. John Lackey, out for the year after Tommy John surgery, still joins the team on the road, and people around the team suggest he's spending a lot of time hanging out with Beckett.
Some people with the team say Beckett is not always cooperative and sometimes even nonresponsive to suggestions.
Teams looking for a starter include the Rangers, Braves, Orioles and Cardinals (and of course the Red Sox). It isn't known which teams were spoken to about Beckett, but it may have just been very few certain targeted teams since most GMs seemed unaware Beckett's name was coming up in talks.
Beckett still has $38 million to go on his $64 million, four-year deal. His uneven performance this year would give him a decent chance to pass through waivers and allow the Red Sox to trade him after Tuesday's non-waiver trade deadline.
Cozart's coming off a big season as the Reds' shortstop

The veteran slugger spent the last eight seasons with Cleveland

The Padres may be poised for an active winter
Yes, Bryce Harper is going to make a lot of money next winter

Outfield prospect Clint Frazier might be part of the talks

Boston wants to add two big bats to their lineup, not just one