The legend of Trevor Story continues to grow by the day. On Friday, the Rockies shortstop became the first rookie to go deep in each of his first four MLB games. He was already the first rookie to hit a home run in each of this first three games.
Story, 23, has gone 7 for 16 (.368) in four games this season. He leads baseball in runs (six), home runs (six), RBI (11), total bases (25), and slugging percentage (1.316) coming into Saturday. The kid has six homers and one single so far.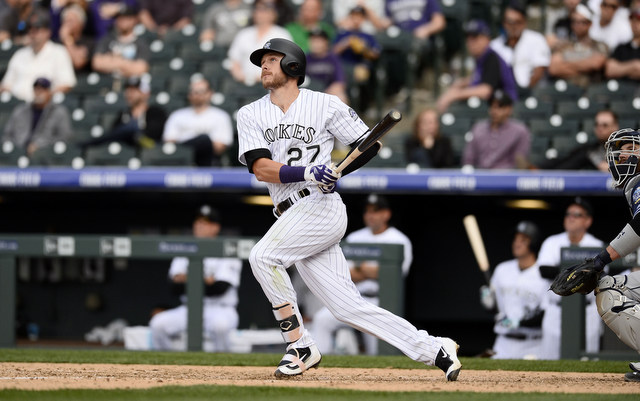 What makes Story's power display so impressive is not just the sheer number of home runs. It's how he's hitting them. The kid has homered against all different types of pitches in all different locations. In, out, down, you name it.
Courtesy of the indispensable Baseball Savant, here are the pitch types and locations of Story's six home runs so far: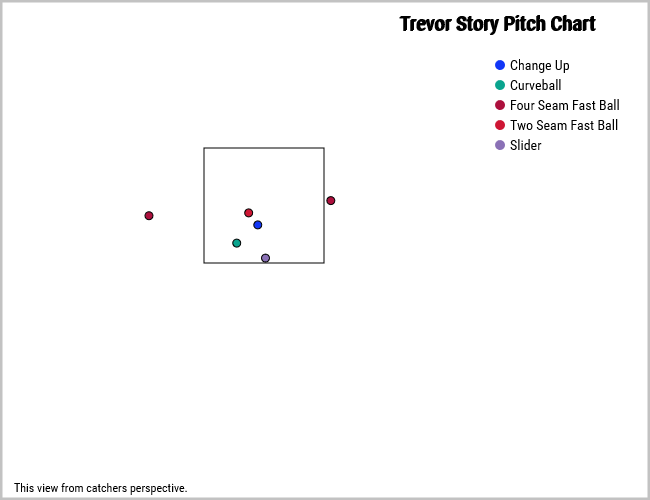 Story has homered on a fastball off the plate away, a fastball way inside, and a fastball right down the middle. He's also gone down to get a curveball and a slider at the bottom of the zone, and taken advantage of a hanging changeup.
That sounds great, but you really need to see some of those pitches to understand what Story has done these first four games. Here are three of his home run swings (MLB.com screen grabs):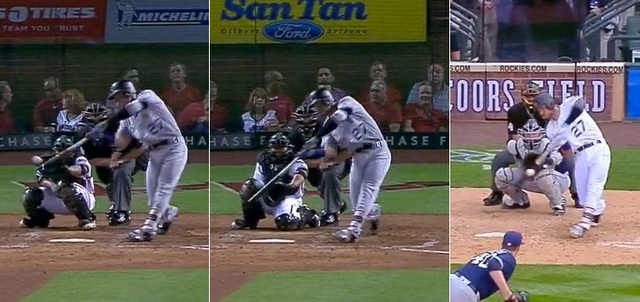 I know it's tough to see the ball in the middle image, but it's there, right in front of the bat and the catcher's right shin guard. I promise. That middle swing is the purple dot on the pitch location plot above. The slider right down at the bottom of the zone.
The other two swings are the far outside fastball and the far inside fastball. Story was able to reach out and poke that outside fastball to right field for an opposite field home run. He was also able to pull his hands in to pull that inside fastball to left for a dinger.
That third swing, the one on the inside fastball, is the one that really blows my mind. That's not a bad pitch pitcher's pitch at all. That's a pitch most batters take because it's off the plate and designed to get them to move their feet. Story was able to get around on it and go deep. Incredible.
Story has already shown he can handle both inside and outside pitches. Not too many players can do that. Most players have a wheelhouse, and if you throw it in their wheelhouse, they'll do damage. Story's wheelhouse appears to include the entire plate and then some.
Before the season, MLB.com ranked Story as the No. 11 prospect in a stacked Rockies system. Here's a snippet of their free scouting report:
Story made adjustments to his swing and approach in the Arizona Fall League after the 2014 season, and he performed better once he stopped trying to do much at the plate. He could duplicate his 20-homer season once he gets to Coors Field because he's strong and has one of the quickest bats in the system.
Those adjustments combined with Story's raw strength give him impressive plate coverage. We've already seen it only four games into the new season.
Other players have come up and gone on home run binges like this. Shane Spencer and Chris Shelton come to mind. In those instances, the players were taking advantage of mistake fastballs. Eventually the league caught up, pitchers starting giving them soft stuff, and their production declined big time.
Story, however, has already let the league know he can hit fastballs, sliders, curveballs, whatever. In, out, down, it doesn't matter. Story has a hole in his swing somewhere -- the kid did strike out 141 times in the minors last year -- but pitchers haven't found that hole, and he hasn't shown much of a weakness yet.
At some point Story will go a game without hitting a home run. Maybe even two. For now, he has shown he's not a one-trick pony. The kid can handle all kinds of big-league pitching.