Will fireworks in front office light a spark in disappointing Nationals?
GM Mike Rizzo says manager Davey Johnson will serve out the season, but can management turn the team around in time for the playoffs?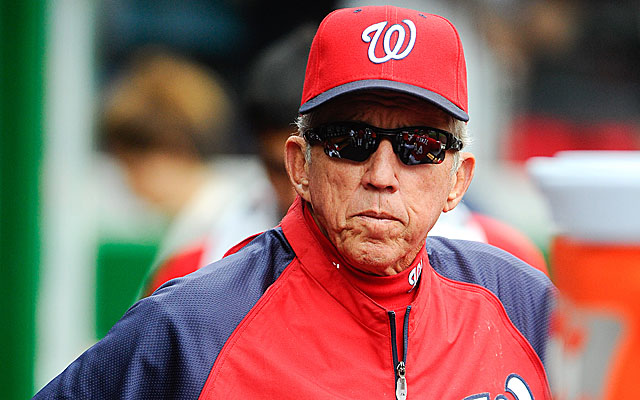 Nationals manager Davey Johnson and general manager Mike Rizzo got into it over Rizzo's decision to fire longtime hitting coach Rick Eckstein -- Johnson has called Eckstein the "best'' hitting instructor he knows of, both before and after the firing -- but Rizzo reiterated by phone that Johnson will manage out the year and still be a big part of the process in hiring Johnson's replacement after the season.
"He's going to be involved in the organization beyond this year,'' Rizzo said about Johnson.
It's been a stunningly rocky time for the Nats, who entered the year as a National League favorite by many accounts (including here), but now stand 52-54, a startling disappointment that triggered a couple drastic measures just this week, first the firing of Nats staple Eckstein, then the demotion to Triple-A of former No. 1 draft choice and closer Drew Storen.
No one could imagine going into the season that the team that looked as flawless as any in baseball (it was hard to name a weakness) would turn into something of a soap opera.
Storen's bullpen mate Tyler Clippard ripped the organization for its handling of the talented Storen since he surrendered the lead in the gut-wrenching Game 5 NLCS defeat to the Cardinals that eliminated Washington. Things seemed to have gone downhill between Storen and the organization after it gave a mega deal and his job to free agent Rafael Soriano.
Storen deserves to be cast in a sympathetic light considering he was battling a bad back in Game 5 and pitching a third straight day. What's more, he pitched while extremely ill with the flu only hours before he was demoted. Storen received IV treatment during Game 1 of a doubleheader, got hit hard in Game 2, then was demoted afterward. Word is, as soon as he recovers from the flu he will report to Triple-A Syracuse.
Even bigger fireworks had occurred a few days earlier when Johnson strongly protested Rizzo's decision to ax Eckstein, who is widely hailed as a hard worker who had strong ties to the most veteran hitters. (Eckstein declined to comment for the story.)
Eckstein had a strong relationship with veteran such as Adam LaRoche and before him Michael Morse and Adam Dunn.
The move couldn't be that surprising considering the Nats -- a team that likes its position players so much it can't imagine one trade to upgrade the lineup -- fired Eckstein with the team 28th out of 30 offensively at the time. But Johnson made clear his feeling with public comments in the weeks prior, saying, "If you fire him, you might as well fire me.''
Johnson offered to vacate his own job the day Rizzo made the call to can Eckstein, but Rizzo, a deep admirer of Johnson's for years, would have none of it. Asked on the phone whether Johnson still might be let go before the year's out, Rizzo answered, "No, certainly not.''
Rizzo has downplayed suggestions that there's at least a temporary rift between him and Johnson.
"Rick is near to his heart. [Rick] is near and dear to my heart,'' Rizzo said. "It was a very difficult to decision to make. Davey and I weren't in agreement with the decision. There's still great respect and admiration between us. We can have a disagreement but still work well together.''
Rizzo praised Eckstein as an extremely hard worker, but explained the firing by saying, "After five seasons, maybe we needed a different voice."
Rizzo said he thought replacement Rick Schu might spark something as he brings major league experience "and a different energy.''
As for the Nats' players, Rizzo still believes in them. "We're certainly not satisfied,'' Rizzo said. "But I like the team we have, I like the talent level.''
The Nats have made two bold moves this week, but Rizzo suggested he doesn't anticipate a "big splash'' on the trade market. With Ross Detwiler out another month with a back ailment and well-liked Taylor Jordan on an innings limit, they have been scouting the starting pitching market. But Rizzo said, "I'm not concerned that we need to go out and get a starting pitcher,'" and he ruled out rentals entirely.
He didn't rule out a playoff run, though.
"We're certainly underachieving in terms of out won-loss record,'' Rizzo said."I still believe in this team. I still like this team. And I still believe we can win a lot of games.''
But can they go from 8 1/2 games behind the Braves to make the playoffs.
"It's been done before,'' Rizzo responded.
Another team rumored to be interested in Stanton has confirmed their interest

Chris Woodward has spent the last two seasons with the Dodgers

We heard about it being awful for years, but was it?
Then again, three trades in four days might be behind Jerry Dipoto's usual pace

Ohtani is arguably the best hitter and pitcher in Japan

The O's need rotation help, and Cobb is available for hire