TAMPA, Fla. -- The Yankees have long been presumed to be on the hook for up to $30 million in home run milestone bonuses to their disgraced superstar, Alex Rodriguez, and they still may be. But thanks to the wording in the marketing agreement, and maybe also the ability to put Rodriguez under oath in a potential grievance hearing, the team is said to believe it has a strong chance to avoid all the milestone payments.
Yankees people are said to be confident A-Rod wouldn't prevail in the expected skirmish over the $30 million, not only because of their belief that his drug missteps have rendered his marketing value nil, but also because of the phrasing in the agreement that requires that the Yankees "designate" the historic home runs as milestones. Perhaps even more important, the potential to call him to the stand under oath should he challenge their decision to refuse to pay, as is his right.
The agreement in question, believed to be written in such a way to bridge the gap between his $300 million asking price and the Yankees' $275 million offer after the 2007 season, and also to get around the CBA's ban on direct bonuses for home runs, RBI and the like, says that if the Yankees declare a milestone has been reached, then Rodriguez can transfer his image rights to the Yankees for $6 million (per milestone).
With spring training starting and Rodriguez just six home runs away from the unprecedented marketing agreement's first milestone figure of 660 home runs -- Willie Mays' career total -- the Yankees and A-Rod are gearing up for a big battle. Both were signed in 2007, long before anyone knew or suspected Rodriguez was a drug cheat.
If the Yankees and A-Rod fight over the money, this could make for one ugly showdown between baseball's marquee franchise and the sport's most famous player. He sat down with team higher-ups before coming to spring training, but there's no evidence of any mending of fences, and this potential fight could blow things sky-high.
If it comes to it, the Yankees have every intention of putting him on trial, and under oath, to hammer him on his ties to the performance enhancers that led to his suspension, and perhaps even some other offenses, if there are any suspected.
The clause, at one point, reads, "The Yankees are under no obligation to exercise its right to designate a historical accomplishment as a milestone provided that its decision is made in good faith and in accordance with the intent of the parties in the covenant."
The binding agreement previously has been believed to necessitate payment by the Yankees assuming he hit the homers in major-league games, and the homers he has hit for the Yankees are indeed in the record book as legitimate homers, so he may still prevail. It's also pretty clear in the agreement what constitutes a milestone by virtue of the examples of Mays, Babe Ruth, Hank Aaron and Barry Bonds. The deal called for A-Rod to have the chance to make $6 million each for tying Mays' 660 homers, Ruth's 714, Aaron's 755 and Bonds' 762, and finally by passing Bonds.
At the time, there was no thought Rodriguez had done any illegal drugs, and the hope was that Rodriguez could pass Bonds to become the "clean" all-time home run champ.
The agreement also states that if the Yankees do not declare a milestone, Rodriguez has the right to grieve it -- and that's where things could really get contentious, particularly if the Yankees call him to the stand to detail any possible transgressions, something he has managed to avoid to this point. A-Rod didn't even testify at the grievance hearing over MLB's levied 211-game suspension (which was reduced by an arbitrator to 162 games) as he walked out before he had a chance to, and he has yet to give specifics about his latest drug brush (as opposed to the first one, when he said at a spring training gathering six years ago that his cousin Yuri got him "Boli").
The milestone rider to the contract is believed to have been added to Rodriguez's record deal as a way to ensure his return to New York following his monster 2007 MVP season. The clause does appear to give the Yankees some leeway to make their declaration, provided they are deemed to be acting "in good faith."
At the heart of the Yankees' claim would be that Rodriguez's milestone marks have been rendered meaningless and unmarketable thanks to his own behavior. The Yankees are the ones prepared to make the claim that Rodriguez didn't act in good faith, with his Biogenesis link and subsequent falsehoods leading to the diminishment of a reputation to the point where there wouldn't be any marketing value to his exploits: no hats or T-shirts to sell, no movie rights.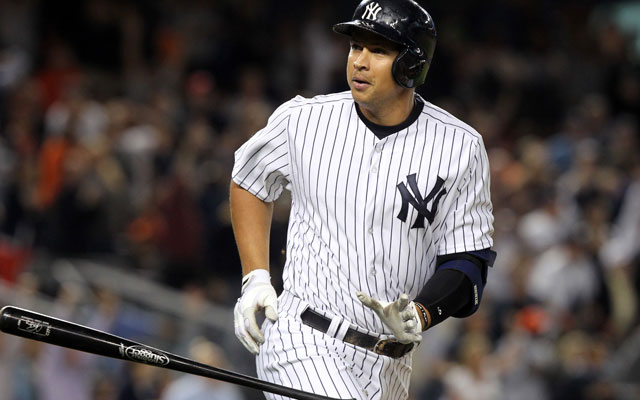 It is undeniable, though, that Rodriguez's mere presence at the least has created a stir even in spring camp, so he does remain a draw, at least for the media and probably also for some fans. His people may claim the Yankees still have the potential to market the milestones, if they so choose.
The Yankees, though, may see Rodriguez's recent admissions that he "created headaches" and that it's "on me" as early testimony in their case to prove he deserves no extra monies -- though in his first words this spring he continued to avoid specific admissions of wrongdoing.
A potential courtroom showdown would get more specific than that, and Rodriguez would need to avoid making any drug-related admissions not covered in his record year-long suspension; otherwise, the potential exists for further bans. The Yankees might even try questioning him about any possible nefarious links to noted HGH doctor Anthony Galea, who was tied to several prominent athletes, including A-Rod, at least in the press.
Rodriguez, who has $61 million guaranteed coming from the Yankees over the next three years (money the Yankees must pay barring serious injury and potential recovery of 80 percent from their insurer), is interested enough in the milestone monies to have rung up his former agent Scott Boras, who fashioned the marketing agreement with Yankees president Randy Levine. Rodriguez apparently views Boras as a potential witness regarding the history of the agreement should there be a court showdown.
However, Boras, fired by A-Rod a few years ago following a spring confrontation between the pair despite negotiating two record deals totaling a half billion for Rodriguez, and perhaps unhappy about how A-Rod shamed the game with his drug use since, is believed to have rebuffed Rodriguez's request even though he stands to gain a percentage of milestone monies should A-Rod win. Michael Weiner, the beloved union leader, is the other person who would know the history of the agreement from A-Rod's perspective, but he died in November 2013. It's possible the players union, though, could try to compel Boras, who declined comment, to testify.
A-Rod, in fact, appears not to have any baseball agent anymore, as sources say he has parted ways with Dan Lozano. It is said that the two haven't spoken in more than a year, a surprise since Rodriguez was a gung-ho recruiter for Lozano after switching from Boras. It isn't known whether that split had anything to do with Lozano's own bit of bad publicity, in Deadspin. Lozano and his PR man Josh Goldberg did not return messages. 
The players union, while not exactly friendly with Rodriguez since he sued them while fighting his record suspension for his Biogenesis link, has vowed to represent Rodriguez, as he is a member of the union and it represents members in battles with management.
Rodriguez himself on Tuesday referred questions to his personal lawyer Jim Sharp, a noted Washington attorney who has represented him at different times since the 2009 incident in which he admitted failing MLB's 2003 steroid survey test, and Sharpe didn't return calls.
The New York Daily News first wrote on the potential milestone dispute.