Bobcats' Al Jefferson (foot) says he will play in Game 2
After suffering a debilitating foot injury in Game 1 of Charlotte's first-round series against the Heat, the Bobcats' Al Jefferson vowed Monday to fight through the pain.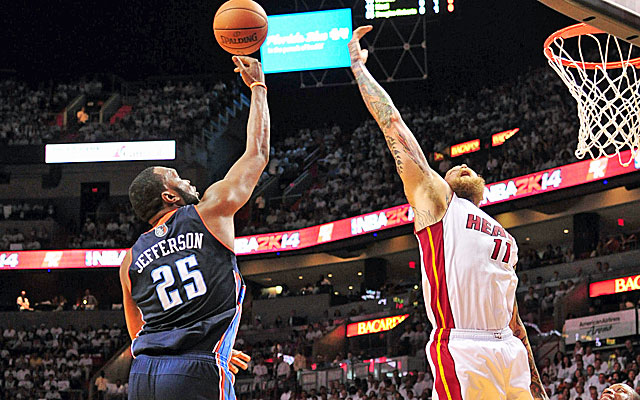 More postseason coverage: Playoff schedule, results | Latest news, notes
CHARLOTTE, N.C. -- Beating the two-time defending champions when they are dialed in, healthy and focused on defending their multiple titles is one thing. Doing it with your most important player hobbled by an extremely painful foot injury is quite another.
This is the plight of the Charlotte Bobcats, who entered a world they do not want to imagine on Monday -- a world in which Al Jefferson can barely walk and the opponent is the Miami Heat.
Jefferson was in a walking boot Monday as he was being treated for plantar fasciitis after he felt something rip in his foot during Sunday's 99-88 loss in Miami. As practice ended at Time Warner Cable Arena -- the Bobcats went home with a two-day break between Games 1 and 2 of the first-round series -- MRI results still weren't available. The diagnosis, however, is obvious.
Extreme pain.
Jefferson had to receive two painkiller injections to continue playing Sunday, and he managed to hobble his way to 18 points and 10 rebounds in 35 minutes. Coach Steve Clifford said the biggest issue isn't lateral movement, but pivoting -- which will take a lot of bite out of Jefferson's versatile pick-and-roll game on the offensive end of the floor.
"Any team that loses its best offensive player, especially the way we play through him so much, it changes some things," Clifford said.
Speaking with reporters after a treatment session with the trainers, Jefferson made it clear that he'll be on the floor on Wednesday night for Game 2.
"I'm suiting up," Jefferson said. "It'll take more than that to make me sit down."
How effective Jefferson will be, of course, is another matter. Last season, the Lakers' Pau Gasol struggled with plantar fasciitis -- inflammation to the tissues on the underside of the foot -- and was incapacitated at times. Eventually, Gasol's fascia tore and he missed about six weeks. Chris Bosh, who no doubt will try to take advantage of Jefferson's immobility in Game 2, has gone through the injury, as well.
"You could tell he was out there playing on one leg," Bosh said. "I don't think that was a secret. Once we saw that, we wanted to go at him and challenge him a lot to see where he was pain-wise."
Kemba Walker, who scored 20 points in his playoff debut, saw Jefferson before practice Monday but "didn't ask too many questions," he said.
"I know what kind of guy he is," Walker said. "I know how bad he wants it. I know how bad he wants to win. I'm pretty sure he'll be in some pain, but he'll definitely get through it."
The Bobcats having a chance to get through the Heat without Jefferson at full strength, on the other hand, is far from definite.
"I definitely have to increase my level of play," Walker said. "I have to be a lot more aggressive offensively, and other guys as well. I think everyone is willing to take on that challenge."
Embiid has taken his trash-talk game to the next level this season, but he's not scared

Last year Durant said returning to his old home was 'never going to be a regular game'

The All-Star forward injured his wrist during Sunday's loss to the Lakers
Steven Adams believes he's the problem with the Thunder struggles in the clutch

LaVar claims that Luke Walton has been 'soft' on Lonzo so far

Allen has filed an emergency motion in an Orange County court in response to an accusation...