Charles Barkley: 'Everybody played with a gay teammate'
Hall of Fame player Charles Barkley says 'of course' he played with a gay teammate and that everybody did at one time.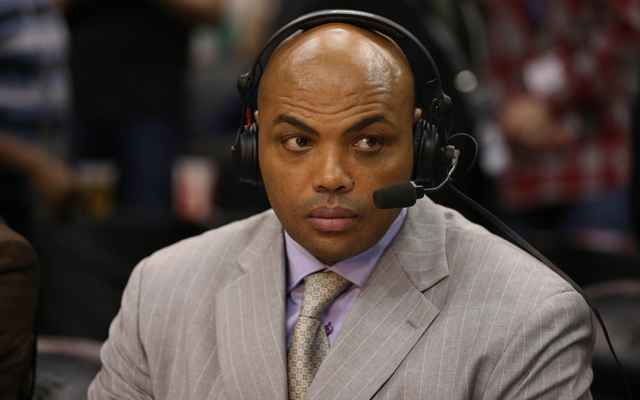 Since the big news of free agent center Jason Collins becoming the first active athlete in one of the four major sports to come out as gay, the discussion of whether or not a gay athlete in a male professional sports league will be accepted in the locker room has been a major talking point. Current TNT studio analyst and Hall of Fame player Charles Barkley doesn't think it should be a big deal because he believes everybody in the NBA has had a homosexual teammate at some point.
While on the Dan Patrick Show, Barkley said "of course" he's had a gay teammate and that everybody has "played with a gay teammate."
Dan Patrick: Before I let you go, obviously the big news with Jason Collins, do you think you played with a gay... did you play with a gay teammate during your NBA career?

Charles Barkley: Yeah, of course I did. Everybody did. Everybody played with a gay teammate, Dan, and it's no big deal. First of all, I think it's an insult to gay people to think they're trying to pick up on their teammates. But everybody's played with a gay teammate.

DP: Do they, I mean how does it work with, you know it, they know it, is it discussed? Is it kept a secret? How do you do it?

CB: Well, I think that it's obviously discussed privately because the problem is, Dan, unless somebody tells you they're gay, you can't say anything about them being gay. Until somebody has the courage, and I think it takes great courage to come out, it's kind of an unspoken word, to be honest with you.

DP: But you had a teammate that discussed it with you?

CB: I've had several teammates. I've probably had three or four guys I've played with in 16 years.
You can listen to the entire segment with Dan Patrick and Charles Barkley here on NBCSports.com.
On April 29, Collins' article in Sports Illustrated explained the struggle he's had with coming out as a gay man and why it doesn't necessarily change anything about what his career has been, what his role has been and will continue to be if he is able to continue his career in the NBA, and how it's affected his personal life.
(H/T - Pro Basketball Talk)
If the Thunder forward doesn't know the reason, he has a very short memory

The 76ers star doesn't see a bright future for Jon Snow

Valanciunas played professionally in Lithuania before joining the Toronto Raptors
SportsLine's advanced computer model simulated Tuesday's Cavaliers-Hawks game 10,000 times

Larry Hartstein is 14-6 on Sixers picks and 16-8 on Timberwolves picks and has a strong play...

The kid just about lost his mind after getting Durant's game-worn sneakers