If Melo stays in New York, he'll face the free-agent double standard
With Carmelo Anthony on the same page with Phil Jackson's vision, what could go wrong for the seven-time All-Star if he stays in New York? Based on recent free-agent history, everything.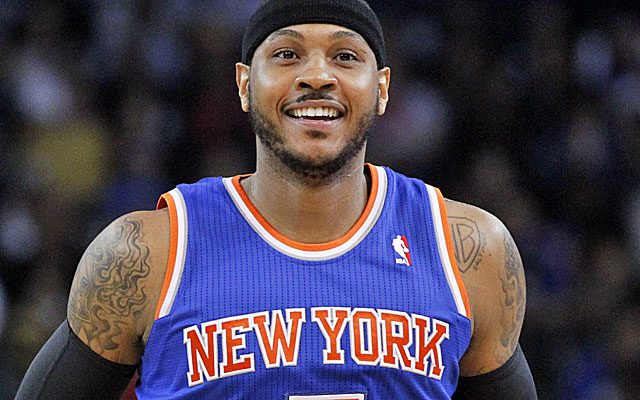 More Offseason Analysis: Updating Free Agency news | Top 40 free agents
In his meeting with Knicks officials at the end of his free-agent tour, Carmelo Anthony got assurances that the team would not have another season like last year's 37-win debacle and came away with confidence in Phil Jackson's plan to contend at a high level for the next several seasons, a person familiar with the discussions told CBSSports.com.
Anthony expressed his approval for the offseason moves the Knicks have made this summer and was said to be intrigued with the vision -- shared by Jackson and coach Derek Fisher -- for how he could thrive in the triangle offense, the person said. In Anthony's decision to choose among the Knicks, Bulls, Rockets, Mavericks and Lakers, Jackson's championship pedigree holds enormous sway, the person said.
In the meeting Thursday in Los Angeles, attended by Anthony, his agent, Leon Rose, Jackson, Fisher and Knicks GM Steve Mills, little was made of Anthony's supposed need to hear from Jackson that the championship coach-turned-president wanted him to stay in New York. Despite much publicized banter and some needling from Jackson about Anthony's willingness to take less than a max deal to help the Knicks build a contender, Anthony went into the meeting with little doubt about the Knicks' willingness to come through with a five-year, $129 million offer to keep him.
He came out of the meeting with no less certainty.
His biggest concern, the person with knowledge of the meeting said, was avoiding a repeat of last season, when Anthony failed to make the playoffs for the first time in his 11-year career.
"If he didn't feel like there was a chance to win, he wouldn't stay," the person said.
Which brings us to an interesting discussion: If Anthony is leaning toward staying in New York, as all signals indicate, how will that decision be received? If you know anything about the recent history of NBA free agency, you know the answer is this: badly.
LeBron James left Cleveland as a free agent in 2010 and was scorned for doing it. He was selfish, took the easy way out and was a ring-chaser. So the story went at the time.
Now, if Anthony stays in New York, he'll be excoriated for it. He'll be characterized as a greedy superstar who doesn't care about winning.
How does any of this make sense? How could these two completely different circumstances generate the same kind of venom?
First, it wouldn't be the NBA -- much less NBA free agency -- without venom. Fans view the basketball world only through the prism of their own team, and all outside rays of the sun are eclipsed. It is a fundamental truth, though a sobering one for fans, that decisions are made every day in the NBA among players, agents, GMs and coaches with absolutely no regard for fans, loyalty or any other trite concepts for which there is no room in a $5 billion business.
Sorry, but it's true.
Anthony exercised his right, as afforded him in a collective bargaining agreement that could be viewed as nothing but a thorough victory for the owners, to become an unrestricted free agent this summer. This act in itself demonstrated nothing about his affinity for New York, his feelings about Knicks fans or how he prioritizes winning, money or any other aspect of his career.
As James did four years ago, Anthony has enjoyed and learned from his free-agent courtship. He has been meeting with teams and gathering information about what kind of talent will be around him, what kind of facilities he'll play and train in, and what kind of vision the coaches and front office have for him and for the team's future. 
These are the same things any other intelligent person would do when thinking about changing jobs, only in Anthony's case, he's transported to and fro in a limousine and it's aired on national TV and published globally on social media.
Perhaps the biggest sign pointing to Anthony re-signing with the Knicks is the growing interest from one of his suitors, the Rockets, in Heat free agent Chris Bosh. Bosh possibly going to the Rockets (or to the Lakers or Mavs) proves why the notion of Bosh taking a $10 million pay cut to stay in Miami was never realistic. With the Bulls, Rockets, Mavs, Lakers, Cavs, Suns and potentially others chasing James, Anthony or both, there are more teams than there are LeBrons and Melos (only one of each). Once James and Anthony have made a decision, the teams that lost out will be lining up to create a market for Bosh.
Thus, with James waiting for Heat president Pat Riley to revamp the roster and with Dwyane Wade leaving $42 million on the table at age 32, Bosh is the member of the Big Three most likely to break away. Multiple league sources say there will be a close-to-max market for Bosh if Anthony and James stay with their respective teams. One of those people, an executive with a rival team, said the growing belief around the league is that Bosh would prefer a four-year max deal with another team to a discounted longer deal with Miami.
As for teams pursuing Anthony, the Bulls secured a buyout Friday with Real Madrid for 2011 first-round pick Nikola Mirotic and are working to sign him, league sources confirmed. Despite the cap consequences of such an event, the Bulls are continuing to operate under the assumption that they have a chance to land Anthony, a person familiar with the team's plans said. With Taj Gibson (on the books for $8 million next season) very much a part of the Bulls' recruitment of Anthony, and with Mirotic coming aboard, the clearest path for Anthony to get to Chicago now would be via a sign-and-trade. This would be an admission of defeat for Jackson, a backup plan that the 13-time champion is loath to consider.
A sign-and-trade arrangement with the Bulls sending Carlos Boozer to New York -- the clearest path to a deal based on Boozer's $16.8 million salary -- is not something the Knicks would entertain, a person familiar with the team's strategy said. A sign-and-trade would allow the Bulls to enhance their offer to Anthony, but they'd need the Knicks to go along with it.
A person involved in the Lakers' recruitment of Anthony said that the team came away with no strong sense of whether Anthony would be willing to accept its four-year max deal worth approximately $96 million. Kobe Bryant, who didn't make it home from an overseas vacation in time to participate in the team's rescheduled meeting with Anthony, was said to be not sweating the matter. Over 18 NBA seasons, Bryant has learned to focus on things he can control. Anthony's future is not one of them.
While Anthony's decision is completely his domain, what he cannot control is the reaction to it. This is where the business of the NBA and the logic fans often try to apply to it are disconnected.
James left Cleveland for Miami in 2010, and though his salary started at $1.7 million below the max he was eligible for, he got the maximum length permitted at the time (six years) and the maximum raises. He spent the next 12-18 months paying dearly for his decision (and, admittedly, for how he went about it). 
Anthony now faces the likelihood of a similar backlash if he does the opposite of what James did by staying with his current team. In doing so, Anthony would get the maximum length (five years) and maximum raises available to him in today's CBA. Under the current rules, Anthony cannot do what James did -- orchestrate a sign-and-trade and still get the maximum contract length and raises. 
Based on the backlash that superstar free-agent decisions generate, Anthony is doomed if he does and doomed if he doesn't. A year ago, Dwight Howard did what could've been received as the admirable thing -- taking less money (four years, $88 million) to leave the Lakers for Houston because he felt he had a better chance to win there. The basketball public assessed his decision to leave $30 million on the table and called him piggish anyway.
Basically, if you're a superstar free agent in the NBA, you can't win the press conference no matter what you do.
The notion of taking less money for altruistic reasons has been overstated in the public domain, yet even when a star does it -- like Howard -- he gets ridiculed. Howard, of course, was 27 when he passed on the Lakers' extra $30 million, so he knew he wasn't giving it up, but only deferring it to his next max deal.
Anthony is 30 and has been to the playoffs 10 times in 11 seasons -- though to the conference finals only once. After this one, there  are no more max deals on the horizon for him. Yet, he's supposed to snub his nose at the max deal the Knicks are prepared to offer because ... it's "admirable?" Because doing otherwise would be "greedy?"
Fans have become desensitized to player salaries in sports. When it comes to players like James, Anthony or Howard, it's often overlooked that the numbers we are talking about are 12 percent less than they were before the beating the players took in the last round of CBA negotiations. Player salaries are capped in the NBA, but franchise values are not. Did anyone call Herb Kohl greedy for buying the Milwaukee Bucks for $18 million and selling them for $550 million? Donald Sterling has been called plenty of names, deservedly so, but will he get the LeBron or Carmelo treatment when he gets his $2 billion for the Clippers, a franchise he bought for $12.5 million?
Just something to keep in mind if Anthony makes another unpopular free-agent decision for reasons that make no sense to you but align perfectly for him. The only certainty is that no matter what he does, it will somehow be wrong.
Even an NBA coach needs a bit, and Steve Kerr seems to have found his

Asked about Reggie Jackson's tactics towards Jimmy Butler, LeBron said he's 'all for it'

This stat line is in no way an indication that Ball has turned any kind of corner
All of Simmons' 3-point attempts have come from well beyond half court

The No. 1 overall pick has not played since Oct. 23 due to a shoulder injury

In this week's Power Rankings, the Celtics finally claim the top spot while the Cavs begin...