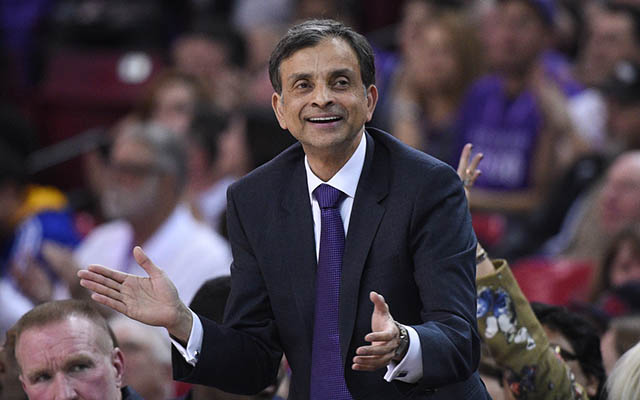 Sacramento Kings owner Vivek Ranadive spoke with the media Tuesday night before the Kings' loss to the Thunder, and discussed the decision to fire Mike Malone after the Kings' best start in years. Ranadive focused primarily on the offense, and likened it to wanting to move from being a marching band to a jazz band. 
"Defense is great, but we need defense and offense," the Kings owner said. "We need to go from a rules-based organization, which was important when you had chaos, to a values-based organization -- from kind of a programmatic offense to a read-and-respond, free-flowing offense.

"I like to use a music metaphor. We had a Sousa marching band, which was needed when there was chaos. But now we need to shift to a jazz band, where people can be individually showcased and improvised. What we need is a jazz director. I think that's the kind of leadership moving forward."
via Vivek Ranadive says Sacramento Kings' next coach must be offensive-minded 'jazz director' - ESPN.
The idea of basketball as jazz has been around for decades, (and sharply debated within the last decade). It's free flowing, it stops and starts, it flows, grooves, has crescendos, peaks, valleys and denouements. It features solo improvisation and exposition, collective cacophonies, noise and rhythm. So it makes sense. 
But I'm much more interested in the subtext of what Ranadive said, both in his interview with James Ham for ESPN and in this video interview with News 10 in Sacramento. A few comments I found really key. 
"We're living in a new NBA. The Western Conference is arguably the most competitive that it has ever been. It's an arms race. And it's become a little bit like the tech business, where just because you invent the iPhone, it doesn't mean you can rest on your laurels, because somebody else is out there inventing a better iPhone. Just because you won 50 games, you can't be satisfied with the status quo. Just because you win 16 games in a row doesn't mean you don't try and get Ray Allen to make your team even better. 
"We live in a time where 'good enough,' isn't." 
This goes back to what I wrote about Monday, and how the Kings are looking to be "progressive." They're trying to get ahead of the curve, and the curve has moved toward a read-offense, better floor spacing, better offensive movement. It's easy to throw around "ball movement," but that's over-simplification. Throwing the ball around the perimeter doesn't make you better. Throwing the ball accurately and well to create quality looks makes you a better team.
The reads vs. plays element is really complicated. George Karl, rumored to be a strong candidate to replace Malone, uses a read system. He runs almost no plays instead trusting his guards to drive and create, his wings to use the space afforded to them, and the players to make good, instinctive plays. Players love this because it allows them comfort and flexibility. They literally do what they feel. But you have to have smart, talented offensive players to make that work, and there's a question as to whether Darren Collison, Rudy Gay, DeMarcus Cousins, and Ben McLemore are in a position to play that way. 
Furthermore, the Kings are interviewing Vinny Del Negro and Mark Jackson, reportedly. Those coaches have come up with isolation-heavy offenses. So what would be the point in replacing Malone for his lack of offensive sophistication, only to hire similarly simple offensive minds? It doesn't make much sense, which is part of why so many people are flummoxed and frustrated with the Kings' moves. 
When Ranadive explains it, his core philosophy makes sense. Everyone flipped out because the Kings threw away their coach when they were winning! Well, they were .500. They were better than expected with some optimism and a fun way of playing. But Ranadive doesn't want to be where the Philadelphia 76ers were during the late 2000s, a tough team with some talented players, that never went anywhere besides a first-round exit some years, peaking with an upset over the 2012 Bulls after Derrick Rose went down. Mediocrity is the enemy. 
The problem is that everyone feels that for the Kings, mediocrity would be such an improvement that to throw it away is foolish.