Magic Johnson, Kobe Bryant urge Lakers to bring back Phil Jackson
Former Lakers star blasts front office for not bringing Jackson back, current star says "it would be tough" to understand team not bringing Phil back.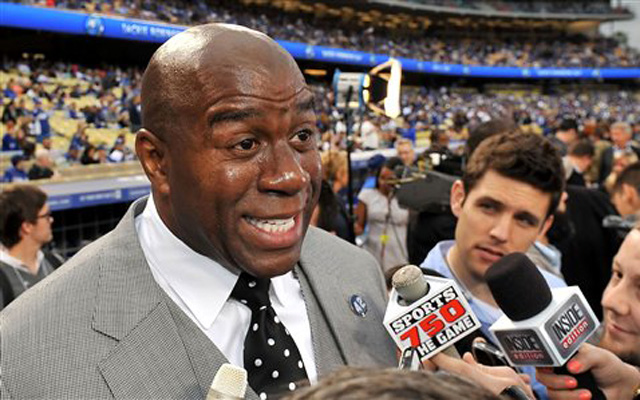 More Lakers: Berger: Does Kobe trust Buss? | Report: Bryant wants D'antoni out
You can add Magic Johnson to the list of people who think that letting Phil Jackson go to New York and not return to the Lakers organization is a mistake. Johnson had himself a little Twitter barrage on Wednesday after word came out that Jackson had agreed to oversee the Knicks. 
I love Jim & Jeanie Buss, but we need Phil Jackson to be the face of our great organization, the Los Angeles Lakers.

— Earvin Magic Johnson (@MagicJohnson) March 12, 2014
Kobe Bryant is the face of the Lakers' team. Who is the face of the Lakers' organization?

— Earvin Magic Johnson (@MagicJohnson) March 12, 2014
In signing Phil Jackson Owner Jim Dolan & Steve Mills are saying to the Knicks fans, they're ready to win now!

— Earvin Magic Johnson (@MagicJohnson) March 12, 2014
It's not the first time Johnson has questioned Lakers' leadersip and he's been hammering the younger Buss since his father passed away last year. 
This comes after Kobe Bryant said earlier in the day that "it would be hard" to understand the Lakers not bringing Phil back and letting the Knicks do it. 
"You know how I feel about Phil," said Bryant, who won all five of his championships with Jackson as the coach. "I have so much admiration for him and respect and I have a great relationship with him. Personally, it would be hard for me to understand that happening twice. It would be tough. I don't really get it."
via Kobe Bryant, Magic Johnson challenge Los Angeles Lakers management - ESPN Los Angeles.
Bryant also questioned Lakers' leadership for the first time. All this while a report surfaced that Bryant has "no interest" in playing for Mike D'Antoni next year. 
Here's what's interesting about all this. It comes as a reaction to the Knicks news. It's not "man, this team is terrible and has no support for Bryant signed long-term and no, seriously, Robert Sacre is starting." It's a reaction to Jackson going to New York. It took a team in a worse situation than LA getting the former franchise staple to bring out these criticisms. 
Also, notice no one's talking about the challenges the Lakers face in building a future with Bryant's massive extension. The Lakers announced Wednesday Bryant is out for the season with his knee injury. 
Ken Berger of CBSSports.com dives into the question of whether Lakers owner Jim Buss has lost the confidence of Bryant here. 
Paul may be getting a late start in Houston, but he promises to unlock some key role playe...

Lonzo doesn't want to throw away money for a tech, which isn't a great look for the rookie

Davis left the Pelicans' game against the Nuggets in the third quarter
Popovich was upset about an out of bounds call

Wall went 3-for-12 from the field, and had just eight points in the Wizards' loss

Noah was reinstated from his 20-game suspension on Monday, but is yet to play for the Knic...