Michael Jordan headlines 'Obama Classic' that is expected to raise $3 million
Michael Jordan is headling the "Obama Classic" fundraiser on behalf of Barack Obama, the President of the United States. The event is expected to raise as much as $3 million.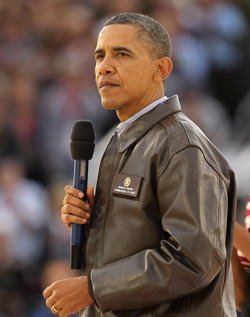 Barack Obama is hooping it up with some of the NBA's biggest names.
(Getty Images)
President Barack Obama is hoping to get a 4-year contract extension from voters this fall, and he's turning to some of the biggest names in basketball to help him raise the necessary funds.
Charlotte Bobcats president and NBA legend Michael Jordan, for one, is hosting a $20,000 per person dinner in New York on Wednesday, according to Forbes.com.
The dinner is part of the "Obama Classic" fundraising event, which includes a celebrity game at the Chelsea Piers and a "casual shootaround" that will include the President, according to CNN.com. All told, the event is expected to raise up to $3 million. 
ESPNNY.com reported the following list of participants.
Carmelo Anthony, Mike Woodson, Patrick Ewing, Harrison Barnes, Chris Bosh, Vince Carter, Nick Collison, Jamal Crawford, Juwan Howard, Kyrie Irving, Dahntay Jones, Brandon Knight, Alonzo Mourning, Chandler Parsons, Austin Rivers, Rajon Rondo, Steve Smith and John Wall. WNBA player Keisha Hampton also participated, as well as former lady ballers Sheryl Swoopes and Dawn Staley.
Obama, a noted basketball fan, had originally scheduled the event for Dec. 12, 2011, in Washington, D.C. However, the end of the NBA's lockout led to the cancellation of the event. Before the NBA and the players union finally reached agreement, Obama had called the lockout "heartbreaking."
The Hawks and Sharecare reportedly agreed to terms on a five-year deal

A look at the context of the schedule and who plays who when, and how far they travel during...

Durant took on rapper Lil Dicky and actually might have lost
A report that James would once again be leaving Cleveland made the rounds on Wednesday

Known for his 'take that for data' rant, the Grizzlies coach touched on a number of important...

Wade's days with the Chicago Bulls may be numbered