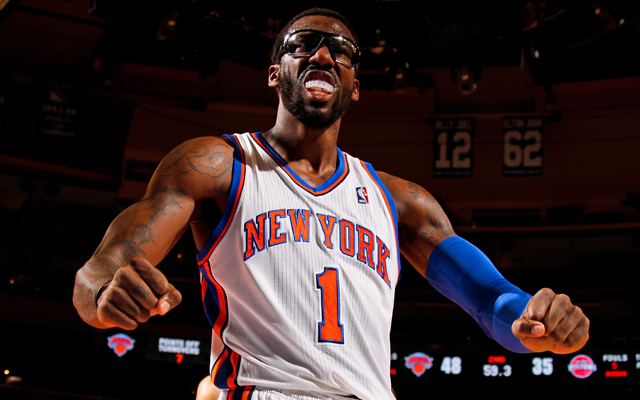 Amar'e Stoudemire is out "indefinitely due to a bulging disk in his back according to the Knicks.
(Getty Images)
The rollercoaster season for the Knicks continued and Amar'e Stoudemire's troubled injury history took another entry Monday as the Knicks announced that Stoudemire is out "indefinitely" with a bulging disk in his spine.  
Amar'e's MRI revealed bulging disk in lower back and he is out indefinitely. Lin will also be out tonight against Bucks. #Knicks

— NBA New York Knicks (@nyknicks) March 26, 2012
Stoudemire suffered the injury during the Knicks' blowout win over Detroit Saturday. Initially, Stoudemire told reporters he felt it wasn't too bad, but the pain worsened and the Knicks forward had an MRI performed Monday. 
Without Stoudemire, the Knicks face serious problems in their frontcourt. Stoudemire's clearly one of their biggest weapons despite some struggles this season that he'd only recently begun to work out of. Meanwhile depth is an issue with Jared Jeffries is out two weeks with inflammation in his knee.
Tyson Chandler has done a yeoman's work this season down low, but with his history of injury issues, the Knicks have to be concerned about minutes. Meanwhile there are concerns regarding Stoudemire's insurance status for the max contract he signed with New York in 2010, the biggest reason why Phoenix elected to pass on retaining the All-Star forward.
Coach Mike Woodson told reporters before the Knicks' game agianst Milwaukee Monday that it's unclear if Stoudemire will be back for the playoffs.  
"Don'tknow" says Woodson when asked if Anar'e would be ready for playoffs #knicks

— Barbara Barker (@meanbarb) March 26, 2012
We'll keep you updated on Stoudemire's injury and the ramifications for the Knicks' playoff hopes.