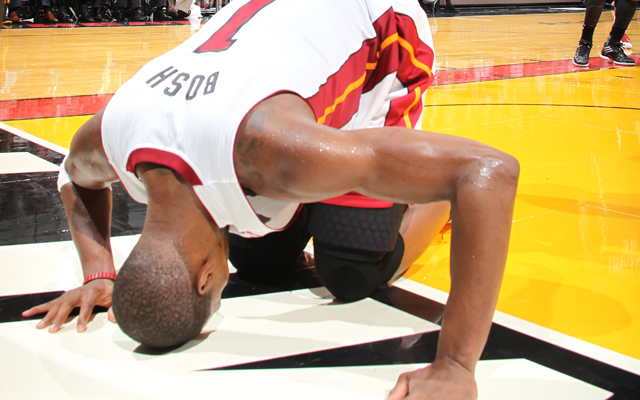 Chris Bosh is out indefinitely with an abdominal strain.
(Getty Images)
The window is open,
Pacers
.
With
Chris Bosh
out indefinitely with an abdominal strain
, the Pacers' chances at an upset have ticked up. They're not favored. This won't be easy. It's unlikely, Sunday's Game 1 proves that. But Miami losing its starting power forward and third best player is going to have an impact, that's unavoidable.
More on Pacers-Heat
Analysis

Related links
More NBA coverage
The Pacers started this series with a huge size advantage, and that was evident from the get-go in Game 1.
Roy Hibbert
and
David West
combined for 34 points and 23 rebounds in Game 1, with Hibbert's ability to shoot over the shorter defenders giving the Pacers a significant boost.
Bosh was never going to be a dominant inside force, but his length does provide something to try and prevent Roy Hibbert from having simple physical superiority. The loss of Bosh will help the Pacers at both ends.
Defensively:
With Bosh at center, he was able to stretch the defense and force Roy Hibbert out of the paint where he wasn't comfortable. Hibbert will now be able to patrol the paint, leaving
Joel Anthony
who isn't an offensive weapon, or drifting off
Udonis Haslem
. Not having to worry about the pick-and-pop changes how the Pacers can attack the pick-and-roll with
LeBron James
as well.
The Pacers will be able to attack on the trap and hedge aggressivley on James and
Dwyane Wade
. They'll still find opportunities, as he did in the third quarter of Game 1 passing to a wide open
Ronny Turiaf
and Joel Anthony.
But you'll live with those opportunities and being able to more aggressively attack James and Wade in the pick and roll every time.
Keeping the
Heat
off the offensive glass was going to be an advantage for the Pacers to start, but without Bosh, who has excellent touch, it impacts Miami's ability for tip-backs. Joel Anthony and Turiaf don't have the touch, and Udonis Haslem will struggle more than Bosh would have with Hibbert's length.
Offensively:
Bosh has been a capable defender, but was overmatched by Hibbert to start with. Without his length there to pester, Hibbert's going to have an easier time. That said, Hibbert does get bothered by strength down low at his legs, which is where Joel Anthony and Udonis Haslem will try and attack him in the post, with help coming from James and Wade on the wings for the double. Hibbert tends to make quick moves out of the post, so the process mostly comes down to his touch versus who's defending him.
But the biggest impact will be on the offensive glass. The Pacers don't have a very efficient offense. Which means the only way they can keep up with Miami scoring-wise is by generating extra possessions. The size advantage comes in huge there. Hibbert's going to have several opportunities for plays like this with or without Bosh, but again, every little advantage helps.
Additionally, when the Heat swtich to bigger lineups, pitting Anthony on Hibbert, Bosh was going to be in a position go defend David West, who can absolutely murder Miami with the pick-and-pop mid-range shot. West's ability to play in space vs. Udonis Haslem will go a long way towards deciding this series.
The Pacers still have a huge hill to climb and face a massive disadvantage due to the Heat's athleticism. But this does create a window they can use to exploit mimsatches and gives them a better chance to pull off the upset. Indiana led for most of Game 1 before relinquishing the lead. The cumulative effect of losing Bosh over this series is something we're going to have to monitor to understand.