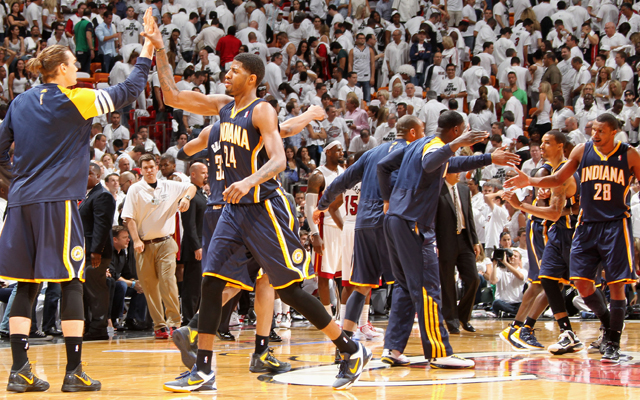 The Pacers did actually, you know, win the game.
(Getty Images)
First off, if you'd like to read about Lebron James choking, please press "1." If you'd like to watch
Dwyane Wade
deliver what should have been a flagrant 2 foul, press "2." To continue to pay attention to the team that actually won the game, press "3."
More on Pacers-Heat
Analysis

Related links
More NBA coverage
The
Pacers
beat the
Heat
Tuesday night 78-75 in a slopfest that will be talked about tomorrow because
LeBron James
missed free throws. But it was the Pacers' defense and a strong third quarter that put the Pacers in the position to win the game.
The Pacers outscored the Heat by .69 points per possession in the third. To put it in perspective, the Heat average 1.04 points per possession in the regular season, and scored just .67 in the third. It was incredible defense.
A seven minute stretch in the third featuring LeBron James, Dwyane Wade, and
Joel Anthony
yielded a 27.7 true shooting percentage and a 26 percent turnover ratio. They turned the ball over at a clip as high as their true shooting percentage which factors threes and free throws. So basically, the Pacers played killer defense.
It was an ugly, inefficient game, but the Pacers showed toughness against the Heat. That's the challenge, and when you hit Miami with that kind of grit, if things don't break open for them, they take a step back.
David West
is proving to be the best 4-5 player in this series, and
Paul George
made a series of incredible hustle plays. The Pacers won with a 38 percent field goal percentage and just a 39 percent effective field goal percentage.
This game was like two razorback pigs fighting in the mud. But in the end, the Heat wound up with filth in their eyes and the Pacers were able to go for the jugular. This is a series now, with all the momentum swinging Indiana's way, as they attempt to shock the world.
Closing note: After the game, with the Pacers celebrating like mad, David West went off. He was screaming at his teammates to get off the floor. 
This is West, who is back in the second round for the first time since 2008, who is the most consistent scorer for the Pacers in the postseason, who has lead this team with his toughness. West is making a huge difference on this teamand with Chris Bosh out, as expected, the the impact is only becoming greater. Last year the Pacers had no one to lead them, to demand that they not celebrate things like winning one game to tie a series. West isn't going to settle for just making a good showing. He wants to win. 
And all of a sudden, that idea doesn't seem so crazy anymore.