Report: Grizzlies' Jordan Adams has incentive to watch his weight
Memphis Grizzlies rookie Jordan Adams reportedly has bonuses and incentives in his contract based on body fat.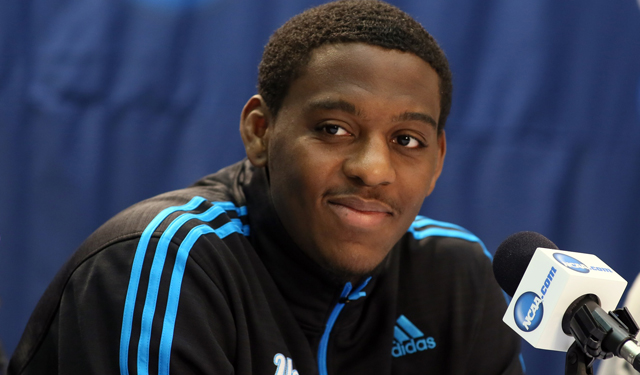 More Offseason Analysis: Coaching changes, news | Free Agency | Draft
What's the old saying? You are what you eat? For Memphis Grizzlies' rookie Jordan Adams, that may not necessarily be true. According to NBA contract guru Mark Deeks fo ShamSports.com, Adams avoiding rich food could make him richer. Deeks says the rookie out of UCLA has bonuses in his contract relating to his body fat percentage.
Fun fact: Jordan Adams's contract contains bonuses relating to his body fat percentage.

— Mark Deeks (@MarkDeeksNBA) August 6, 2014
One of the drawbacks to Adams before the 2014 draft was that he seemed a little pudgy. It wasn't a big deal and it wasn't something necessarily keeping him from being picked higher than 22nd to the Grizzlies. However, it was noted by several people he could stand to keep his weight in check to make sure he's maximizing his body's ability and athleticism. He measured in at 209lbs. while coming in at just under 6'5" for his height. 
It's unclear right now how often the Grizzlies will test the body fat percentage to see that Adams can keep his bonuses. Deeks also notes that Derrick Caracter had a conditional guarantee based on his weight, but the only other contract he could find specifically citing a body fat percentage was Marcus Williams out of Connecticut. 
We've got you covered for all the scores and highlights from Sunday's NBA games

The Cavs superstar compared Kaepernick to Martin Luther King Jr. and Muhammad Ali

The Warriors coach isn't surprised that the president and LaVar Ball are in a war of words
Kyle Kuzma is tired of how his teammate Lonzo Ball is being treated

The Warriors used a huge third quarter to come back from a 23-point deficit to get the win

Three takeaways from Golden State's 24-point rally past the Sixers