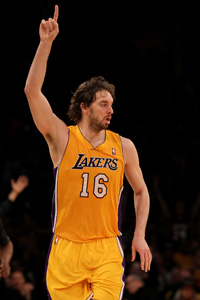 The Rockets remain in pursuit of Pau Gasol.
(Getty Images)
If at first you don't succeed, trade, trade again.
Ken Berger of CBSSports.com
reported Thursday
that the Houston Rockets are reportedly persisting  in their desire to trade for Los Angeles Lakers center Pau Gasol. 
Houston, whose acquisition of Pau Gasol in the ill-fated trade that would've sent Chris Paul to the Lakers, also remains in hot pursuit of the Spaniard, sources say. So are the Timberwolves, who would like to pair Gasol with Spanish point guard Ricky Rubio. The Lakers, however, are unwilling to trade Gasol unless they get a comparable All-Star in return -- preferably one who could provide the guard penetration they're so sorely lacking.
While one report on Twitter Friday suggested that a Gasol trade was imminent,
sources told CBSSports.com's Ken Berger on Friday afternoon
that talks between Houston and L.A. regarding Gasol remain ongoing.
Gasol has been in rumors ever since
NBA
commissioner David Stern nixed a 3-team teal that would have sent New Orleans Hornets All-Star point guard to the Lakers, Gasol to the Rockets and a package of smaller assets to the Hornets. Stern, acting as the owner of the Hornets, later traded Paul to the Los Angeles Clippers.
Gasol, 31, is averaging 16.8 points, 10.5 rebounds, 3.3 assists and 1.4 blocks in 37.1 minutes per game this season. He's on the books for $18.7 million this season, $19 million in 2012-2013 and $19.3 million in 2013-2014,
according to StorytellersContracts.com
.
The rumors surrounding Gasol got so bad that All-Star guard Kobe Bryant
publicly called
on Lakers management to let Gasol know he was being traded or kept. Lakers GM Mitch Kupchak
refused to do that
, but reportedly patched things up with Gasol.
While Gasol's production has slipped a bit since L.A.'s title-winning days, the strongest motivation for moving him is financial. The Lakers are in outer space when it comes to their payroll, and they face the prospect of massive luxury tax bills for the foreseeable future thanks to the enormous contract that will be paid to Bryant. 
Berger reports that the Lakers are seeking an All-Star in return, but they would do well to drop that demand and go the opposite direction. With Bryant and All-Star center Andrew Bynum in place, paying for a third established All-Star simply isn't feasible. L.A.'s cap situation is too crippling and their options for filling out the rest of the rotation become too limited. Gasol won't need an A-List player in return, given his age and contract situation, and L.A. doesn't have sufficient rotation talent or trade assets to pursue a revised "Big 3" model.
Houston and Minnesota both represent opportunities for L.A. to improve from a flexibility and youth perspective. Houston has loads of expiring contracts, role players and draft picks it could package to acquire Gasol, and its books are clean enough that paying Gasol his big-dollar salary over the next two seasons is no problem at all. Minnesota, similarly, has young talent in Derrick Williams, multiple expiring contracts and picks it could package to land the Spanish big man. A trio of Gasol, Rubio and All-Star forward Kevin Love could make a nice playoff run immediately and over the next two seasons as well.
Whether Gasol is gone tomorrow or whether he survives through one final playoff run, there's no intelligent scenario that sees him in a Lakers uniform next season. Under the new collective bargaining agreement, it's impossible to field a championship contender -- what L.A. always strives to be -- while paying three players a combined $62 million, which is what Bryant, Gasol and Bynum would make next season. (Miami's Big 3 of LeBron James, Dwyane Wade and Chris Bosh, for comparison's sake, will make a combined $52.5 million). Acknowledging that fact now and getting maximum value back in return for Gasol, now the third wheel, is a strategy worthy of endorsement.
Trading Gasol for parts might at first seem like a move that throws away a shot at a title. In truth, holding Gasol throws away any realistic shot at a title for the duration of his deal. This stands, therefore, as a classic "lesser of two evils" scenario.