James Harden is one of the trickiest players to define in today's NBA. Twenty years ago, he's a no-brainer superstar. Offensively brilliant. Scores a ton of points. Stars in commercials. But these days, we actually evaluate, and to some degree appreciate, defense. I won't say we consider it an equal part of the game, because frankly, it probably isn't. In reality, great offense rightfully gives you a lot of leeway on the other end.

For guys like Harden -- or, say, a Carmelo Anthony, or in the past Steve Nash -- it's a question of how much leeway. In other words, is Harden's offense brilliant enough to largely excuse his noted defensive ineptitude? That's difficult to define and depends on who you're talking to. Again, Harden is a tricky player to evaluate. He exists in a sort of nexus of offensive brilliance and defensive garbage smelt, perhaps underrated and overrated at the same time.
The only thing I do know is that to have any chance of answering this question as to whether Harden is, in fact, a modern-day superstar, we can't speak in generalities. We can't just say he's a great offensive player and a dog defensively, and just accept that at surface value. We have to dig deeper. Beneath the numbers. We have to look at the whole deal. The ever-elusive impact. We have to ask honest questions about how much, and why, we value aesthetics.
Is it possible, for instance, that Harden is even better offensively than we give him credit for? Has our frustration with his foul-hunting tendencies, and our fascination with his infamous defensive lapses, irresponsibly impaired our overall judgment of him? For that matter, is his defense actually, consistently, as bad as the internet makes it out to be?
How much of this is real, and how much do we want to be real?
When it comes to James Harden, these are the questions.
And they are not easy to answer.
First, the good news
I'm just going to say this right out: Yes, we absolutely underrate James Harden's offensive genius, in large part because we let the mockery of his defense disproportionately shape the conversation around him. Plus, again, we get way too hung up on his obsession with drawing fouls, as if an 85-percent free throw shooter having a knack for getting to the line is somehow a bad thing.
If you're not careful, you can start thinking of James Harden as a defensive joke who makes a bunch of free throws, when in fact he is one of the five best, most versatile offensive players in the world, and even that might be conservative. He's a better passer than Steph Curry (maybe not as flashy, but better), a better scorer than Chris Paul, a better pure shooter than LeBron James, a better everything than Paul George.
Here is a list of players who have averaged 35 points or more per 100 possessions, while playing an average of 62 games and 30 minutes a night, over the last four years.
This is clearly an elite list, and yet even this fails to completely capture Harden's scoring prowess. Consider that last year he was 11th among all players who averaged more than 35 minutes in team offensive rating (points per 100 possessions) while he was on the floor, despite Houston having few shooters to surround him. He was third in offensive win shares, and fourth in Offensive Box Plus-Minus.
What's most impressive is how Harden isn't just top-flight in specialized areas, but nearly ubiquitous in his offensive awesomeness. Typically players of high volume suffer in the efficiency department, but not Harden, who ranks in the 65th percentile or better in seven different offensive sets, via Synergy Sports -- he is in the 90th percentile for off-the-dribble jump shots and the 88th percentile for guarded catch-and-shoots.
The guy is also a straight maestro in the pick and roll. His ability to make reads while the play is developing, combined with his efficient shot selection, makes him nearly impossible to cover. Watch what happens when the defender tries to jump the screen to Harden's left side -- which you basically have to do, because if you give him the left side, you're done.
Try to get aggressive going over the screen to contest, he's going to draw the foul on you every time.
Again, the rejection of Harden's offensive brilliance pretends that drawing free throws isn't a skill, when it clearly is. Paul Pierce, Tracy McGrady, Vince Carter, Chris Paul, these are all great players who were terrific at drawing contact. It's a skill, the same as any, provided you don't go too far down the rabbit hole trying to chase the whistle.
There are times when Harden does search for free throws without really looking for offense. That's where he gets into trouble. He winds up focusing on drawing contact with very little regard for actually finishing the move.
But for the most part, he doesn't recklessly seek out contact. He's just a very savvy, very skilled athlete with tremendous body control. In the clip below, watch how he puts the ball out in front of him, inviting defenders to swipe, only to anticipate the contact perfectly while still managing to hold onto the ball and convert.
You just can't teach that. It's total feel, coordination and anticipation. It helps that Harden's handle, while not quite at the level of a Steph Curry or Kyrie Irving, is legitimately crazy. When he's attacking, it's swooping and hard to track; when he's searching out of the pick and roll it's low and reverses course instantly.
His movements look kind of jerky, sluggish at times, out of control at others -- all of which, again, speaks to our preference for the silky motions of a guy like Curry or Irving. Harden more closely resembles a master student of the martial art Zi Quan, more commonly called Drunken Boxing.
But don't be fooled. There is absolute precision in Harden's movements, elongated and careening as they might appear. He may lack the violent explosiveness of Russell Westbrook, and the beauty of his actions might not translate so well to TV, but his ability to finish on the back end of such maneuvers is a marvel.
Making him doubly dangerous is the fact that he doesn't have to get to the rim. Watch the damage he does on this step-back, entirely with his right hand no less.
And he needs very little time to secure his shot.
Then, if by some miracle you manage to stick with Harden, his passing ability burns you. Headed into next season there are questions about how he'll adjust without Dwight Howard, but Harden and Clint Capela have shown some nice chemistry.
And of course, there's the Eurostep. Harden absolutely annihilates defenders by drawing fouls with it. He does two things simultaneously: He warps time with how long the strides are before he switches his weight back, and he sells it perfectly. Watch his hips turn the defender in circles here.
And then sometimes -- or, actually, a lot of the time -- he just cooks.
Now, in fairness, Harden isn't a perfect offensive player. Last year he struggled in transition, where he only ranked in the 42nd percentile. This will be fascinating to watch this season, as Mike D'Antoni's system emphasizes transition and tempo, and there could be a clash if Harden doesn't clean up this part of his game. Harden often gets into trouble when he takes that drunken boxer mentality too far, getting a head of steam at half court and trying to convert wildly.
There's a lot of this going on.
Still, nobody is a perfect offensive player. Not even LeBron or Curry. Everyone has at least some kind of hole. But Harden doesn't have many. (He's notably bad at runners and actually struggled considerably in transition last year. You wonder what effect Mike D'Antoni will have on that.) But all told, he is nearly flawless with the ball in his hands. He has every shot in the bag, every move in the book. He is absolutely underrated on that end, which is really saying something for a guy who is pretty universally regarded as an elite offensive player.
Now for the bad news
When it comes to Harden's defense, or lack thereof, we have to ask ourselves: Is this deficiency akin to, say, Russell Westbrook's sometimes questionable shot selection -- a minor gripe that, in the context of his overall value, can be largely dismissed?
Or is it more? Something far more detrimental?
While half the people are overlooking how much of an offensive genius he is, the other half are so focused on his offensive numbers that they too quickly shrug off his defensive shortcomings. Dismiss it as a cost of the offensive load he carries. Harden himself has offered up this excuse, while Rockets GM Daryl Morey and Houston fans have argued Harden gets unfairly singled out for the kinds of "LOL" worthy mishaps that get turned into memes on Vine and Twitter.
But this just isn't true. When you watch video of the Rockets' defensive possessions, Harden's defensive blunders aren't just happening once in a while. If they were, you could chuck them off as the simple cost of a player being so great on the other end. If he were merely adequate on the defensive end, or even just below average, you could live with it.
But he's not adequate. He's not below average. He's a complete hole in the earth on the defensive end. His effort and awareness are inexcusable. Here are a few markers to consider:
Harden had the 22nd worst mark of 76 players who played 30 minutes per night for 60 games last year in defensive box-score plus minus, which measures impact on vs. off the floor.
Individually, via Synergy Sports, Harden ranked in the 18th percentile among all defenders in points per possession allowed. This doesn't even factor his biggest problem area, transition defense.
When Harden defended a shot last year, via NBA.com, the opponent shot 2.2 percent higher than their normal percentage. That doesn't sound like much, but comparatively, it's notably high. There are issues with this stat like all the above, but again, we're focusing on the total picture.
There was some analysis last year that Harden improved after the All-Star Break, and to be certain, his effort did improve when you go back and watch. He had fewer embarrassing gaffes. However, it should be noted that in defensive rating splits, individual defense via Synergy Sports, and individual defense via NBA.com's SportVU data, for pre- and post-All-Star, there's no conclusive evidence that he improved. There were also several lapses still that stood out, even when trying to account for confirmation bias.
So Harden, as you can see, is a very bad defensive player, and that's just the numbers talking. We haven't even gotten to the eye-test stuff, which can be downright sickening to watch for anyone who cares even a little bit about defense.
Look at this pathetic attempt to at least foul Klay Thompson and stop an easy layup:
Here he appears flat-out narcoleptic:
Check out this screen-shot from early last season: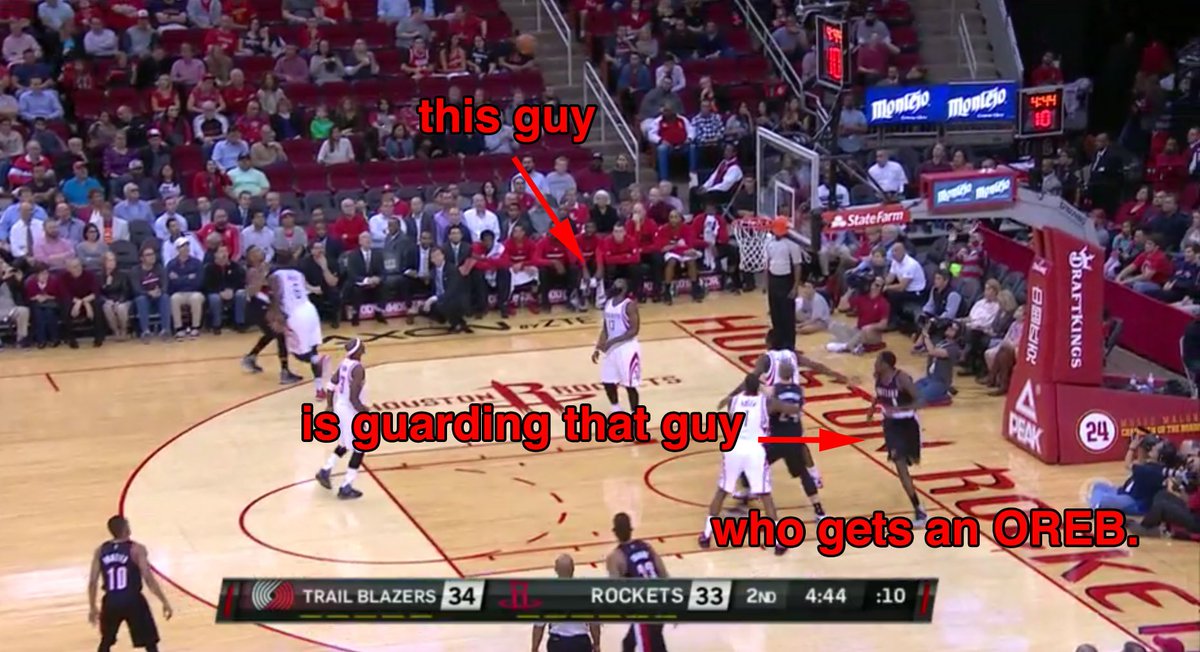 And this one: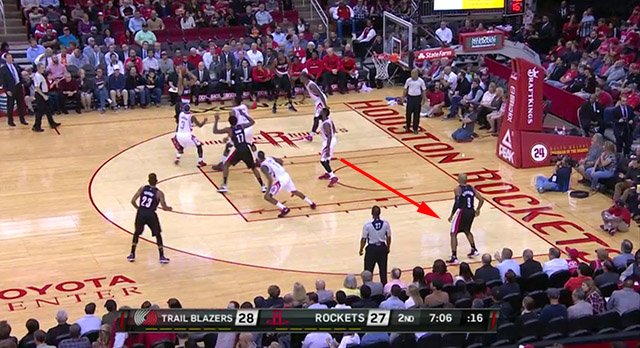 The hardest part to accept about all this is that Harden has the physical tools to be at least a serviceable defender, if not a pretty good one. At least with a guy like Nash, there were limitations. He was small. Relatively slow and weak. By the end of his career, when he was a complete defensive dog, he was hampered by a degenerative back condition that made it nearly impossible for him to stay in front of his man.
Harden has no such excuses. To the contrary, he showed with Oklahoma City in 2012 that he can be an above-average, helpful defender. Watch what he does to Kyle Lowry here.
He even sometimes makes multiple rotations, even in the chaos of an offensive rebound:
The truth is, he can still be this kind of defender, but he elects not to. He's lazy. There really is no other word for it. Very often the excuse Harden apologists make is that he's "cherry picking" on individual plays, which I guess could be acceptable if it was a calculated gamble and/or something he didn't do regularly. But here's one where the opponent doesn't even score. This is the kind of thing that gets lost. No one's making memes out of this one.
The simple effort stuff is what kills you when you watch Harden. Like here, you wind up screaming: "Just jump, man!" over and over as if you're Drake.
Sometimes he just takes a bad angle.
To be fair, there's a level of confirmation bias here. Harden makes a mistake which every player in the league, even Kawhi Leonard, sometimes does, and everyone jumps all over him. Here I've snagged an image of Harden (closest to the sideline ref) guarding absolutely no one.
He looks stupid here, right? Except all that happened was that Harden was helping strong-side, and his man slipped out and went to a different spot, and he was left in no-man's land. That's just a mistake. I can use that image to make him look foolish, but all he did was make a mistake.
The problem is that when you go back and watch the Rockets' defensive problems, Harden leaps off the screen and starts doing a showtune routine like the alien in "Spaceballs." His lapses are just so eye-poppingly egregious.
After all, nobody's asking him to go busting over a screen and make a savvy swipe at the ball, or to deftly anticipate a rotation to deny a quality shot. We're just asking that he simply not stop defending and let his man run free with 10 seconds still on the shot clock, or maybe make any attempt at all to box his man out on the boards. But you can't count on him to make even the most basic of defensive efforts.
And the problem is, this type of laziness bleeds into the rest of the team. When Harden basically gave up defensively to start last season, a sickness infected Houston. Trevor Ariza is a good defender, and he struggled. Corey Brewer is a gambler, but he's still a pest, and he became a little boy wandering aimlessly around the mall looking for his mother. Even if you believe Harden isn't solely responsible for how bad Houston was at defense last year, you have to acknowledge that as the best player, he didn't do enough to fix it.
This may be the biggest concern going into next year. Mike D'Antoni has clashed with superstar players that wanted their comfort zone taken care of in the past (Carmelo Anthony, Dwight Howard, Pau Gasol), but he's also unlocked incredible things in guards. He brought on Jeff Bzdelik as his defensive coordinator, but the reality is we have players across three teams (Phoenix, New York, Los Angeles) who say that D'Antoni simply never practiced defense. It's never been his focus.
The rest of the Rockets' roster also got worse defensively. Ryan Anderson and Eric Gordon, their two biggest free-agent acquisitions, are both problems on that end (though Gordon showed some things last year). Clint Capela is awfully young to be relied upon as the primary rim protector.
Harden needs to enter this season with the comfort that the offense is going to hum, and he's going to still be a star, but the team will be much better and they will win more games if he sets a tone defensively.
Harden can get the numbers, or he can sacrifice and help the team win more. It's not random that the Rockets' 2014-15 success came on the back of an improved defensive effort from Harden and Houston cracking the top 15 in points allowed per possession.
A DUALITY OF RATES
So here we are, back where we started, struggling to clearly define maybe the most extreme player in today's NBA -- one of the best players in the world, and worst players in the world, at the same time.
On some level, Harden is an undeniable superstar, if only because there are only a handful of players in the NBA who can do what he can with the ball in his hands. He doesn't get the credit he deserves for his combination of playmaking, efficiency and creativity. There is a reason the players selected Harden as the 2015 MVP over Curry in their NBPA player awards. There exists a real respect from the players for Harden and what he's able to cook up.
Yet how can a guy whose laughable defense consistently undermines his team's ability to win games be called a superstar? This is the dilemma we face with Harden, but then, Harden has the ability to shut that down this season. He's capable of putting the Rockets, a team that barely made the playoffs last season, in a position to compete for a conference finals berth. Individually, he's that great. And much of that is reflected in the fact that for all his defensive foibles, the Rockets have won 196 games since Harden arrived in 2012, good for seventh-most in the league.
But if the Rockets are going to go further as a franchise, Harden has to make a real commitment on the defensive end, which at least one of his teammates believes he will do. To a lesser degree, he can't hunt fouls quite so much. In both cases, it's a matter of balance.
If he doesn't find that balance, in another year we'll be looking at Harden the same way, and it might be time to start talking about the 27 year old having hit his ceiling as a great player who isn't great enough, an offensive superstar who can't, or won't, take his game to the next level.
The biggest danger to Harden's career right now is complacency. Shrugging off all the criticism and establishing himself as the player his best efforts seem to reflect is ripe for the taking, but that's on Harden. A lot of guys can get buckets, though few like Harden. Leadership, intangibles, taking the franchise on his shoulders, these are the things standing between Harden and the respect he deserves.