Star-studded Lakers finally make debut -- against nobody
In the Lakers' first training camp practice Tuesday, Dwight Howard joined his star-studded teammates and pronounced himself "hopeful" that he'll see action in preseason games.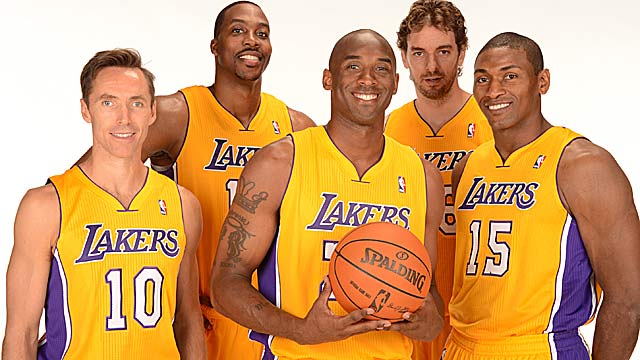 The Lakers unveil their potential title team; they just need chemistry.
(Getty Images)
EL SEGUNDO, Calif. -- Finally, after months of anticipation and hype, there they were: The Lakers' star-studded and potentially dominant starting five.
A collection of stars and personalities with championship potential to match both -- and with so much work to do.
That much was obvious enough to Kobe Bryant, Steve Nash and Pau Gasol, who've taken enough laps around the block to know that the first training camp practice with dummy drills -- five-on-nobody -- is merely the first baby step on the road to what they hope will be something great when the product is finished.
After a four-hour practice Tuesday, it's a long way from that.
"For us," Nash said on the practice court afterward, "it was a day of building blocks."
And the man who could very well serve as the foundation of that building was right in the mix with everybody else Tuesday. Dwight Howard, only months removed from back surgery, participated in five-man offensive and defensive drills as well as some 3-on-3, 2-on-2 and 1-on-1 contact. Afterward, he proclaimed himself "hopeful" that there's a chance he'll see preseason action as soon as the Lakers' opener Sunday, but quickly backpedaled.
More on Lakers/camps
Related links
"Hopefully I'll be back for some preseason games," Howard said. "I think I'm going to need it to get the chemistry and all that. But like I said, I'm not going to rush it."
And there truly is no rush when considering the big picture. The preseason opener may be Sunday night, but the NBA Finals don't start until June. That's when Howard has to be his dominant self and the Lakers have to be a well-oiled, Princeton-offense-running machine. 
They're not there yet, by any stretch.
"Our concern is the end of the year," Howard said. "Everybody expects us to go 82-0, but our goal is to win a championship. There's going to be some roadblocks. There's going to be some games we don't play as well. But if we can keep those games down, hopefully we can have five bad games and the rest will be great."
All things considered, the fact that Howard was in the fray -- working "as much as anybody else," Gasol said -- was the most promising takeaway from Day 1 in what will be a fascinating journey for this revamped Lakers team in its chase for Bryant's sixth championship. The fumbled reads, uneasy footwork and indecision that revealed themselves as assistant coach Eddie Jordan started the lengthy process of installing a Princeton-style offense were to be expected.
"It's a lot," Nash said. "It's a lot of reading and reacting; it's a lot of connectivity. You have to read the guy in front you and there's kind of limitless possibilities out there. But that's good."
Nash has never played in a Princeton-style offense, though it does incorporate the player and ball movement as well as pick-and-roll concepts that he's accustomed to from running Mike D'Antoni's triple-threat offense his entire career. Some of the spacing and movement and key spots on the floor are similar to the triangle offense that Bryant has thrived in for most of his career. Howard has never played in either system, and won't be asked to do many of the things those systems demand from their big men -- most notably, passing.
"It's tough for all of us," Howard said. "We're trying to learn it. It's a little bit different. There's a lot of movement. But once we get used to it, we'll be fine."
The Lakers' collection of All-Stars, former All-Stars, MVPs and champions have to get used to the system and each other. Coach Mike Brown has to get used to coaching talent the likes of which he's never overseen. Nash used the word "inspiring" to describe the first time the Lakers' new starting five -- Bryant, Nash, Howard, Gasol and Metta World Peace -- were on the floor together, even if there was no opponent and no defense. 
"There's a lot of positive energy out here," Nash said.
Getting Howard in the mix in a practice setting was the first step. Next, the Lakers will try to increase the amount of contact he's encountering and get him comfortable not only with a new system and new teammates, but also the physical pounding on his surgically repaired back.
"I've been working hard to get back on the court and I'm going to continue to work hard," Howard said. "We haven't had any setbacks, so I'm going to continue to do whatever I can to get back on the court."
The sooner, the better, said Gasol.
"The sooner he can get back on the floor and we can start playing together," Gasol said, "the faster things will start happening for us."
The Rockets apparently aren't going to rush their new point guard back

The Bucks are going all in on retro with their jerseys and court design

Mike McClure, a DFS pro with more than $1M in winnings, gives optimal DraftKings and FanDuel...
LaVar's son couldn't live up to LaVar's hype. But there's more to this story

Carmelo Anthony is hoping for Kristaps Porzingis to see success on his own

Bill Reiter and Reid Forgrave break down the debuts of Lonzo Ball and OKC's new big 3, plus...