The Denver Nuggets are a train wreck
With coach Brian Shaw questioning the players' desire to win, how bad have things gotten in Denver?
The Denver Nuggets are a train wreck. 
That phrase gets thrown around a lot, but the comparison is particularly apt in this case. You expect a train to travel from point A to point B with efficiency, speed, and power, follow a predetermined course, and arrive on time safely. It's shocking when that does not occur. It takes something going massively wrong for a train to derail.
The Denver Nuggets entered the season with every expectation of making the playoffs. Last year, they stumbled out of the gate, and were already a bad team by January, but injuries gave them the excuse necessary to buy back in. The organization, from ownership in Josh Kroenke to management in GM Tim Connelly, to coaching in Brian Shaw, all the way down the players, double down on this team. They added Arron Afflalo. They were going to make a run with this team. 
They felt they could make the playoffs. There was no "we'll see." There was no "let's find out." The Nuggets believed they had a formula to make the postseason.
"With the depth we have, and with Brian doing such a great job, we look forward to returning to the playoffs," Tim Connelly said on media day. 
"I feel more calm and comfortable this year because I know our guys now," coach Brian Shaw said. 
They knew the West was tough, but no matter what, they would at least be in the conversation. They would be fighting for a playoff spot, at the minimum. That was the thought. 
Whoops. 
On Tuesday, word came that ownership considers the situation unacceptable and the insinuation was that roster changes were coming. Hours later, the Denver Post revealed comments from Shaw saying that he actually believes his players are trying to lose on purpose. 
"It just looks like you almost have to try to lose as bad, and in the way we've been losing," he said. "At that point, something gives. The decision-makers at some point are going to make a decision. And everybody is going to have to live with it. Then it's out of our control.

"The only thing I can control is doing my job to the best of my ability. And that's what I expect them to do. Do I feel like that's always been the case? No. Do I share responsibility in that? Yeah."
via Nuggets' Brian Shaw suspects players not always giving their all - The Denver Post.
This comes after Shaw has questioned his players' professionalism twice in the past two weeks, and the team responded by giving worse performances. The Nuggets sit at 19-29, a mark that would still put them in playoff range in the Eastern Conference. But in the West, their season is over. Three weeks ago, they were three games back of the 8th seed. Since then, Denver didn't just let go of the rope, they lit the rope on fire and swan-dove into the murky depths below. 
To give you some perspective on how bad the situation is:
Denver is the only team to lose to the Celtics, Knicks, Lakers, and Timberwolves this season. Two of those losses came at home to an opponent on a back to back. 
The Nuggets, once unbeatable in the altitude of Denver, is 12-13 at home this season. 
After being trounced by Memphis last Wednesday by 30 and scoring just 69 points in the process, the Nuggets returned home and were down 32 points in the first half to Charlotte, who were without Kemba Walker. They lost handily as boos rained down. 
This week is far from the first time Shaw has clashed with players, in front of or behind closed doors. Last year Shaw was notoriously hard on Kenneth Faried in the media, consistently balancing praise after breakout performances from Faried with criticism. They seemed to have moved past those issues towards the end of the year, which spring boarded Faried into a starting spot with Team USA. Then media day came, and Shaw said that he had encouraged Faried to work on his conditioning even after games, the way Dennis Rodman had, a comment Faried took umbrage to minutes later. 
From there, things got weird. Arron Afflalo mentioned in passing a level of discomfort with the offense early on. Danilo Gallinari said that the team didn't really understand what it was doing most of the time. But by and large, the players resisted giving Shaw any blowback, no matter what Shaw said in the media. It was clear from their body language, let alone their play, that the situation was bad, but any problems were not going to be vented in the media. 
And this isn't a new issue. Shaw famously feuded with Andre Miller last season, which resulted in a bench outburst from Miller, his subsequent suspension which was almost immediately lifted. Miller was granted an absence from the team before eventually being traded to the Washington Wizards for Jan Vesely. Vesely was not re-signed this summer. 
So... to sum up the Nuggets right now: 
Where does the team go from here?
COACH OR THE ROSTER? YES. ALL OF THE YES. 
The debate in Denver is whether the roster is a bad fit for Shaw, whether Shaw is unfit to coach, or if the players are inherently bad. Throw out the last one. The list of quality players in terms of talent on this team is significant: Ty Lawson, Arron Afflalo, Kenneth Faried, Danilo Gallinari, Wilson Chandler, Randy Foye, J.J. Hickson, Darrell Arthur, even the rookies Gary Harris and Jusuf Nurkic, who weren't supposed to play this season, can play. So can Nate Robinson and Timofey Mozgov who were traded. 
But the roster doesn't work with Shaw. The thought early on was that the problem was fit, that Shaw needed a back-to-the-basket post scorer, and that's true. But this goes well beyond it. Shaw seems to have a fundamental failure to understand or connect with these athletes, players, not to belabor the point but who by and large won 57 games for George Karl two years ago. Shaw was brought in to give the Nuggets a better chance to win in the playoffs. Safe to say that not having your players purposefully trying to lose in your eyes is kind of a prerequisite for making the playoffs. 
Shaw's biggest problem, outside of his failure to connect with the players, has been his honesty. Again, from the Post: 
"At the end of the day, business is gonna go on, whether I'm the coach here or somebody else is coaching here," Shaw said. "Whoever it is, (the players) are going to still have a level of expectation in terms of giving an effort. Whether it's me or somebody else, or if it's the players we have or other players, there's that expectation level.

"And all I can do is try to do my best, do my job to the best of my ability every single day. And I hope I get that back in turn. And it hasn't seemed to happen that way. But I'm not hiding. Everything that I say to them, I say to you. And I get advised sometimes not to be so honest with you guys. But I don't have anything to hide. I'm not running from anything."
That's really pretty honorable. Shaw doesn't want to sit there and give the media platitudes. Shaw has shown himself to be a pretty honorable person and someone who genuinely wants to win. Whatever his in-game problems with how the offense is structured of his penchant for playing Kenneth Faried and J.J. Hickson together despite their on/off numbers being a flaming ice cream truck veering off a cliff into a pile of garbage, Shaw has characteristics that you want in a coach. And down the line, it's very likely he's a successful head coach. 
So if the players aren't inherently bad, and the coach isn't inherently bad (though arguably in over his head strategically), then who's to blame? 
That's the problem. It's everything. The coach has coached badly, the players have coached badly, Shaw has thrown enough players under the bus to raise it high enough to change the tires on it, the players have failed to show basic levels of competitive spirit or competency. There's no effective leadership, and so this is the mess. 
Altitude Sports which broadcasts the Nuggets reported Tuesday night that the entire team, including staff, had dinner at Jameer Nelson's house on Monday night. Maybe that helped. At this point, it's a good sign that a fist fight didn't break out. 
The solution? It's a fire sale. If the Nuggets want to make a coaching change, that's understandable and might even spark a bit of a run in the final three months of the season. But there are significant roster problems in how the team is built together. In short: the Nuggets are significantly worse as a whole than the sum of their parts. Denver management has been adamant that they don't want to tank, and indications are that ownership feels the same way. But the only way the team can make a significant improvement is by reshaping itself around a new star, and given the state of their current assets' trade value, the draft is the only way they're going to get that player. 
I've thought Shaw was going to be fired at several times this season. After the loss to the woeful Lakers. After the home loss to the Celtics. After the home loss to the Wolves. After the disaster vs. the Hornets. But Shaw has held on, and management has maintained they are sticking with him. Shaw might honestly do well with a raw, young team he can mold, if they add a rim protector and a post scorer, bigger guards to defend the ball, and provided, you know, he doesn't make them look like they'd rather be bussing tables at an iHop than playing for him half the time. 
But after a 57-win team that nabbed the third seed two years ago, the Nuggets are off the rails. And typically when that happens, you don't change conductors and keep the train, or keep the conductor and get a new train. You scrap the entire project. 
There are no sides to take in Denver, there are just failed expectations, a lost season, and a locker room that seems like a miserable place to be at this point. 
It's a train wreck.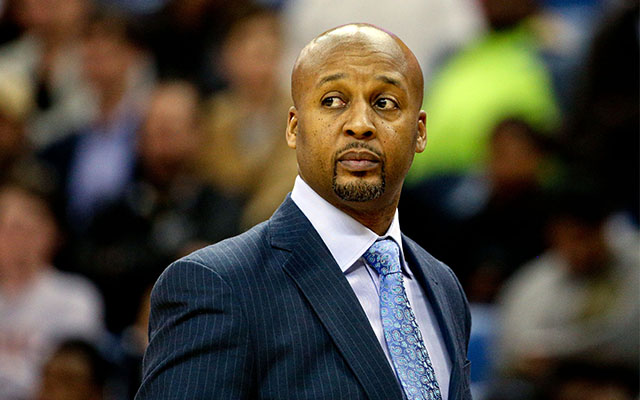 CBS Sports HQ Daily Newsletter
Get the best highlights and stories - yeah, just the good stuff handpicked by our team to start your day.
Please check the opt-in box to acknowledge that you would like to subscribe.
Thanks for signing up!
Keep an eye on your inbox for the latest sports news.
Sorry!
There was an error processing your subscription.
Keep checking back for the latest updates as NBA free agency continues

Anthony had nothing but positive things to say about his fans and teammates in Oklahoma Ci...

Here are the top prizes left in the 2018 NBA offseason
Howard, 32, wants to spend the next decade evolving his game

While Harden's connection to the club incident is unclear, one report says a member of his...

D'Antoni coached Anthony in New York but their relationship soured, and he ultimately walked...