It's not that the Golden State Warriors don't need Stephen Curry to be the unanimous MVP he's been all season long. Aside from a handful of hiccup games along the way, this season has belonged to the back-to-back MVP, who has been setting history left and right. His shoe sales are insane. His jersey sales are tops in the world. Nobody has sparked more debate or conversations this season and nobody has been more Vine-worthy during the 2015-16 campaign.
He's been quiet through the first two games of the NBA Finals, as the Warriors trounced the Cleveland Cavaliers. He's scored 29 points total as the Warriors have grabbed a 2-0 series lead in the NBA Finals. He led the NBA with a scoring average of 30.1 points this season. He's made seven total 3-pointers through two games; he had 24 games this season in which he made at least seven 3-pointers. Curry took a backseat behind Shaun Livingston and the bench in Game 1. In Game 2, he wasn't the story; Sunday night belonged to Draymond Green.
This is all part of the system. Strength in Numbers. Be able to adapt to how each game is going. Continue to win no matter the circumstances. Curry also doesn't need to go off on the Cavs in order for him to have an impact. His presence on the floor captures the attention of Cleveland at all times because you can't afford to be the victim of one of those two-minute flurries in which he drops 15 points on you.
The Warriors beg for you to make that decision of how much attention you can give the MVP because they'll exploit it either way. Focus on him too much and the space for his teammates to operate grows immensely. What was once a shrinking court is now an expansive area to explore bucket-getting endeavors.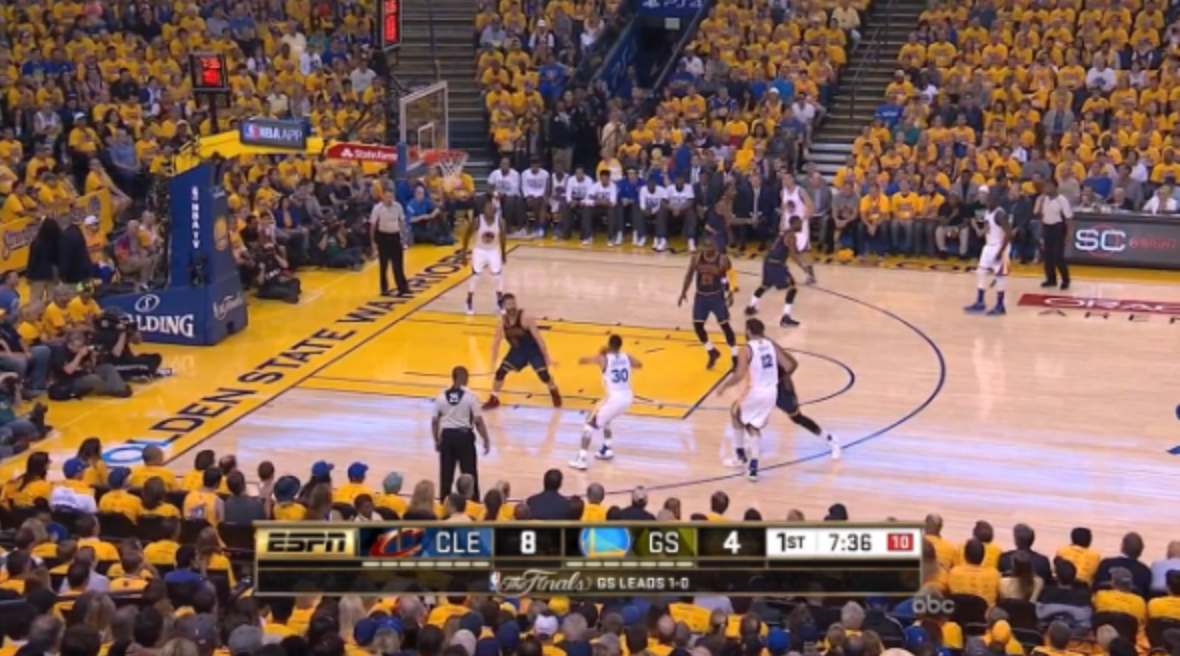 You become Vizzini in The Princess Bride trying to outwit the Dread Pirate Roberts while picking your poison, not knowing that both goblets against the Warriors contain iocane powder. You can't choose the cup in front of you that is overplaying Steph's movements because that will lead to an open bucket for someone else. But you also can't underplay Steph with the ball because then you risk him going on a scoring binge. So you're almost forced to be somewhere in the middle, unwilling to compromise on some core tenet of your defensive plan.
Every play of him reading the defense and coming off a screen has to become a compromise though. You relent on something in the hopes of picking up an advantage elsewhere, but everybody has to be on the same page. If the communication of the defense isn't perfect and the decisions aren't correct in the blink of an eye, Curry poisons that possession for you and you end up guessing incorrectly instead of seeing the whole situation in front of you. Even when he doesn't come around a screen set by Andre Iguodala and cuts it off before you can defend whatever is happening, a counter occurs and Iguodala is now a sweet Shaun Livingston pass away from an easy bucket.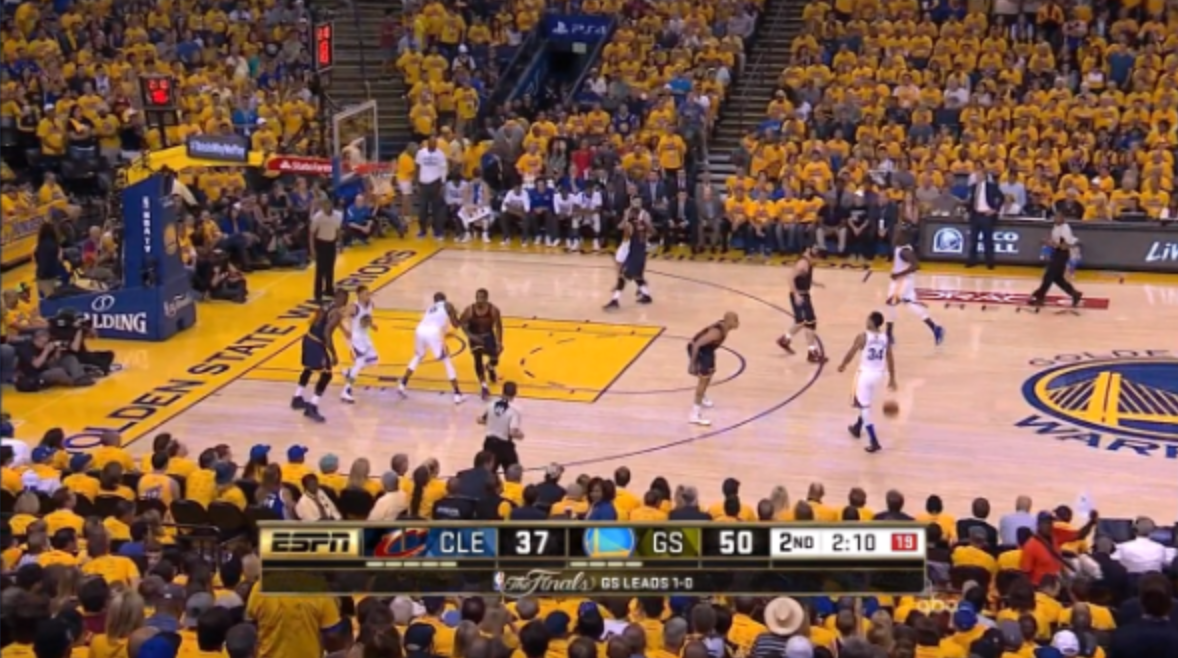 Gravity of a player isn't a new concept but it's something we've become more aware of as the NBA becomes more 3-point-centric. Nobody has a greater gravitational pull than Curry does. That's what happens when you become a player in which 400 3-pointers in a season at a historically incredible rate of accuracy is believable. And you can't just allow him to make layups all night because you need to keep the confidence and rhythm of Curry down as much as possible.
It's why he becomes such a terror in transition because you have to take away those soul-crushing 3-point shots while not allowing a layup, and still remembering to cover the second-greatest shooter in the world as he flanks the defense.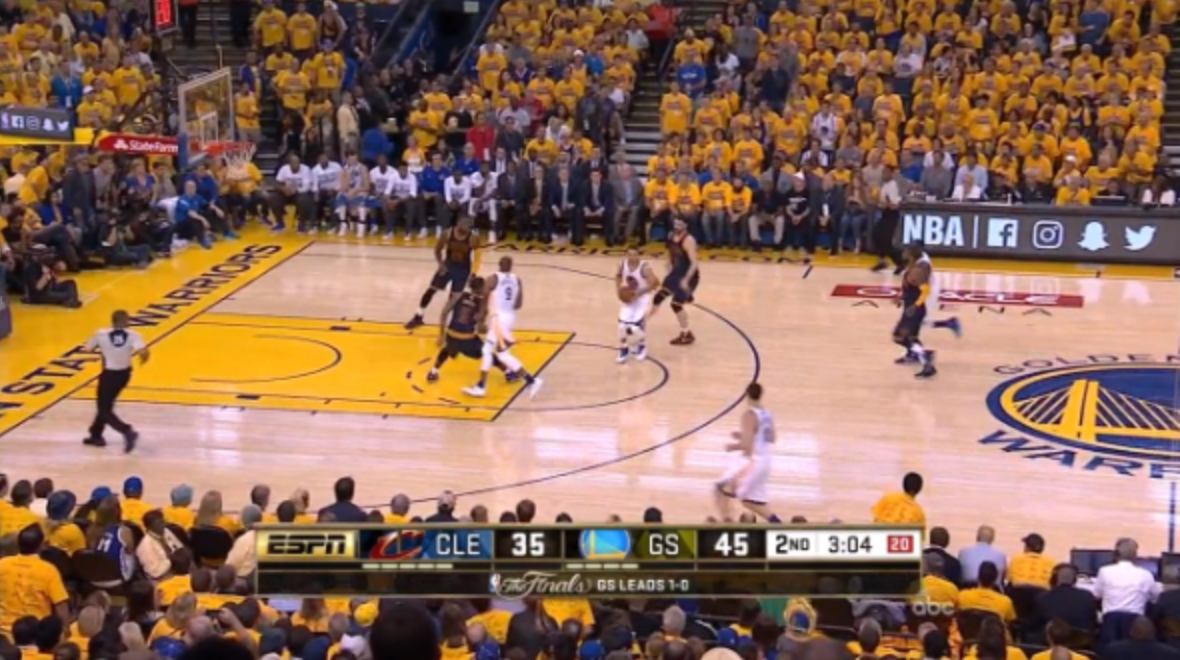 Everything is poisoned if you can't take away the Warriors' passing. They've already defeated your swordsman and your giant is fast asleep. It causes you to panic and the panic leads to indecision and the indecision leads to that big run that just knocked you out of the game. But to take away their passing, you have do what the Oklahoma City Thunder did, which is switch everything while using length and athleticism to eliminate the way the Warriors manipulate the opposing defense. By the way, that only worked out in three of their seven games.
It's not just the attention Curry gets either -- you can throw Klay Thompson into this, as well. The 3-point shooting of the greatest perimeter scoring backcourt of all time throws the defense completely out of whack and allows others to feast. You have to find ways to keep Curry and Thompson from seeing the ball go in the basket over and over, whether it's a jump shot or a layup. So the overplay is in effect, which leads to overreacting to a hand-off action and allowing Green the room to hit an easy floater over his recovering defender.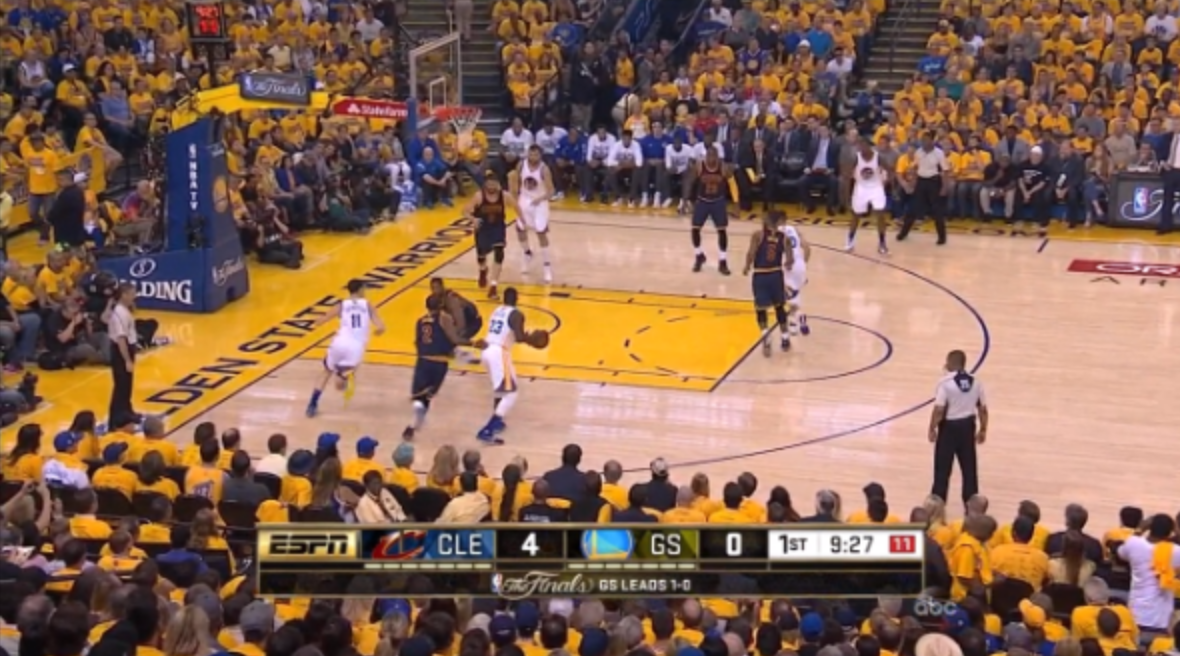 This dynamic on the court coupled with the domination the Warriors have had over the Cavs in the first two games has made the Finals saturated with almost a blasé feel to it. These all-important games in June that will define legacies and shape the next era of the NBA as teams try to replicate the winning formula have the same feel as when the Warriors were demolishing teams in January and February. We've almost traveled back in time a few months to when the Warriors obliterated the Cavs in Cleveland on a random January night.
It's removed the drama the NBA Finals are supposed to bring and replaced it with a regular-season feel. Maybe that turns around in Game 3 and can lead to Game 4 being a competitive affair. The Cavs getting back in this series with a couple of wins at home would certainly bring back interest into the series, and at least make you wonder whether or not they have figured out how to play with and beat the Warriors two more times.
If that's not the case though, we're headed to a more star-studded version of LeBron James' first Finals appearance in 2007 when his team was overmatched for four games and dismissed in an uneventful fashion. That brings about storylines to fill up months of coverage in dissecting the Cavs and what it means for LeBron, but it does nothing for the entertainment value of the remaining postseason games in front of us.
It's why we need Steph Curry moments, even if just for one game, to capture our attention during the rest of the Finals. This necessity goes out the window completely if the Cavs turn this thing in the right direction, but at the risk of them continuing to get dominated, we need the superstar to be a superstar on television and not just in a film room. It doesn't take anything away from the Warriors and their seemingly likely second straight championship if Curry doesn't take over a game with his Vine-tastic feats. From a pure basketball vantage, it may be more impressive if the Warriors destroy the Cavs for an entire series without Curry being a monster.
This is purely a selfish request from a basketball fan hoping to experience more superficial entertainment than nuanced dominance. Aside from Game 5 in the 2015 Finals, we haven't had those Curry moments against the Cavs in either Finals series. And it's maybe the only way to turn a disappointment of expected competitive balance into a memorable moment. The Warriors capping off their historic season with a whimper of competition in the Finals won't detract from what they've done, but the collective basketball world needs memories to punctuate this season with an exclamation point and not an ellipsis.
If the Cavs aren't going to give us big moments the rest of the Finals, it's on Curry to dazzle us one more time like he's done all season.