Time to cheer up Lakers fans: Journey down the rabbit hole
With the Los Angeles Lakers' worst loss in franchise history and hitting rock bottom, we can journey down the rabbit hole to cheer them up.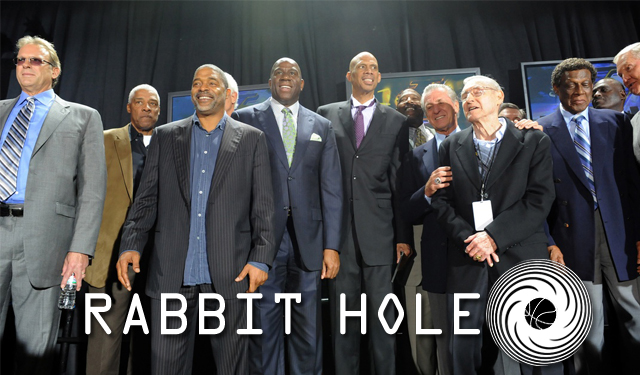 While the Rabbit Hole post idea was supposed to be something to get you through your Fridays at work, there may be a greater purpose to them. Or at least, we may have extended use for such an endeavor each week. The things happening at the Staples Center these days are bad when it isn't exclusively involving the Los Angeles Clippers. It's time we reach out to our Los Angeles Lakers friends and give them something to do during these games that doesn't involve inflicting more pain on their psyches. 
Let's journey down the rabbit hole this week and see if we can not only kill some time on a Friday but also turn those Lakers frowns upside down:
First Stop: You have to hit rock bottom before you can truly move back up
The inspiration for trying to remind Lakers fans of the good times in Los Angeles was the 48-point drubbing they took at the hands of the Clippers of all teams. It was the biggest loss the team has ever suffered, beating out a 46-point loss to the Portland Trail Blazers in 1995. The worst part about it is that it came against the Clippers. It's not that it finally let people know the Clippers are better than the Lakers; we've known that for two years. But the psychological hold the Lakers have over the city is dwindling fast in terms of basketball respect. Living in the past for accomplishments only gets you by if you have something building toward the future and the Lakers don't tangibly have that right now.
I wrote on CBSSports.com Thursday night about the loss and why it's so embarrassing for the Lakers (UPDATE -- Lakers fell again Friday night at Denver):
A 48-point loss on national television to the Clippers, no matter what season it is, isn't supposed to happen to Laker Nation. Nobody in the building is coming to see you; they're coming to see Blake Griffin and Chris Paul -- the new kings of Los Angeles basketball -- put on a show. It was the Clippers that were able to figure out how to bring a star to the organization and better themselves. They didn't lose that star in free agency next year. They went out and got the coach they needed to take the next step.

The Clippers essentially became the Lakers for at least a two-year stretch, while the Lakers hope nobody pays attention to the man behind the curtain. In the most important off-season the Lakers have had since they convinced Shaquille O'Neal to move to LA, the Lakers' brass didn't have the prestige to keep their superstar free agent. Jim Buss couldn't be his father and Mitch Kupchak wasn't exactly Jerry West out there.

The Lakers failed and in turn set themselves up for an embarrassing year of being in basketball purgatory. The only hope for the Lakers is that they're bad enough and lucky enough to win the lottery, cashing in on a loaded draft class and hoping the guy they get is the best one for a decade or more. They have to hope Bryant can return to form and be one of the biggest difference-makers in the NBA at the age of 36. They have to hope they magically put together a competitive enough roster to lure a big name free agent or two in the next couple of off-seasons, after failing in front of the world to retain Dwight Howard.

This is the Lakers' current existence. They've had a Freaky Friday situation with the Clippers. They're the laughing stock now. They're the team that has to hope for the best. This isn't what the Lakers are supposed to be. They're supposed to impose their will on the NBA, not pray things work out.
It's not great in Laker Nation right now and they just have to hold out hope that two major injuries in a year haven't brought Kobe Bryant down a peg or two heading into next year. They also have to hope that the lottery and draft are kind to them, considering they won't get another chance in 2015 to make up for any missteps this June.
How do we help Lakers fans forget about this for a short while on a Friday lunch break? I'm glad you (well, I) asked.
Show them some Magic
You always start off with Magic Johnson when making Lakers fans feel better. This is no disrespect to Kobe Bryant because he's right there and if you told me he was the greatest Laker of all time, I wouldn't fight you on it, but to me the greatest Laker ever is Magic Johnson and it will probably always be Magic Johnson. His ambassadorship went beyond his playing days and he just flat-out has the coolest highlights and résumé in Lakers history.
Now couple his incredible highlights with a couple of really weird song choices and baby, you got yourself a stew going.
If you wanted to check out some HD quality highlights of Magic while playing over Little Richard's "Long Tall Sally" then you're in luck because this is about as perfect of a marriage as Magic Johnson playing with Chick Hearn calling the game.
A little note to those creating YouTube mixes: Don't just pick a song you like. Either pick a hilariously awkward song for the highlights like the video above or pick a song that goes with the player and the highlights you're cutting together. It really does bring the quality of the viewing experience way up. A great example of this is the Mix in My Mind series going on at HickoryHigh.com. 
There are far too many Magic highlights to choose from, but I think my favorite pass of his because of all the flair involved is definitely the no look pass he had here against the Nuggets. Even though the 40-foot bounce passes he used to throw are my favorite type of assist -- and he has plenty of these in his highlight quiver -- the dramatic look away before delivering the pass to Billy Thompson just makes this entire play for me.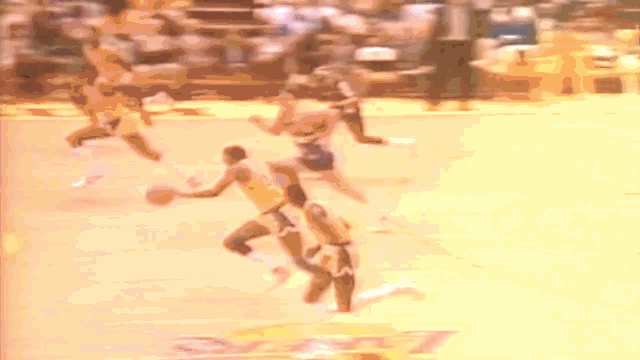 You can watch Always Showtime, a great special about Magic, here. 
We've done Magic stuff in these posts before so let's move on and make sure we remind everybody of the other really fun Lakers of the past.
Nick Van Exel was sneaky fun
Nick Van Exel was one of the most underrated and entertaining point guards of the 90's. He had a certain volatility (just ask referee Ron Garrettson) and uniqueness to his game that allowed his big shots and incredible passing to steal the show many nights. Van Exel was essentially the heir apparent to Magic Johnson for the Lakers, which was never an easy standard to live up to, but he handled it pretty well and put on a show of his own.
NVE was also one of the more clutch players of his generation and seemed to have numerous big shots every time you turned on a highlight show. His quick crossover usually led him into perfect position to set his feet and put his shot up. He had a great pull-up jumper that had perfect balance and levitation to get over the defender.
Van Exel was also quite poetic off the court when he was cutting Fox Sports West promotions to get you to watch the Lakers.
One of my favotire Beyond the Glory episodes back in the day was Nick Van Exel's story. You can watch the entire episode at this link, and I really recommend taking the half hour out of your day to remind yourself of just how interesting this guy was as a story and a player. We could probably keep mining out Van Exel highlights from his Lakers days but we need to move on to his backcourt mate.
Never forget how good Eddie Jones was
The Eddie Jones era in Los Angeles wasn't nearly long enough, mostly because he played the same position as Kobe Bryant and the positional revolution hadn't really hit the NBA yet. They were both shooting guards and you needed a bigger small forward to put next to Bryant, who was emerging as the future in LA. But when Jones was there, he was a big part of the post-Magic show.
Seriously, look at him basically dunk on Andrew Lang from just inside the free throw line!
Shaquille O'Neal wasn't the only Laker that put Shawn Bradley on copious amounts of posters. Eddie Jones used to baptize guys regularly and Bradley was a favorite target of his as a rookie in the NBA.
He was one of those lanky dunkers who would jump from way out early on in his career. He didn't do a ton of action in the air; he just reached out and threw down as hard as he could and loved throwing down on defenders. Here are a slew of dunks from the first three seasons of his career when he was an up-and-coming prospect for the Lake Show.
There was this clip of Jones from around 1996-97 where he basically took off for a finger roll at about 16 feet, but it has since been removed from YouTube because the hosting account was terminated. If we can find this out there and put it back on YouTube, we'd be making this world a better place.
Time for a little power in this post
The best run for the non-Magic Lakers was definitely when Shaquille O'Neal came to town, Kobe Bryant emerged as a star, and Phil Jackson joined up to teach them how to win. Shaq was a monster in every sense of the word on the court, and gave the Lakers one of the most dominant runs in NBA history during their 3-peat. The Diesel was made for Los Angeles, a big man who loved the spotlight and always wanted it brighter as he brought glory to the franchise.
One of the most hilarious moments of Shaq's Lakers career was when he dunked on Chris Dudley so hard and so physically that it caused Dudley to throw the ball at him. Dudley wasn't crazy about being pushed down after the dunk and lost his cool, showcasing just how frustrating it must have been for big men to have to hope to contain O'Neal inside.
Last year, the Lakers retired Shaq's #34 in the rafters and had an awesome tribute video to him during the ceremony. It showed his personality, his incredible play, and the support system that helped him be so terrific in Los Angeles. 
And of course, there wouldn't be Shaq highlights with the Lakers that didn't involve his pairing with Kobe Bryant. The Kobe-Shaq duo was one of the best in NBA history and sadly cut too short because of egos and not quite appreciating what they had together. But when they were together, it was just that remarkable. 
Which brings us to...
The Greatest Laker and greatest Laker moment since Magic Johnson
Let this one keep your hearts warm and your spirits high until the next wave of stardom and success fills the Lakers' side of Staples Center. He's one of the all-time greats.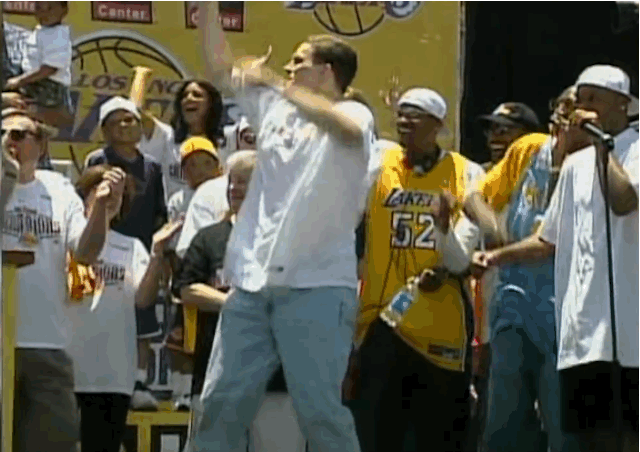 Lakers rookie got his shot to fall, thanks in part to some of the worst defense you will ever...

The singer of the national anthem at the Nets game took a knee at the end

This was the Lonzo Ball people were expecting out of college
Antetokounmpo finished with 34 points, 8 rebounds, 8 assists, and 3 steals, but the Cavs won,...

John Wall is proud of his ability to block shots and thinks nobody at his position has been...

Giannis went at LeBron on a fast break, but LeBron won the matchup